Triassic Core
A quarter-mile rock core is shedding light and raising questions on the turbulent events that set the stage for the rise of the dinosaurs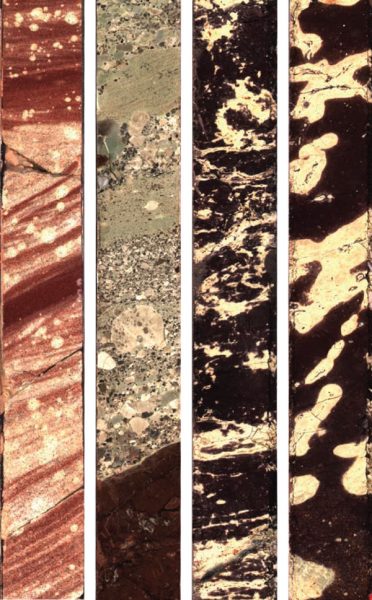 By ANTON CAPUTO & MONICA KORTSHA
The Triassic remains one of the most consequential and mysterious geological periods in Earth's history.
It is a time of evolutionary change, bookended by two mass extinctions and the diversification of early dinosaurs into the wealth of forms that would rule the planet during the Jurassic.
It is also a time of environmental transformation, especially during the Late Triassic, which saw the breakup of the supercontinent Pangaea, pulses of volcanic activity, and at least three asteroid impacts — the largest being the Manicouagan impact in what is presentday Quebec.
On the regional scale, in what is now Arizona's Petrified Forest National Park, the fossil record shows a "biotic turnover" — a shakeup in the local ecosystem that caused some species to go extinct and others to appear — happening in the middle of the Late Triassic. The timing has prompted debate about whether this turnover could be connected to broader environmental changes.
Different hypotheses have surfaced. Some think the Manicouagan impact event may have caused a sudden shift in the animal and plant community, while others point to regional tectonic events such as the rise of the Cordilleran Arc or global paleogeographic changes induced by the breakup of Pangea.
But a major barrier to evaluating these hypotheses has been the lack of a continuous geochronological timeline that can be used to improve estimates of the ages of animal and plant fossils found in the park and the timing and tempo of environmental change. Cornelia Rasmussen, a research associate at the University of Texas Institute for Geophysics (UTIG), is part of an ambitious project to fill in the gaps in the geological timeline and solve the mystery.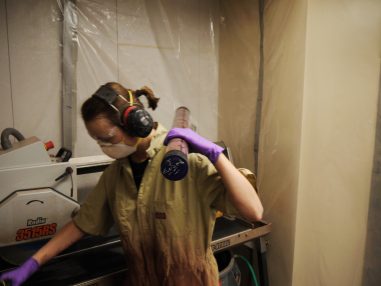 "If you do not understand the timing of different events, you are not able to correlate them with one another," Rasmussen said. "Without understanding the timeline, you continue to arm wave, which can be fun, coming up with various hypotheses, but you never get around to really test them."
She has been working on the puzzle since 2013, when, as a doctoral candidate at the University of Utah, she became a science party member of the Colorado Plateau Coring Project's expedition to take a nearly quarter-mile-long core from Petrified Forest National Park. The core offers a continuous, unbroken stretch of Earth's history for almost the entirety of the Triassic — including the tumultuous Late Triassic. It also preserves a geologic section called the Chinle Formation, which is known for its rich array of fossils preserved in outcrops in the national park.
"The core lets us wind the clock back to when the Petrified Forest National Park was a tropical hothouse populated by crocodile-like reptiles and turkey-size early dinosaurs," Rasmussen said. "We can now begin to interpret changes in the fossil record, such as whether changes at the time were caused by an asteroid impact or slow geographic changes of the supercontinent drifting apart."