GeoFORCE Results
GeoFORCE is designed to increase the number and broaden the participation of students pursuing STEM degree programs and pursuing rewarding STEM-related careers, especially in the geosciences. The primary goals and results of GeoFORCE are to:
Engage traditionally underrepresented students from challenged high schools and provide life-changing learning experiences at some of the most spectacular geologic sites in the country to broaden students' understanding of the Earth, geosciences, and engineering.
441 high school students participated in GeoFORCE Summer Academies in 2022
69% of GeoFORCE students were underrepresented minorities in STEM
63% of 2022 GeoFORCE students were female or other/nonbinary
1,628 students have completed the GeoFORCE program (2005- 2022)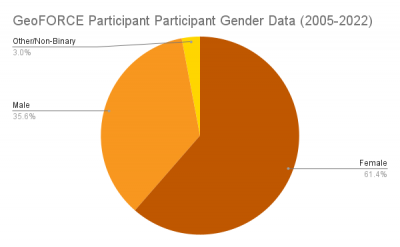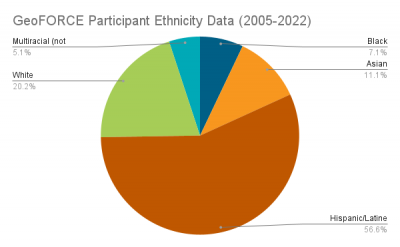 Give students the tools, confidence, and motivation to pursue college.
604 GeoFORCE alumni are currently enrolled in college
90% of GeoFORCE students persist through their second year of college; the national average is 75%
Help students achieve college graduation, especially in STEM fields.
42% of GeoFORCE students declared a STEM Major, compare to the national average of 19%
250 GeoFORCE alumni have earned a STEM-related degree since 2005
Read our Annual Reports to see our success over time: 2020, 2019, 2018, 2017, 2016, 2015, 2014, 2013, 2012, 2011, 2010, 2009, 2008, 2007, 2006, 2005