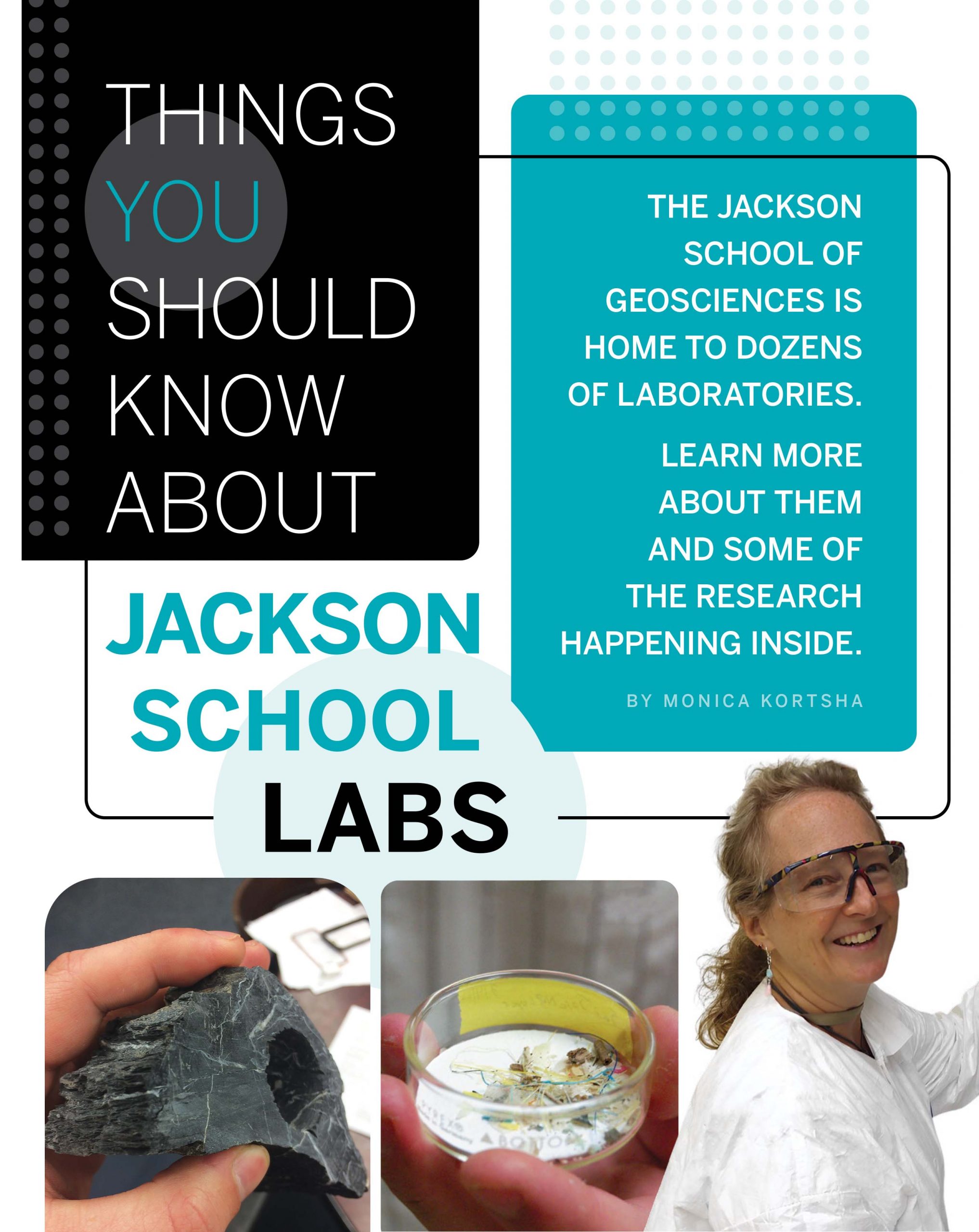 Left to right: A rock sample from the geomechanics and geofluids lab; plastic waste for study in the sedimentary lab; lab manager Staci Loewy in the UT Radiogenic Isotope Facility.
The Sedimentary Lab is sieving and separating Texas bay
sediments in search of microplastics — particles of plastic
that leech into the environment from clothes, car tires and
personal care products. The goal of the research, led by
doctoral student Will Bailey, is to catalog microplastic types and look for connections between microplastic concentration and sediment grain size, which can help illuminate how plastics travel and accumulate along the Texas Coast. The research uses plastic-free equipment from "field to filter," including custom glassware constructed by the UT chemistry department's glass blower. This helps avoid plastic cross-contamination from equipment to samples.

ABOVE TOP: Will Bailey.

ABOVE : Plastic waste for study in the sedimentary lab.
---
Across the school, labs are staffed and managed by expert scientists who collaborate with faculty, researchers and students to carry out experiments and collect data. Their areas of expertise include
• geochemistry
• mass spectrometry
• thermochronology
• geochronology
• mineral physics
• morphodynamics
• high-resolution X-ray computed tomography
Learn more about each one: www.jsg.utexas.edu/research/laboratories-facilities/
---
The Morphodynamics Lab recently built a salt basin in a water tank. The experiment entailed releasing a stream of sediment over a layer of putty that served as a salt stand-in — and then watching the basin build-up from inside and out. Doctoral student Chris Liu led the project, collaborating with Professor David Mohrig, experimentalist, geodynamicist and lab manager James Buttles, and research engineering scientist associate Thomas Hess. The experiment produced a wide range of salt-influenced submarine landscapes, such as minibasins. By using ultrasonic sonars, distancing lasers and acoustic Doppler profilers, Liu got an unprecedented look at the 4D evolution of the coupled salt-sediment system and current-topography interactions while unraveling the internal dynamics governing pattern formation in salt basins that can be used for geomorphic forecasts and solving inverse problems — as well as with deciphering the evolutionary history of salt hosting continental margins.

ABOVE TOP: Doctoral student Chris Liu checking on the sediment discharge tank in the morphodynamics lab.

ABOVE: A miniature and simplified salt basin in a water tank in the lab.
---
Most of the Jackson School's labs are on The University of Texas at Austin's two campuses.
The main UT campus is in the heart of the city and the J.J. Pickle Research Campus in in North Austin. Researchers can take advantage of facilities at both locations.
---
The UT Radiogenic Isotope Facility helped determine the age of a prehistoric human settlement by using U-Th dating on ostrich eggshell fragments. UT Austin anthropologist John Kappelman recovered the fragments at a dig site in Ethiopia and brought them to the lab. But small pores that covered the egg were clogged with sediment that interfered with the usual age analysis. Lab manager Staci Loewy devised a way to visualize and map the pore clusters, drill out the in-fill, and date the egg. She found that the ancient snack — and the settlement it came from — was about 74,000 years old.

ABOVE TOP: Stacy Loewy demonstrating how to remove sediment from ostrich egg pores with a dental drill. 

ABOVE: An ostrich egg fragment after drilling.
---
In addition to campus labs, the Jackson School is home to two "living laboratories," outdoor facilities where scientists can run experiments in natural settings.
The White Family Outdoor Learning Center is a 266-acre slice of the Texas Hill Country that Jackson School researchers use for observational field classes and environmental experiments. Formerly owned by BP, the Devine Geophysical Test Site is dedicated primarily to subsurface research, with the site containing three test wells, four boreholes and other amenities for carrying out geotechnical and seismic research.
---
| | |
| --- | --- |
| The Geochemistry Lab is looking for signs of critical elements — especially lithium — in produced water brought up by oil and gas operations. Critical elements are the chemical ingredients needed to produce modern electronics, from batteries to solar panels. By analyzing hundreds of water samples from across Texas and neighboring states, research scientist associate Roxana Darvari and senior research scientist JP Nicot are leading the search, while also making discoveries about geological formations. For example, recent findings from the Permian Basin of West Texas came up empty for lithium so far. But the wide range of salinity and dissolved ions allowed the researchers to fingerprint individual saline aquifers. | Geochemistry lab equipment. |
---
Some labs share research news and updates on ongoing
experiments on social media. Follow these labs on Twitter.
• Geomaterials Characterization and Imaging Facility
@EbeamUT
• High-Resolution X-Ray Computed Tomography Facility
@UTCT
• Quantitative Clastics Laboratory
@ClasticsLab
• Mudrock Systems Research Laboratory
@MSRL2009
• Vertebrate Paleontology Laboratory
@TexasVertPaleo
---
| | |
| --- | --- |
| The GeoMechanics & GeoFluids Lab found that grain patterns in rocks from Alaska's Kodiak Island were formed by millions of years of tectonic squeezing underneath the Eastern Aleutian subduction zone. UTIG graduate researcher Peter Miller used lab machinery to analyze the pattern, using seismic sensors to look inside the samples under high pressure. The results show that the sample was probably sandwiched between tectonic plates in the subduction zone before making its way to the surface | A rock sample from Kodiak Island in the geomechanics lab. |
---
Many labs are available for hire to conduct scientific analyses for research groups, businesses and individuals.
Lab managers can provide full details on available services
and costs.
---
| | |
| --- | --- |
| This specialized scanning electron microscope lab has seen many microfractures — more than an estimated 80,000 and counting, according to lab principal investigator and research scientist Esti Ukar. It's all part of a structural diagenesis campaign led by the Fracture Research and Application Consortium group. The group is seeking answers to fundamental questions about fractures: how they start, grow and evolve — and how this influences rock mechanics and fluid flow. With its state-of-the-art cathodoluminescence imaging capabilities, this lab is the workhorse behind the research, with researchers building up and analyzing an impressive catalog of fractured formations, including hard-to- image carbonate-rich rocks. | Italian carbonate under the Zeiss Sigma Field Emission SEM scope. |
---
TGI-Research Friday!
In 2019, the Jackson School started the Research Friday initiative to encourage undergraduate involvement in laboratory and field work. Since then, Fridays have been kept clear of upper-division courses so students can dedicate a whole day — or long weekend — to research.
---