Increasing Diversity in Geosciences
The geosciences are among the least diverse STEM fields.
At every level, the Jackson School of Geosciences is working to change that.
BY MONICA KORTSHA
There's a good chance you would recognize Jackson School of Geosciences alumnus Tim Shin even if you've never met him. That's because Shin's face is on the cover of an undergraduate brochure that the school used for years to recruit students.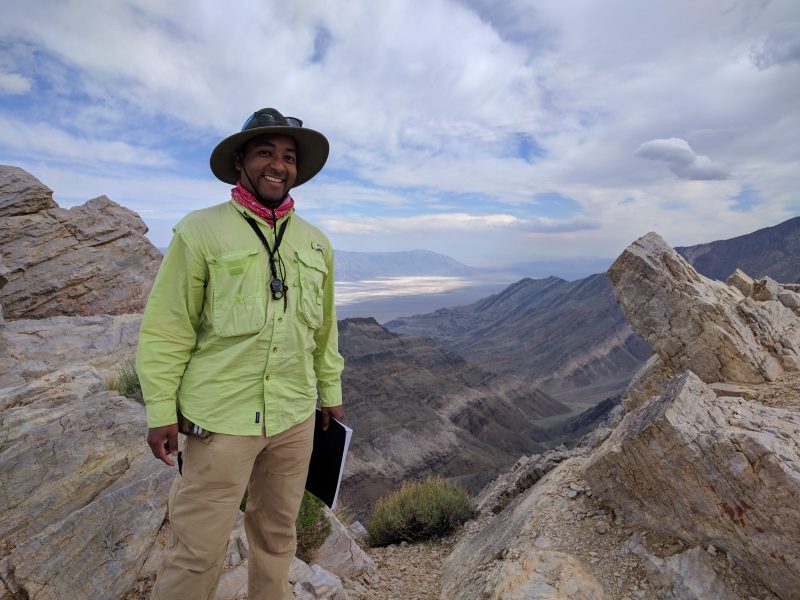 On the brochure, Shin is smiling as he looks up from a stack of papers. His undergraduate adviser, Department of Geological Sciences Associate Professor Elizabeth Catlos, is pictured beside him, leaning over his shoulder. With his face front and center on that brochure, Shin represents the school.
But the truth is that he is far from representative of the school. That's because Shin is Black, and, put simply, most people in the Jackson School — and in the geosciences as a whole — are white.
When Shin started his master's program at the Jackson School, he was the only Black graduate student. In fall 2020, some 10 years after he graduated, the count has increased by just a single student. Shin says he has many positive memories of his time at the Jackson School, but like other minority students who have come forward in recent months, those memories are peppered with stories that gave Shin the impression he was an outsider, or, even worse, did not belong.
There were comments from professors like "you're surprisingly well spoken" or "I guess it's better to be lucky than smart." There was the simple fact that not a single faculty member looked like him. There was the realization that most of his white classmates grew up camping — a seemingly foundational skill in a school that stresses field work, and a skill that Shin had virtually no experience with.
Now years into a successful geosciences career, Shin has seen these types of issues throughout the industry. He's certain most are not intentional.
But he says he can't help but think that his alma mater, with its lofty position in the geosciences, should be leading the charge for equity and inclusion.
"The Jackson School is doing a lot better and has done a lot better than many similar institutions, but it's got a lot left to do," Shin said.
Many alumni and those within the school agree. The Jackson School has been working hard for years to address the lack of diversity within the school and the geosciences as a whole, and to make the environment more welcoming to students from underrepresented groups. Some of the efforts are well known, others are not.
You may have heard of GeoFORCE, the Jackson School's award-winning program that teaches geosciences to high school students from underserved communities in Houston and southwest Texas. There are also a number of other programs that support students as they enter college, go on to graduate school, and beyond.
Still, the truth is that all these efforts have moved the needle very little. Much of the progress has been in increasing gender diversity; women now make up 50% of the school's assistant professors and 43% of all students.
But in the spring of 2020, the latest term for which there is complete demographics information, the Jackson School student body contained one Black graduate student and no Black undergraduates. The Hispanic representation was 7% for graduates (exclusive of international students) and 14% for undergraduates, significantly below the almost 53% that make up the overall population in Texas public schools.
There has been a distinct uptick in interest of the school's diversity efforts since the Black Lives Matter protests in the wake of the killing of George Floyd. Alumni and graduate student groups have sent messages to Jackson School leadership. And more than two dozen members of the Jackson School community — students, faculty members and staff members — came together for a #ShutDownSTEM event on June 10 to reflect on racism in the geosciences and discuss solutions for improving diversity, particularly for Black students, in the Jackson School.
At the same time, the Jackson School, led by Dean Claudia Mora, has continued the process of evaluating its diversity programs and instituting more training for faculty and staff members. The school is also redoubling its effort to spread the word about diversity and inclusion efforts at the school and the actions it is taking to develop and support geoscientists from underrepresented groups at every level.
The problem is longstanding and entrenched. But the fact that people throughout the Jackson School community have expressed interest in being part of the conversation now is a big step to doctoral student Kiara Gomez, who has been a member of the Jackson School's diversity and inclusion committee since 2016 and recently co-founded a Jackson School chapter of GeoLatinas, an international organization for Latinas in geosciences.
"It can be hard for people [who aren't from underrepresented groups] to understand, and for things to feel a bit overwhelming if they have been hanging out on the sidelines," she said. "Talking more about diversity is a central thing. I don't want it to stop."
It's the type of energy, said Mora, which can help move the needle as long as it's ongoing, consistent and constructive.
"The Jackson School has been doing things, and is doing things, and will do things [to address diversity and inclusion]," Mora said. "We have a lot of interest and we can take advantage of this time to improve things markedly."
DEMOGRAPHICS
At every degree level, the geosciences are among the least racially diverse of all the STEM disciplines, according to data on degrees earned at U.S. universities collected by the National Science Foundation.
In 2016, the most recent year for which data is available, only 2.2% of Earth,  atmospheric, and ocean sciences bachelor's degrees — a total of 155 degrees — went to Black students, and that percentage has remained flat over the previous 10 years. In comparison, Hispanic students earned 9.1% of Earth, atmospheric, and ocean sciences bachelors in 2016, an increase from 3.7% earned in 2006. The trends are similar for master's degrees. Black students never break 2.6%; Hispanic students went from 3.6% in 2006 to 6.3% in 2016.
At the level of the doctoral degree — the de facto requirement for academic positions in geosciences — the percentage of underrepresented minorities earning degrees has hardly budged in 40 years. And for Black geoscientists, it hasn't changed at all.
Jackson School alumni Rachel Bernard, who is Black, and Emily Cooperdock compiled the Ph.D. data for a 2018 study in Nature Geosciences. They found that in 2016, Black geoscientists earned 1% of Ph.D.s — the same percentage earned by all Black geoscientists from 1973 to 2016. And while the number of Hispanic geoscientists earning Ph.D.s has increased — in 2016 they earned 5% of degrees, up from 2.8% over the entire 40-year period — that increase reflects a growing Hispanic population in the United States in general.
When put in terms of total doctoral degrees over the past 40 years, the chasm between Black and Hispanic geoscientists and white geoscientists is stark: 860 vs. 19,570.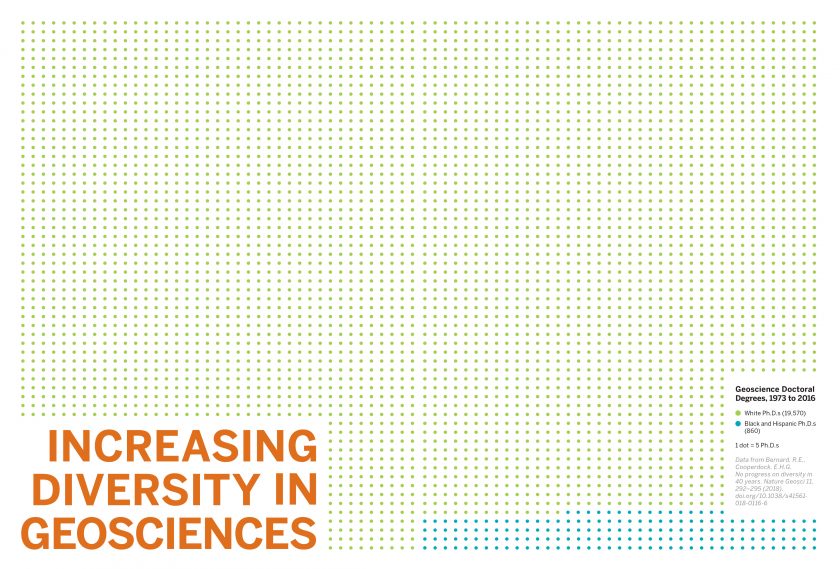 At the Jackson School, the diversity of both staff and non-international students reflects these larger trends.
Black students have made up about 2% of the undergraduate student body on average during the past decade. Hispanic students made up 16.2% of undergraduates on average over the same period — a value that's lower than the 21.7% of Hispanic students that made up UT's student population in 2019.
For graduate students, the number of Black students has never reached above two at any given time during the past decade, while Hispanic students make up 6.2% of graduate students on average.
The Jackson School faculty similarly lacks diversity, with 14% of faculty members of Asian descent, but only one faculty member from underrepresented groups, Dean Mora, who is Latina. The absence of educators who are Black or Hispanic means that students from these groups have to look elsewhere for role models whose presence demonstrates that a career in geosciences is possible for them. Shin and fellow alumnus Stanley Stackhouse said it was conferences that first gave them a glimpse of what might be possible for them as Black geoscientists.
"Once you go to some of the national conventions, you really are exposed to a more diverse community, including Black geoscientists who are actually in positions that you're trying to achieve," Stackhouse said.
For Shin, meeting Black faculty members and others who held high positions in the geosciences as an undergraduate student at his first Geological Society of America meeting was eye opening.
"It was huge for me," Shin said. "A huge boost."
Bernard, now a visiting assistant professor at Amherst College in Massachusetts, is experiencing this from the other side.
"A lot of students have been approaching me," Bernard said. "Just by being there, I've had several — all [white] women and women of color — approach me and just want to talk. And they've told me it was because I was the only woman of color in the department."