Localities
When geologists collect specimens they record the precise source location for each individual specimen. Now that precision would be improved by the use of GPS. Earlier workers relied upon verbal descriptions of their collection sites.
This selection of examples is from the work of Helen Plummer. Each county contains several different localities each of which is given a reference code.
This page was completed by Caitlyn Lam as a Capstone project for her degree in Information Studies.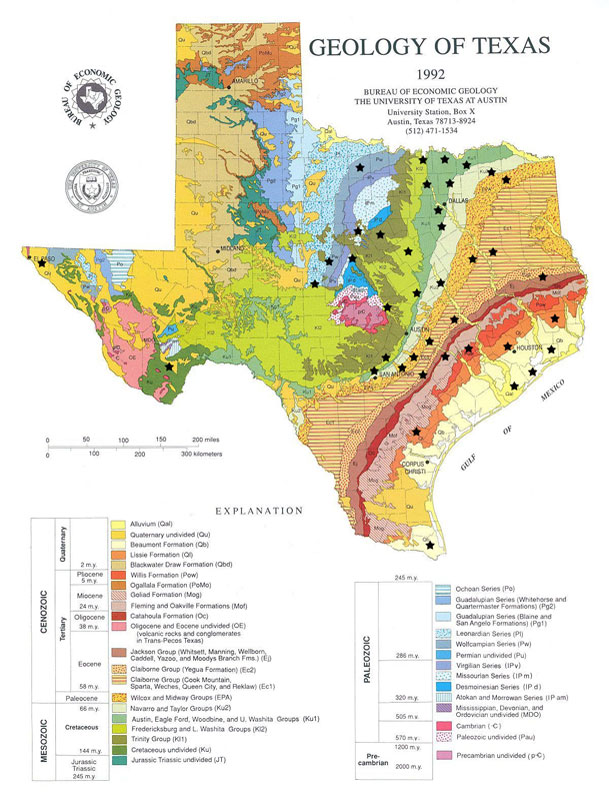 Texas Counties
| | | |
| --- | --- | --- |
| County | Created | Source County |
| Anderson | 1846 | Houston |
| Andrews | 1876 | Bexar |
| Angelina | 1846 | Nacagdoches |
| Aransas | 1871 | Refugio |
| Archer | 1858 | Fannin |
| Armstrong | 1876 | Bexar |
| Atascosa | 1856 | Bexar |
| Austin | 1836 | original |
| Bailey | 1876 | Bexar |
| Bandera | 1856 | Bexar |
| Bastrop | 1836 | original |
| Baylor | 1858 | Fannin |
| Bee | 1857 | multiple |
| Bell | 1850 | Milam |
| Bexar | 1836 | original |
| Blanco | 1858 | multiple |
| Borden | 1876 | Bexar |
| Bosque | 1854 | McClennan |
| Bowie | 1840 | Red River |
| Brazoria | 1836 | original |
| Brazos | 1841 | original |
| Brewster | 1887 | Presidio |
| Briscoe | 1887 | Bexar |
| Brooks | 1911 | Starr |
| Brown | 1856 | multiple |
| Burleson | 1846 | Milam |
| Burnet | 1852 | multiple |
| Caldwell | 1848 | multiple |
| Calhoun | 1846 | multiple |
| Callahan | 1858 | multiple |
| Cameron | 1848 | multiple |
| Camp | 1874 | Upshur |
| Carson | 1876 | Bexar |
| Cass | 1846 | Bowie |
| Castro | 1876 | Bexar |
| Chambers | 1858 | multiple |
| Cherokee | 1846 | Nacogdoches |
| Childress | 1876 | multiple |
| Clay | 1857 | Cooke |
| Cochran | 1876 | multiple |
| Coke | 1889 | Tom Green |
| Coleman | 1858 | multiple |
| Collin | 1846 | Fannin |
| Collingsworth | 1876 | multiple |
| Colorado | 1836 | original |
| Comal | 1846 | Bexar |
| Comanche | 1856 | multiple |
| Concho | 1858 | Bexar |
| Cooke | 1848 | Fannin |
| Coryell | 1854 | Bell |
| Cottle | 1876 | Fannin |
| Crane | 1887 | Tom Green |
| Crockett | 1875 | Bexar |
| Crosby | 1876 | multiple |
| Culberson | 1911 | El Paso |
| Dallam | 1876 | Bexar |
| Dallas | 1846 | multiple |
| Dawson | 1846 | Bexar |
| Deaf Smith | 1876 | Bexar |
| Delta | 1870 | multiple |
| Denton | 1846 | Fannin |
| DeWitt | 1846 | multiple |
| Dickens | 1876 | Bexar |
| Dimmit | 1858 | multiple |
| Donley | 1858 | multiple |
| Duval | 1858 | multiple |
| Eastland | 1858 | multiple |
| Ector | 1887 | Tom Green |
| Edwards | 1858 | Bexar |
| El Paso | 1848 | Santa Fe |
| Ellis | 1849 | Navarro |
| Erath | 1856 | multiple |
| Falls | 1850 | multiple |
| Fannin | 1837 | Red River |
| Fayette | 1837 | Bastrop |
| Fisher | 1876 | Bexar |
| Floyd | 1876 | multiple |
| Foard | 1891 | multiple |
| Fort Bend | 1837 | multiple |
| Franklin | 1875 | Titus |
| Freestone | 1850 | Limestone |
| Frio | 1858 | multiple |
| Gaines | 1876 | Bexar |
| Galveston | 1838 | multiple |
| Garza | 1876 | Bexar |
| Gillespie | 1848 | multiple |
| Glasscock | 1887 | Tom Green |
| Goliad | 1836 | original |
| Gonzales | 1836 | original |
| Gray | 1876 | Bexar |
| Grayson | 1846 | Fannin |
| Gregg | 1873 | Upshur |
| Grimes | 1846 | Montgomery |
| Guadalupe | 1846 | multiple |
| Hale | 1876 | Bexar |
| Hall | 1876 | multiple |
| Hamilton | 1856 | multiple |
| Hansford | 1876 | multiple |
| Hardeman | 1858 | Fannin |
| Hardin | 1858 | multiple |
| Harris | 1836 | original |
| Harrison | 1839 | Shelby |
| Hartley | 1876 | multiple |
| Haskell | 1858 | multiple |
| Hays | 1848 | Travis |
| Hemphill | 1876 | multiple |
| Henderson | 1846 | multiple |
| Hidalgo | 1852 | Cameron |
| Hill | 1853 | Navarro |
| Hockley | 1876 | multiple |
| Hood | 1866 | Johnson |
| Hopkins | 1846 | multiple |
| Houston | 1837 | Nacogdoches |
| Howard | 1876 | Bexar |
| Hudspeth | 1917 | El Paso |
| Hunt | 1846 | multiple |
| Hutchinson | 1876 | Bexar |
| Irion | 1889 | Tom Green |
| Jack | 1856 | Cooke |
| Jackson | 1836 | original |
| Jasper | 1836 | original |
| Jeff Davis | 1887 | Presidio |
| Jefferson | 1836 | original |
| Jim Hogg | 1913 | multiple |
| Jim Wells | 1911 | Nueces |
| Johnson | 1854 | multiple |
| Jones | 1854 | multiple |
| Karnes | 1854 | multiple |
| Kaufman | 1848 | Henderson |
| Kendall | 1862 | multiple |
| Kenedy | 1921 | multiple |
| Kent | 1876 | multiple |
| Kerr | 1856 | Bexar |
| Kimble | 1858 | Bexar |
| King | 1876 | Bexar |
| Kinney | 1850 | Bexar |
| Kleberg | 1913 | Nueces |
| Knox | 1858 | multiple |
| Lamar | 1840 | Red River |
| Lamb | 1876 | Bexar |
| Lampasas | 1856 | multiple |
| La Salle | 1858 | Bexar |
| Lavaca | 1842 | multiple |
| Lee | 1874 | multiple |
| Leon | 1846 | Robertson |
| Liberty | 1836 | original |
| Limestone | 1846 | Robertson |
| Lipscomb | 1876 | Bexar |
| Live Oak | 1856 | multiple |
| Llano | 1856 | multiple |
| Loving | 1931 | Tom Green |
| Lubbock | 1876 | Bexar |
| Lynn | 1876 | Garza |
| McCulloch | 1856 | Bexar |
| McLennan | 1850 | multiple |
| McMullen | 1858 | multiple |
| Madison | 1853 | multiple |
| Marion | 1860 | Cass |
| Martin | 1876 | Bexar |
| Mason | 1858 | Gillespie |
| Matagorda | 1836 | original |
| Maverick | 1856 | Kinney |
| Medina | 1848 | Bexar |
| Menard | 1858 | Bexar |
| Midland | 1885 | Tom Green |
| Milam | 1836 | original |
| Mills | 1887 | multiple |
| Mitchell | 1876 | Bexar |
| Montague | 1857 | Cooke |
| Montgomery | 1837 | Washington |
| Moore | 1876 | Bexar |
| Morris | 1875 | Titus |
| Motley | 1876 | Bexar |
| Nacogdoches | 1836 | original |
| Navarro | 1846 | Robertson |
| Newton | 1846 | Jasper |
| Nolan | 1876 | Bexar |
| Nueces | 1846 | San Patricio |
| Ochiltree | 1876 | Bexar |
| Oldham | 1876 | Bexar |
| Orange | 1852 | Jefferson |
| Palo Pinto | 1856 | multiple |
| Panola | 1846 | multiple |
| Parker | 1855 | multiple |
| Parmer | 1876 | Bexar |
| Pecos | 1871 | Presidio |
| Polk | 1836 | original |
| Potter | 1876 | Bexar |
| Presidio | 1850 | Bexar |
| Rains | 1870 | multiple |
| Randall | 1876 | Bexar |
| Reagan | 1903 | Tom Green |
| Real | 1913 | multiple |
| Red River | 1836 | original |
| Reeves | 1883 | Pecos |
| Refugio | 1836 | original |
| Roberts | 1876 | Bexar |
| Robertson | 1837 | multiple |
| Rockwall | 1873 | Kaufman |
| Runnels | 1858 | multiple |
| Rusk | 1843 | Nacogdoches |
| Sabine | 1836 | original |
| San Augustine | 1836 | original |
| San Jacinto | 1870 | multiple |
| San Patricio | 1846 | Refugio |
| San Saba | 1856 | Bexar |
| Schleicher | 1887 | Crockett |
| Scurry | 1876 | Bexar |
| Shackelford | 1874 | Jack |
| Shelby | 1836 | original |
| Sherman | 1876 | Bexar |
| Smith | 1846 | Nacogdoches |
| Somervell | 1875 | Hood |
| Starr | 1848 | Nueces |
| Stephens | 1858 | Bosque |
| Sterling | 1891 | Tom Green |
| Stonewall | 1876 | multiple |
| Sutton | 1887 | Crockett |
| Swisher | 1876 | multiple |
| Tarrant | 1849 | Navarro |
| Taylor | 1858 | multiple |
| Terrell | 1905 | Pecos |
| Terry | 1876 | Bexar |
| Throckmorton | 1858 | Fannin |
| Titus | 1846 | Bowie |
| Tom Green | 1874 | Bexar |
| Travis | 1840 | Bastrop |
| Trinity | 1850 | Houston |
| Tyler | 1846 | Liberty |
| Upshur | 1846 | Harrison |
| Upton | 1887 | Tom Green |
| Uvalde | 1850 | Bexar |
| Val Verde | 1885 | multiple |
| Van Zandt | 1848 | Henderson |
| Victoria | 1836 | original |
| Walker | 1846 | Montgomery |
| Waller | 1873 | multiple |
| Ward | 1887 | Tom Green |
| Washington | 1836 | original |
| Webb | 1848 | Nueces |
| Wharton | 1846 | multiple |
| Wheeler | 1876 | multiple |
| Wichita | 1858 | Cooke |
| Wilbarger | 1858 | Bexar |
| Willacy | 1911 | multiple |
| Williamson | 1848 | Milam |
| Wilson | 1860 | multiple |
| Winkler | 1887 | Tom Green |
| Wise | 1856 | Cooke |
| Wood | 1850 | Van Zandt |
| Yoakum | 1876 | Bexar |
| Young | 1856 | multiple |
| Zapata | 1858 | multiple |
| Zavala | 1846 | Maverick |