The temperature data collected by Cardenas and Mehr alone show that lake turnover is happening. In January, the lake is about the same temperature at the surface and bottom, enabling mixing. By August it has has stratified into two distinct temperature layers, the surface being 85 degrees Fahrenheit, the bottom around 53 degrees Fahrenheit.
For her thesis, Teel is analyzing what this stratification and mixing means for the lake's water chemistry, how its oxygen isotopes, carbon, and alkalinity change with the seasons.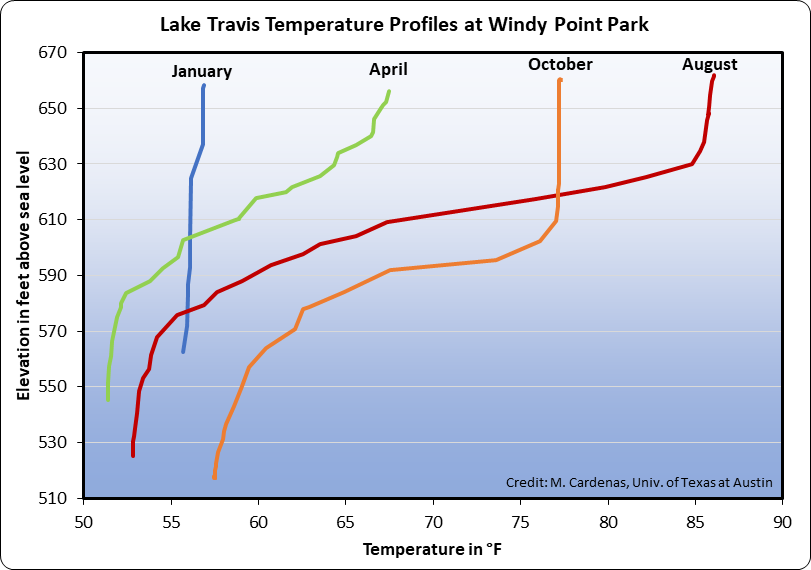 A graph plotting how temperature changes with depth in Lake Travis during different months in 2021. Each line represents measurements from a single dive. Credit: Bayani Cardenas.
These metrics are related to ecosystem health and could help reveal how the lake's habitability changes over the year. Her data will also serve as a baseline comparison for future studies on the lake's water chemistry.
"It's one thing to say the lake stratifies, that's good to know, but the next step is what does that mean in terms of organisms and chemical reactions," Teel said. "The chemistry is helping us know the consequences of that."
The project has been a learning opportunity for Cardenas, too. He said that he has Mehr, his dive partner, to thank.
Professor Bayani Cardenas with Undergraduate Jacob Mehr shortly after surfacing from a dive.
Mehr is an engineering major who has been diving for half his life. He learned about Cardenas' diving research in 2018 from a social media post, and reached out about opportunities to take part. There was nothing available at the time. But when Cardenas needed a diving partner for the Lake Travis project, he knew exactly who to call.
Mehr is a member of Global Underwater Explorers, a diving organization that trains its members to treat every dive like it's a technical one, where divers can't necessarily return to the surface if they hit a snag. Members carry standardized equipment, follow protocols for packing tools and troubleshooting problems, and learn to breathe a special blend of gases that keep nitrogen from building up in the blood where it can lead to disorientation.
By diving with Mehr, Cardenas has picked up a whole new diving skillset.
"My personal development as a diver who uses science for diving has elevated," Cardenas said.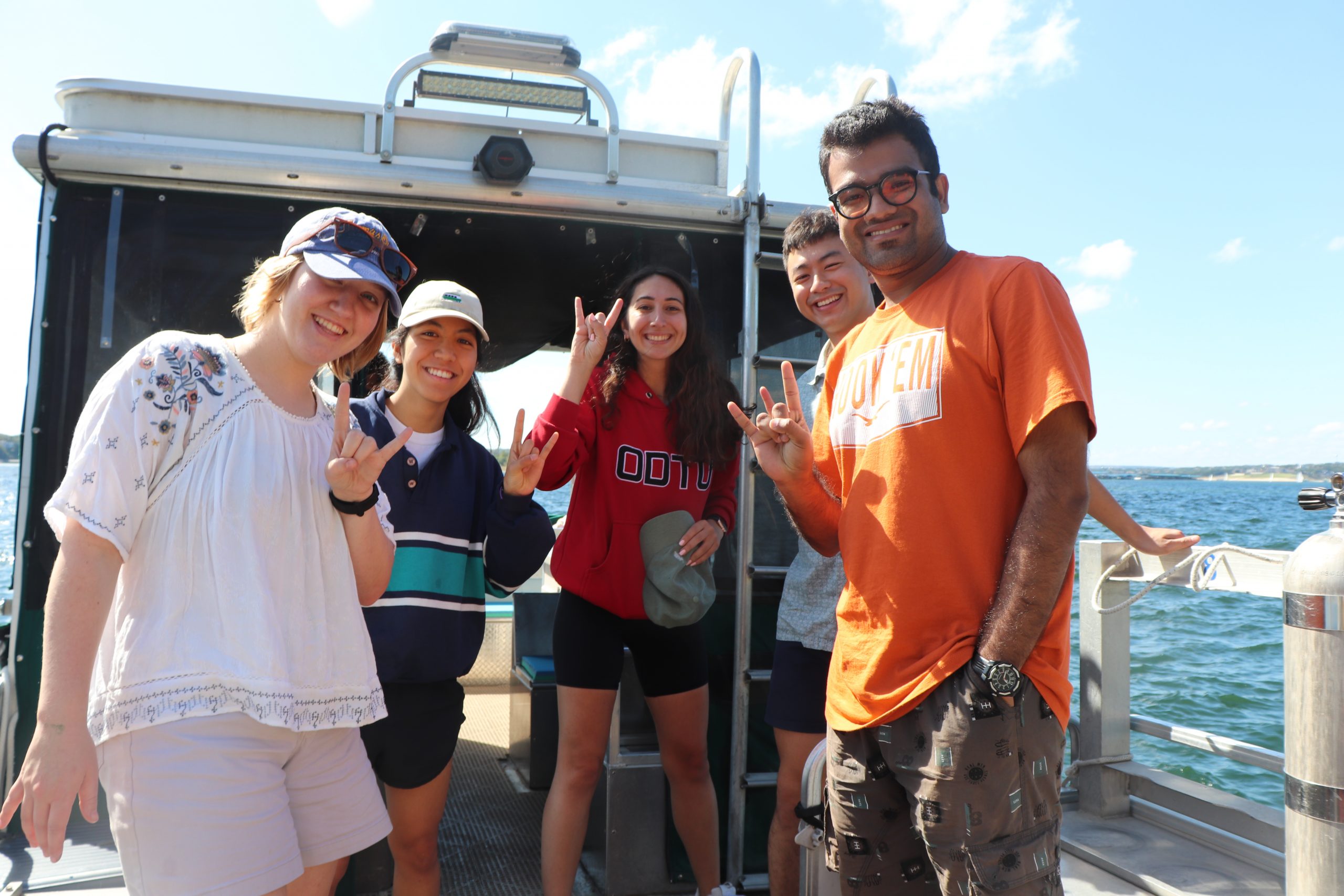 The research team on an October dive. Left to right: Morgan Teel, Amber Nguyen, Cansu Demir, William Nguyen and Neelarun Mukherjee.
Jackson School of Geosciences Ph.D. candidate Cansu Demir said that being part of the research team has been a lesson in how obstacles can become opportunities. In 2020, she wasn't able to conduct fieldwork in Alaska as planned. But by taking part in the Lake Travis project she saw how Cardenas turned an idea into tangible student research – even in the midst of a pandemic that shut everything else down.
"It's cool because I'm learning from this," Demir said. "The professor comes up with a cool idea, it turns into a big project, and now there is an undergraduate conducting research on this. This is how projects form and students make their thesis out of it."
Teel is currently doing just that. She expects to have the results in early 2022.