This approach means that the countrywide estimates presented in the study are the bare minimum. Rempe said she estimates that the actual extent of trees tapping into bedrock and the volumes accessed could be double what was reported.
Her estimate is informed by data collected from individual field sites in Central Texas and California that show rock moisture outshining soil as a water source. For example, at six sites in California and two in Central Texas, more than 50% of water evaporated from trees came from rock moisture.
At most of these sites, the rocks held significantly more water than soil — up to 10 times as much. To Susan Schwinning, a professor of plant ecology at Texas State University who was not involved with the research, the study is a huge leap in knowledge, proving what was once thought to be odd behavior to be essential.
"It's taken 100 years to come from this anecdotal evidence — 'oh, wow, tree roots can actually go that deep' — to understanding that this is probably, in many places, an important part of defining ecosystem dynamics," she said. "If you're working in climate change research or earth system sciences, you will have to think seriously now about how to modify models."
The future of the research is wide open. The study area was limited to the continental United States, but the researchers are confident the findings are applicable in other parts of the world.
McCormick spent nearly two years of her undergraduate work conducting the literature review for the paper, which led researchers to conclude that, in general, whenever trees can put roots down into bedrock, they do. The study cites 65 papers, but she pored over about 300 spanning more than a century, looking for any mentions of tree roots tapping bedrock. What she found was evidence of trees tapping bedrock from a wide assortment of publications, covering nearly every type of environment and documented on five continents.
"Most of the papers I have read were about something totally different like avalanches or something, and I'd be looking for that one sentence to see if they mention if a root was in a rock," she said. "It was a lot of work."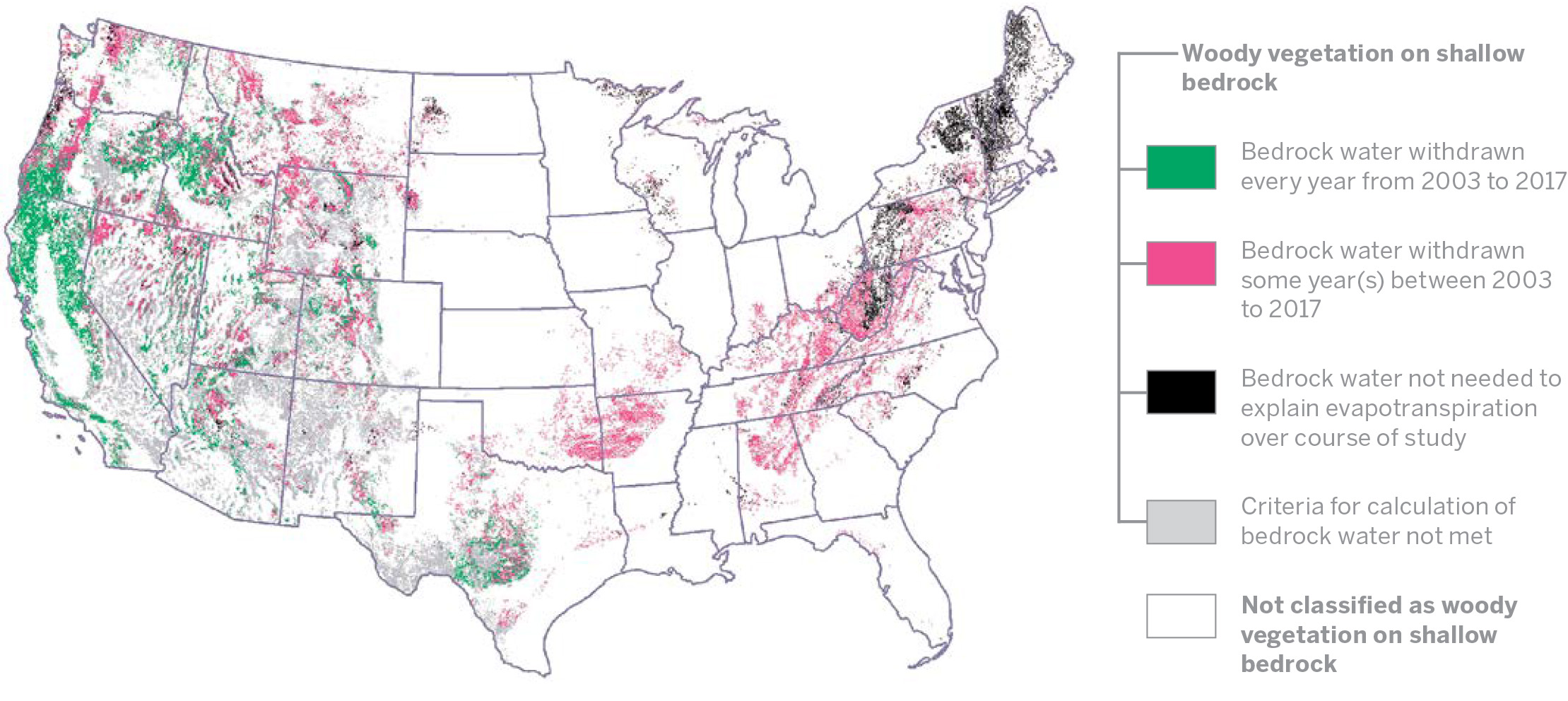 McCormick is going to pursue a Ph.D. and plans to continue the work in graduate school as she tries to emulate her mentor.
"My goal is to be a mini-Daniella someday," she said. "I want to be a professor."
Rempe wants to continue to take the work into the field in Texas, Colorado and California. This will probably provide some great opportunities for students to do fieldwork and, in some cases, not that far from campus. Rempe said that the monitoring program being set up at the White Family Outdoor Learning Center — a 267-acre Hill Country ranch donated by Leslie P. and Dianne White that the Jackson School is using as part of its Texas Observatory network — is a perfect spot for some of the research. Her group has already documented plants and trees drawing significant amounts of water from bedrock at the site and hopes to document how different Texas trees compete for this deep resource. Rempe has already tried tracking the water from rocks to trees by injecting isotopic tracers into the bedrock at a site in California and plans to do the same at the White Family Outdoor Learning Center soon. Her pilot experiment in California failed because her team underestimated how much water trees were using from bedrock, and the tracer was not strong enough. She was recently awarded funding from the National Science Foundation to try again with a stronger tracer label.
The idea is to start putting a finer point on how bedrock water and trees interact, and what that means for the wider environment.
"We've literally barely scratched the surface when it comes to understanding water storage," she said. "As the West and Southwest are predicted to experience more prolonged drought, this deeper storage will be important to understand."