Most instructors had little or no experience with online teaching, meaning they were entering a whole new world of education and instruction, Stockli said.
"We urged instructors to maintain a rhythm, including maintaining class times and office hours," Stockli said. "We advised instructors of small classes to continue live lectures via Zoom and make the recording available via internally accessible cloud archives in Canvas. In contrast, large classes were advised to either go live or with prerecorded 15-minute segments interspersed with live discussions." During this transition to a new learning model, graduate teaching assistants were among those who were leaned on the hardest, Stockli said. Typically, teaching assistants learn to teach by watching their mentors. But in this situation, there was no playbook or example, and they often were the ones with the important job of leading students in labs and other small group settings.
"They were transformed into instructional designers overnight in a way that they hadn't before," Stockli said. "And we really stressed with TA's that they are absolutely essential in community building. We emphasized that they cannot just be instructors but have to be the connection to the students." This reality hit home with Alexandra Lachner and Jaime Hirtz, who were teaching assistants in the spring field methods course.
They quickly found themselves helping students navigate virtual field outings largely on the fly and spending additional time offering support and guidance to students. They extended office hours and met students one-onone for virtual meetings. Although they both embraced the expanded role to help students succeed during this difficult time, they said that the more frequent and instantaneous access could be tiring, particularly as they pursue their own graduate work and deal with their personal situations. "It's been more difficult in that respect," Lachner said. "We are in a situation that's kind of nonstandard, so you kind of have to roll with it."
THE REMOTE CLASSROOM
The move to online classes was more seamless for some than others. Jud Partin, a research associate with the University of Texas Institute for Geophysics (UTIG) who teaches an advanced statistics class for graduate students, had already introduced Zoom meetings in 2019 as a way of bringing together students based at different UT campuses.
However, there are still reminders that these are far from normal times. Partin's class now includes occasional interruptions from his 4-year-old. "Fortunately, everyone's quite forgiving these days," Partin said.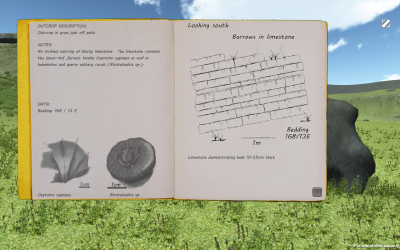 Other classes presented more difficulties. In field methods, the class went from traversing outcrops themselves to controlling an avatar in a virtual field experience that resembled a computer video game. In the virtual field, students still had to make maps and generate a geologic history. But collecting the data from outcrop entries in a digital field notebook just wasn't the same, said Barbara Sulbaran, an undergraduate who took the course during the spring. "I can't physically look at the rock. All of what you're supposed to do is already done," she said. "I love my field notebook, and I haven't had to look at it [since quarantine]."
And in large lecture classes, connecting with students through a screen proved to be a challenge.
Assistant Professor Daniela Rempe and Professor Richard Ketcham were co-teaching Introduction to Geology when the course first shifted to online learning during the spring. About 115 students should attend each lecture, but online only about 40 to 50 showed up — a number that Rempe said she was fairly happy with given the situation. The course was conducted over Zoom and blended prerecorded lessons with real-time discussions and interactive exercises. And while Rempe found that students were quick to use the chat function to ask questions during class — a nice change from the large lecture halls where it was rare for students to raise their hands and pose questions — hardly anyone would turn on their cameras or microphones. Rempe was left addressing a screen of dozens of blacked-out little boxes.
"Maybe they are on their phone or maybe they don't want us to see where they live," Rempe said. "It's hard to say why they do that, but that part has been very frustrating." With guidance from UT leadership, the Jackson School spent the summer developing two plans for teaching during the fall semester. The first plan prioritized face-to-face learning. The second plan was a hybrid model in which online classes were prioritized while still allowing for classes that blended online and in-person learning, as well as a small number of only in-person classes.
In early June, when the coronavirus infection rate had plateaued in Austin, there were high hopes that the fall semester would mean in-person learning for most everyone, said Charles Kerans, the chair of the Department of Geological Sciences. However, a spike in COVID-19 cases in early July finalized the decision to prioritize online learning. This fall, about 56% of Jackson School classes — 30 out of 53 — are being taught exclusively online. Almost all the rest are available as two options: online or hybrid courses that blend in-person and online learning.
Introduction to Geology — the same class that Rempe and Ketcham taught entirely online during the spring — is now a hybrid course and taught by Associate Professor Tim Shanahan. Usually, the course would be capped at about 250 students, the maximum capacity of the Jackson School's largest lecture hall, the Boyd Auditorium. But online learning has allowed the course to take on more than double that amount. The 550 total students currently enrolled across the two class sections is a record breaker.
"It's nice to see there's so much interest in geology, and the feedback I'm getting from students is that they're really excited about it," Shanahan said. "But teaching on Zoom, when you look down and see that you're at like 275 people is a little bit crazy."
Shanahan said that students are still hesitant to turn on their cameras and microphones. He faces the same screen of black boxes as Rempe. But he is working to promote engagement in other ways. He changes the Zoom background to match the lecture material. (For introductions on the first day of class, Shanahan, a paleoclimatologist, opted for a photo of him and graduate students taking a sediment core from a lake.) He also streams music from the class Spotify playlist, which was started by Rempe, as students log in for lectures. Sometimes he plays student requests. But he can't resist matching the song to the lecture when the opportunity arises. A lecture on continental drift started with Sia's "Unstoppable."
Shanahan has also made a point to check in with the freshmen in the class at the start of the semester, organizing smaller Zoom sessions of about 20 people to answer questions and provide guidance. He is hosting similar sessions with international students, who face their own unique challenges, such as making sure they can take an exam at a decent hour in their time zone.
HANDS-ON LEARNING NEAR AND FAR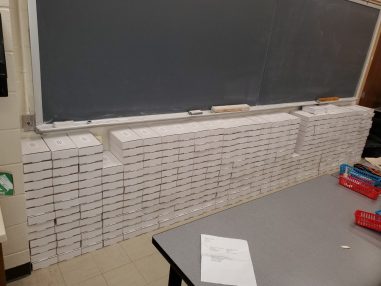 During the spring, the quick shift to online learning meant that students enrolled in Introduction to Geology did not have access to rock and mineral specimens that they would usually examine in the course's lab sections. They made do by studying structure and faulting with paper models. This fall, making sure that remote and socially distanced learning still included real rocks was a top priority. The Department of Geological Sciences ordered a total of 632 custom rock kits — each containing 30 specimens — for every student enrolled in Introduction to Geology and Physical Geology. Students taking the course entirely online had their kits mailed to them, with some kits going as far as Saudi Arabia. To offset the $60 cost of the kits, Shanahan wrote the lab manual for the courses and provided it to the students for free.
Earth Materials is one of the few classes with an in-person option available for both lecture and lab, along with online and hybrid options. For some classes, students bring rocks and minerals from the lab to lecture in plastic containers. The course instructor, Associate Professor Elizabeth Catlos, also has larger samples — which she disinfects with a generous spray of Lysol before class — arranged on a table at the front of the classroom.
"If this course was offered only 100% online, I think the students would have a huge disadvantage," Catlos said. "They are taking a field class after this, so how do you do a field class without working with hand specimens first?"
The in-person class meets in the usual lecture space of the Boyd Auditorium, but with a number of safety precautions in place. Most of the seats are zip-tied closed, leaving only socially distanced spaces available. Arrows on the floor mark walkway directions. Two poster displays at the front and the back of the room serve as cleaning supply caddies. And everyone wears a face mask, with Catlos opting for a clear plastic one when she is lecturing so students can lip-read and see her facial expressions.