From Hair to Repair, New Photography Technique Brings Hidden History of Fossils to Light
We've all seen and marveled at them: perfect fossils of gargantuan dinosaurs or other exotic creatures from the ancient world. But the truth is, sometimes there's more than meets the eye. From signs of soft tissue and the remains of million-year-old meals, to delicate fossilized anatomy lost in the surrounding rock, to paint and plaster artfully applied by human preparators – many fossils have scientifically important features that are hiding in plain sight.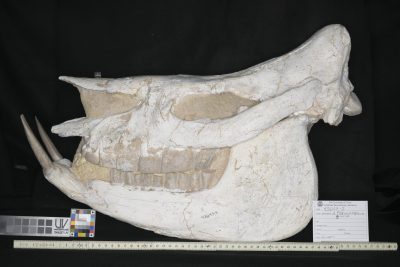 A research associate at The University of Texas at Austin is pioneering a new method for bringing these overlooked treasures into vivid detail. Called progressive photonics, the technique involves shooting photos of specimens under a range of lighting environments. The goal of the technique is to broaden the kind of information that can be extracted from fossils by diversifying and improving photo documentation.
The results can be stunning.
"By applying a few simple principles, the quality of the imaging goes through the roof and we are able to learn much more about fossils," said UT Jackson School of Geosciences research associate Mike Eklund, who developed the technique.
The traditional standard in fossil research was to photograph specimens with a light source shining from the upper left corner. This creates a consistent lighting environment for fossils across journals. However, fossil features that are invisible under those conditions are left in the dark. This can lead to parts of the specimen that blend in with the rock – such as soft tissues – to being inadvertently destroyed during the preparation process or overlooked during research.  For example, when Eklund examined a rare fossil of a juvenile shark, his photos revealed gills, skin and nerve bundles that no one had seen before
"This specimen sat in a collection for decades with no one having any idea of the details," Eklund said. "Soft tissue is one of things we've been frequently missing in the past, and we know now that it's present way more often than we realized."
Fossil repairs made by experts can also be difficult to detect under traditional lighting conditions, a situation that runs the risk of patched-up specimens compromising the integrity of all sorts of scientific research, said Jackson School Professor Christopher Bell.
"If you're doing chemical analysis, you want to know if someone applied consolidants or adhesives in the past," Bell said. "We don't have a lot of records about what preparators used to do."
Progressive photonics helps combat these issues by subjecting specimens to a host of lighting environments that make certain features pop. Eklund and Bell described the methods, equipment and examples in a research paper published in the Journal of Paleontological Techniques in fall 2018. Arvid Aase, a museum specialist at Fossil Butte National Monument, was also a co-author on the paper.
The technique uses a standard 17-shot sequence that employs a combination of polarized light, oblique light and florescent lighting. The lights work together to improve the visibility of features in three main areas – differentiating the fossil from the surrounding rock, illuminating soft tissues, and revealing evidence of human intervention. The ability to highlight geological, biological and artificial attributes can help scientists better understand a specimen's history – both its life history and its preparation history.
Eklund has been leading the development of the technique for the past eight years. During that time, he has used it to bring a number of features into view – from the preserved wing membranes of pterosaurs, to stomach contents in ancient reptiles, to cracks and dents under the paint and plaster of expertly repaired specimens. In the case of an Asian rhino fossil in the Jackson School collections, the technique helped reveal that it contained so much added material – including plaster, paint, and bone from an unknown source – that it was completely unusable as a research specimen.
In addition to providing a better look at fossils, the technique was also designed with accessibility in mind. All the equipment is available off-the-shelf, the photos do not require processing, and the photography sequence only takes minutes to shoot – which means that fossils at different stages of preparation can be examined for features that the naked eye would miss.
Eklund said he hopes that the potential trove of information that progressive photonics can reveal, along with its ease of use, will inspire researchers to adopt the technique. And the fact that the data are recorded as a suite of digital photographs means that scientists around the world can benefit from seeing a broader swath of fossil features.
"It's easy to shoot a suite of pictures, and then, when someone in another country wants to study your specimen, having the complete set gives them a much better interpretation of both surface structure as well as potential chemical additives or alterations," Eklund said. "This is the shortest path to getting the most complete story."
For more information, contact: Anton Caputo, Jackson School of Geosciences, 512-232-9623; Monica Kortsha, Jackson School of Geosciences, 512-471-2241