Facilities
UT Main Campus
Fossil Lab
The renovated Martindale lab (JGB 5.142) has numerous rock and fossil preparation areas, including a fume hood, height-adjustable workbenches, and an oversized sink. There are six Delta cabinets for museum-quality fossil storage as well as a fossil preparation station with a Zeiss Stemi boom-arm stereomicroscope, an Airscribe Paleo-Aro chisel, and several sizes of MicroJack tools. The lab is also outfitted with a rock polishing table, drying oven, fridge, and freezer, equipment for fossil bleaching, staining, and cleaning, as well as chemicals and basic geochemistry tools.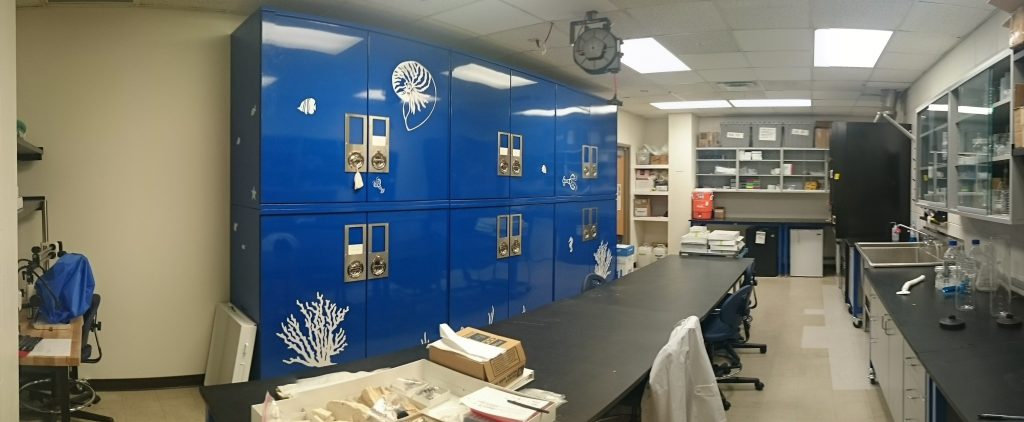 The UT Austin PaleoLab group also has a macro-photographic setup specifically for fossil photography, including a lighting array (angled and polarized light) and a digital SLR camera with macro lenses (see this recent article about fossil imaging at UT Austin's Jackson School Museum of the Earth's Vertebrate and Nonvertebrate paleontology labs). Also on UT Main Campus is the High-Resolution X-ray Computed Tomography Facility.
Microscope Lab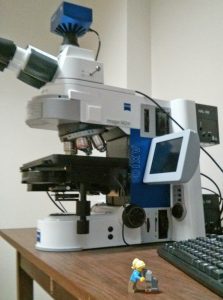 Numerous light microscopes are housed in the Martindale Lab (JGB 3.216A & 5.412) and the UT Paleo group seminar room (JGB 3.218). The Martindale Lab has two Zeiss petrographic microscopes complete with AxioCam digital cameras and computer setups, both are equipped with optics for plane and polarized transmitted light as well as reflected light microscopy (1.25x – 500x magnification). One of these microscopes, the Zeiss AXIO Imager.M2m has a motorized X-Y stage and Z focus control with image stacking capabilities to capture multiple depths of focus as well as tiling capabilities allowing users to create high-resolution photomicrographs of entire thin sections. The other, a SteREO Discovery V8 has expanded petrographic capabilities, and a more standard configuration (best for student use). There are two Zeiss stereomicroscopes in the Martindale Lab as well, the SteREO Discovery V8 is equipped with a transmitted light base, gooseneck angled lights, and an LED ring light. This microscope is attached to an AxioCam digital camera and computer setup with image stacking capabilities (stacked depths of focus) and has objectives that allow for 0.5x – 12x magnification. The Zeiss Stemi 2000 stereomicroscope is for everyday student use and has objectives that allow for 1x – 8x magnification.
Several PIs at UT Austin have recently refurbished a Cathodoluminescence microscope. The new setup contains; a new detector, a new Olympus BX43 petrographic microscope (including a wide range of objectives), an updated computer setup, and a new digital camera.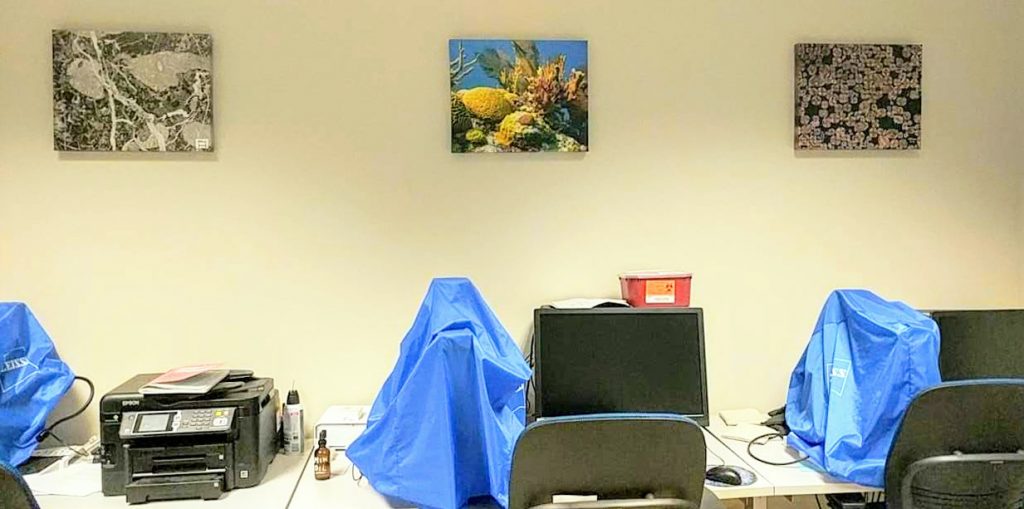 Pickle Research Campus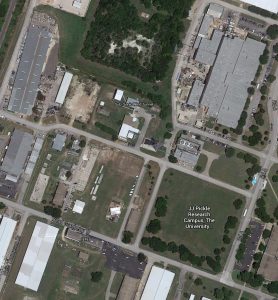 There are facilities specialized for fossil preparation and curation on the UT Pickle research campus at the Jackson School Museum of the Earth's Vertebrate and Nonvertebrate paleontology labs. The non-vertebrate paleontology collection at the University of Texas at Austin is now estimated at over 4 million specimens; it is the largest in the southern USA and is the 6th largest repository in the US, with the 9th largest type collection! The Nonvertebrate Paleontology Lab has recently invested in several new pieces of equipment including; an Accuflow microblaster, several PaleoAro and Microjack tools, and an AmScope Boom Stand binocular zoom stereomicroscope with LED light ring for fossil preparation. Microscopic capabilities include: basic stereomicroscopes for fossil preparation and examination, a Zeiss Imager petrographic microscope, and a Zeiss stereomicroscope equipped with a transmitted light base, gooseneck angled lights, and an LED ring light (the later two both have AxioCam digital camera and computer setup). Thanks to an NSF grant, about one-third of the NPL collections were rehoused between 2015 and 2020 in the new Molineux collection with new cabinets and a climate and humidity-controlled room in the large collections building.