Paleontological Board Games
Taphonomy: Dead and Fossilized
Former Ph.D. Student Anna Weiss and Dr. Rowan Martindale have developed an educational board game about fossilization. The game is modeled after the Ya Ha Tinda Lagerstätte, an Early Jurassic-aged fossil deposit in Canada. The game is now available for purchase at the UT Austin Co-op!

The professionally printed version features beautiful artwork by John Maisano, the JSG resident paleoartist. Everything fits in one beautiful box with a "mousepad" game board and durable tokens that are ready for use! Each set of cards features a focal point of John's Ya Ha Tinda painting making the final version a beautiful and durable game on par with any you would see in a museum gift shop or game store. Buy a copy of the game here!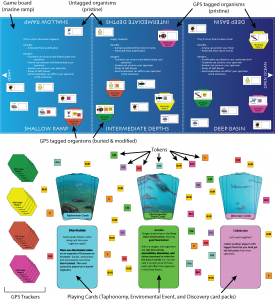 About the game: Through competitive play, game players learn about taphonomy (i.e., processes that affect an organism as it fossilizes). They explore how the organism's biology, the environment it was deposited in, the physical and chemical changes during burial and decomposition, as well as discovery biases, can influence whether or not an organism is collected. Players attempt to preserve the best fossil collection by "time traveling" to the Jurassic; there they protect their specimens from taphonomic factors (either from random environmental events or other players) and learn what processes enhance or diminish preservation. Players then return to the present to recover their specimens and learn that collection issues can also bias sample recovery.
The game was debuted at the 2018 GSA Annual Meeting and you can download a "Print & Play" version from https://doi.org/10.18738/T8/NQV2CU. We have two papers published in the Journal of Geoscience Education about the use of this board game as an educational medium: the first is about the use of the game in undergraduate classrooms and the second is about the use of the game with high school learners. The SERC webpage about using this game as an in-class or lab activity is available here: University Version and High School Version (part of the SERC "On the Cutting Edge Exemplary Teaching Activities collection").
Due to COVID-19, we have made a virtual version of the game that you can play on Tabletop Simulator (available through Steam); the following video has instructions for how to access the virtual game.
Here's a 10-minute video about how to play the game.
* All game images and instructions are copyright © 2018 The Board of Regents of The University of Texas System
If you want to learn more about the fossil site this game is based on, here is a public talk about the site that Dr. Martindale gave at the Royal Tyrrell Museum of Palaeontology.
There are also several short news articles by the Jackson School of Geoscience at UT Austin (with a little facebook video), The Calgary Herald, The International Business Times. You can also read the scientific paper in Geology: A new Early Jurassic fossil Lagerstätte from Ya Ha Tinda, Canada (~183 Ma).
Reef Survivor (coming soon)…

Dr. Rowan Martindale is developing a new educational board game about reef ecology, evolution, extinction, and resilience! The game can be modified for any time period with reefs (the current draft is focused on modern reef communities). Through competitive and collaborative gameplay, players learn about reef communities, evolution and natural selection, ecology, niches, and how different (natural) disasters can influence a reef community's survival. Ph.D. student Estefanía Salgado Jauregui is also working on an adaptation for use specifically with reef conservation in Jamaica in collaboration with colleagues at the University of the West Indies, Mona, and Alligator Head Foundation.