Sources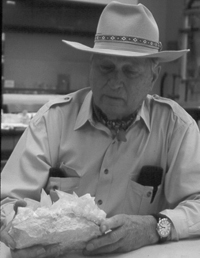 Sources of information used in the development of this virtual exhibit:
Conversations with Glen himself, and the generous loan of his photographic and other field gear.

Memories of many of Glen Evans' family, friends, and coworkers during his professional career.

Publications by Glen Evans, and access to his extensive collection of photographs. Many of his photographs are included in the exhibit.

Search

Handbook of Texas Online

for references to Glen Evans.

Archives of the

Center for American History

, The University of Texas at Austin

Museum resources staff and artifacts from

Texas Memorial Museum

and the

Texas Archeological Research Laboratory

A

ll sketches are by Hal Story, and except where noted, specimen photographs were taken by the Museum staff.