Glen Evans: The Compleat Naturalist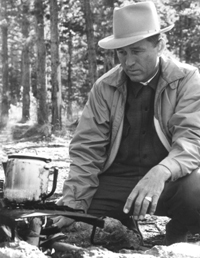 We are still seeing the results of Glen Evans' work of the last half century proving relevant to current research in the natural history of Texas.
We have developed this virtual exhibit as a tribute to the work of Glen Evans and as a method of disseminating information about those remarkable endeavors to the public.
The unusual word "Compleat" is used in the title to stress the level of proficiency that Glen Evans achieved in his work covering the natural history of Texas. He adds to that an outstanding ability to teach and inspire others to investigate and respect the natural world.
Born and raised in Henrietta, the county seat of Clay County, TX, where he was the fourth of seven children of Clifford and Dena Evans. Glen's early life was tied to the land. After graduating from high school in 1928 he worked on several farms and for the Texas Highway Department driving horse-drawn equipment. Using his hard earned savings Glen left Henrietta for Austin in 1934 to study geology at the University of Texas.
Instrumental in several Workers Progress Administration (WPA) projects and mineral and paleontology surveys for the University of Texas until 1941, Glen finally became the Assistant (and later Associate) Director of the Texas Memorial Museum and worked as a geologist for the Bureau of Economic Geology. Much of his time during the Second World War was spent in locating deposits of strategic minerals within the state of Texas.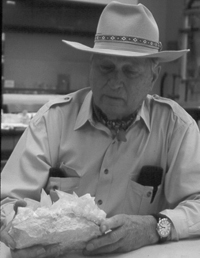 He left the University for employment in the oil industry in Midland, TX in 1953. His friend J. Frank Dobie wrote an editorial in the Austin newspaper noting the incalculable loss to the university.
Then he moved into managerial positions involving a spell in Canada. He returned to Midland in 1970 as Director of the Minerals Division of Louisiana Land and Exploration, and then on to Denver, Colorado. He 'retired' in 1975 and returned to his home state.
Glen, often referred to as the "Dean of Texas Paleontology" and "The Father of Geoarchaeology" passed away July 14, 2010.
Within each area of his employment, Glen Evans left a trail of pioneering and competent research. We follow just a few of those trails in this exhibit to allow you to savor the remarkable achievements of this Compleat naturalist, teacher and gentleman.