Gulf of Mexico Reef Symposium 2018

January 2019 Update
We are now soliciting articles for a Special Topic Issue of Frontiers in Marine Science. The Research Topic web page can be found here: www.frontiersin.org/research-topics/9437 and is listed under "Coral Reef Systems", "Marine Ecosystems Ecology", and "Global Change & The Future Ocean".
Topic Editors: Dr. Adrienne Correa, Dr. Joshua Voss, Dr. Daniel Holstein, Dr. Nancy Knowlton, and Dr. Rowan Martindale
Fall 2018
Our lab, in collaboration with the Correa Lab at Rice University, is organizing a symposium about reef ecosystems. The "Gulf of Mexico Reefs: Past, Present, and Future" Symposium will occur on Wednesday, October 10th, and Thursday, October 11th, 2018, at Rice University in Houston, TX.
The aim of the workshop is to connect a multi-disciplinary group of researchers in Texas and the northwest Gulf of Mexico who are interested in the evolution, (paleo)ecology, decline, and conservation of reefs. The workshop coincides with a visit by Dr. Nancy Knowlton (Smithsonian) to Rice. Dr. Knowlton will give a public science communication talk at Rice on Thursday night and a research talk in the BioSciences Department on Friday. The two-day meeting will allow early career and established scientists from across the region to become familiar with one another's research programs and to foster new collaborations. To this end, the conference schedule will consist of both short "elevator pitches" by all attendees (so we all become familiar with the range of research being done) and discussion/brainstorming sessions. By bringing reef paleontologists, biologists, sedimentologists, and conservation experts together in a single, focused meeting, we hope to facilitate discussion and foster collaboration between these disciplines. Our aim is for this conference to catalyze new funding proposals as well as a synthetic publication so there will be time in the schedule for discussions to these ends.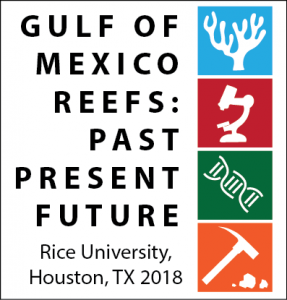 Funding for this meeting has been secured from the Paleontological Society and the Rice University Creative Ventures Fund so that workshop meals and hotels will be either fully or partially covered for participants. There are no registration fees associated with the workshop. The organizing committee will coordinate meals and hotel rooms, so please be sure to complete the survey.
Organizing Committee: Anna Weiss, Rowan Martindale, and Adrienne Correa