A new paper recently published in Nature by the Rempe group reveals that bedrock water storage – and rock moisture in particular – is a critical source for transpiration for many ecosystems across the United States.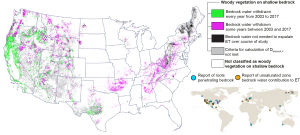 The paper, led by Dr. Rempe and Erica McCormick, a former undergraduate researcher and current lab technician, also involved lab members Alison Tune and Logan Schmidt, as well as US Forest Service scientist David Dralle and former Rempe lab postdocs Jesse Hahm from Simon Fraser University and Dana Chadwick, now at NASA JPL.
For more information about the paper, including access to the data and code, check out the website for the paper here!
The University of Texas press release can also be found here.
Here are some of the main findings from the paper:
Temporal and spatial patterns of bedrock water use across the CONUS indicate that woody plants extensively access bedrock water for transpiration.
Plants across diverse climates and biomes access bedrock water routinely and not just during extreme drought conditions.
On an annual basis in California, the volumes of bedrock water transpiration exceed the volumes of water stored in human-made reservoirs, and woody vegetation that accesses bedrock water accounts for over 50% of the aboveground carbon stocks in the state.
Plants commonly access rock moisture, as opposed to groundwater, from bedrock and that like soil moisture, rock moisture is a critical component of terrestrial water and carbon cycling.
Site Last Modified: April 18, 2022