Recent Comparative
Recent or Holocene (i.e.: non-fossil) specimens are an important part of the collections. They allow us to compare living (extant) forms with their fossil relatives. Hence the term 'Recent comparative collections.' They also enable us to track the effects of recent environmental changes on biodiversity.
Jean Andrews Shell Collection
This is largely a mollusc collection collected by Jean Andrews from around the world. View the original Jean Andrews Shell Catalog (1959-1997) (PDF). Search the Andrews Shell Collection database.
J.A. Singley and H.G. Askew Collection
This is a historic collection of recent freshwater molluscs especially mussels, and land snails. Collected in the late nineteenth and early twentieth centuries, many of the species are now endangered or extirpated and the collections have great significance for studies of change in biodiversity. The collections have been conserved and imaged with support from NSF.
H.B. Stenzel Genotype Collection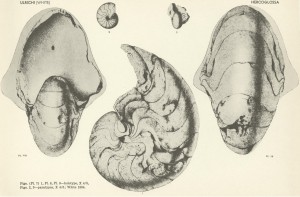 This collection was created by Henryk Stenzel to help him identify and catalog early Tertiary fossils. The catalog of his images and descriptions, Type Invertebrate Fossils of North America, is now available online. The use of the term 'genotype' in this context refers to 'genus' and not to the newer terminology referring to 'gene' . Where ' genotype' refers to the set of genes responsible for a specific trait, often in association with phenotype which is the physical expression of such a trait.
Texas Parks and Wildlife Mussel Collection
This collection of freshwater mussels of Texas was gathered by TPWD under the guidance of Robert Howells. The collection is curated, specimens have been imaged and source localities are georeferenced. The material provides an excellent view of biodiversity of these mussels. Mussels are also very susceptible to pollution, tracking their health is thus also tracking the health of Texas rivers.
Hendrickson, Dean A., Sahotra Sarkar, and Ann Molineux. 2013. "Final Report: Provision and Inventory of Diverse Aquatic Ecosystem-related Resources for the Great Plains Landscape Conservation Cooperative (GPLCC)". Great Plains Landscape Conservation Cooperative. http://hdl.handle.net/2152/20040.
Marine Science Institute Collection
These collections from the University of Texas Marine Science Institute at Port Aransas include Holocene molluscs, echinoderms, and corals. They were assembled for research, and are now, in addition, used for education and exhibit.
Other Recent Collections
Recent specimens are deposited in the collections by current researchers. They are also added when needed to provide effective educational comparative materials.