Fundraising
SRS Fundraising!
We believe that it is important to pay back the opportunities that the JSG and geology community have afforded us, and hope that our effort can lead to opportunities created for more kids.  We will be able to make an even more meaningful impact because the JSG will match our fundraising and donations up to $3000 per event!!
Upcoming events:
ALAMO DRAFTHOUSE: WE WATCH SHARKNADO! October 19, 2013 @ 12 pm  The Alamo Drafthouse Village Location (2700 W. Anderson Ln)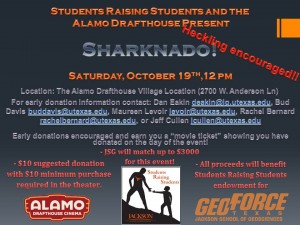 Successful events:
Grill in the Park
Nature gave us a challenge, but we'll never complain about rain in Texas!  We moved to a covered location at Patterson Park and had a blast.  The food and drink were exceptional, and we had folks come out from every unit in the Jackson School.  It was great to see everyone having a good time, and uniting to support GeoForce.  We raised $953 at the event, and thanks to the generosity of UTIG researcher Jamie Austin, we reached our maximum amount of $3,000 for the JSG match! That means that Students Raising Students is off to a great start with $6,000 in the endowment! Thanks to all of you who made it happen!
Alamo Drafthouse