News & Events
Introduction to LaTeX Workshop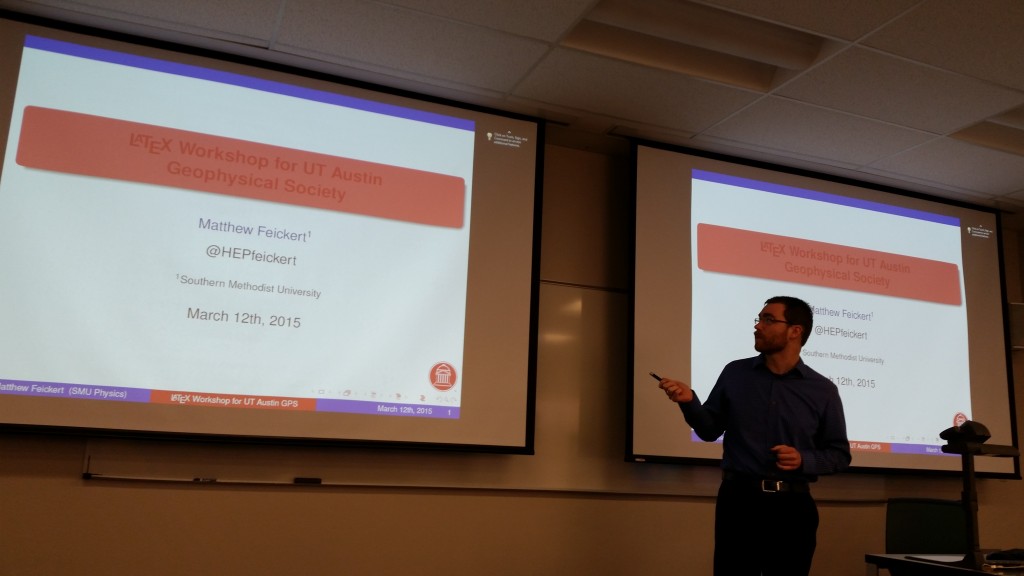 Matthew Feickert  from Southern Methodist University's Department of Physics gave a well received introduction into LaTeX, an open source markup language that allows for typesetting of documents with extreme customization and elegance. Matthew's workshop covered the basics of LaTeX and demonstrate how to quickly create the outline of a scientific paper using only basic LaTeX commands and other capabilities.
Once again, this was well attended event, and we would like to thank Matthew for his time giving the course, the TGS officers for organizing the event, and the members who attended.
TGS Members at 2015 Explore UT
T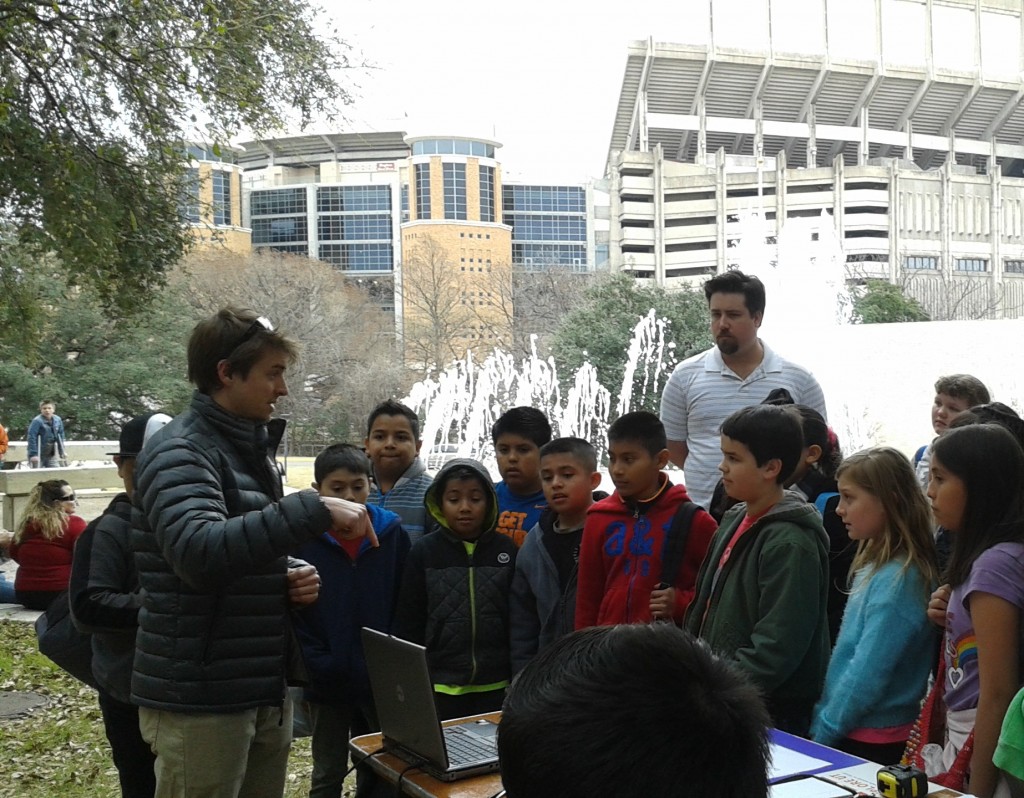 GS members added to the wonderful array of educational activities during the 2015 Explore UT event by setting up a small seismic survey and demonstrating basic seismic principles to children and chaperones.
The annual Explore UT event is a full day of campus wide educational activities aimed to encourage and inspire children, K-12th grade, to attend college. Kids from schools throughout the region and Austinites attended the event.
The exhibit set up by the TGS students in the East Mall was called "The Sound of Rocks: Earth's Subsurface Soundwaves". It was designed to teach attendees how sound waves travel in the earth's subsurface during earthquakes and what the speed of those waves can teach us about rock composition. Along with a sledge hammer source handled by TGS students, visiting children were asked to produced there own waves by stomping the ground with their feet to discover what the waves can tell us.
Thanks to all the Explore UT coordinators and the TGS volunteers for making such a fun and educational even! Hopefully we've helped inspire a whole new generation of geoscientists!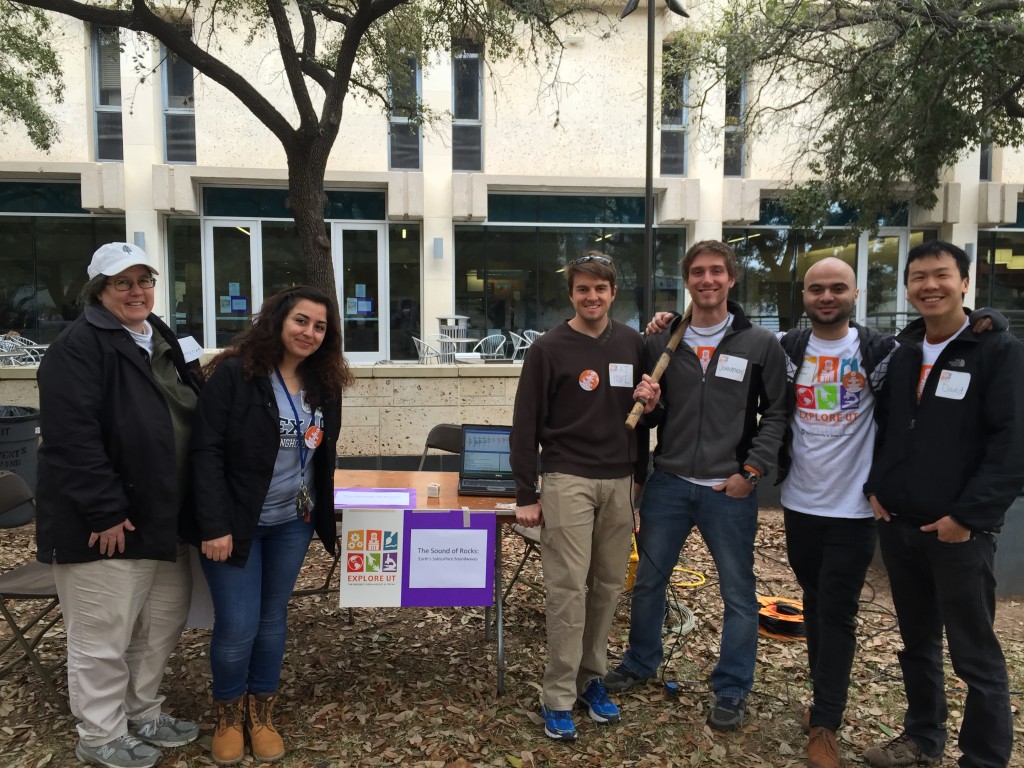 TGS Members Help Judge 2015 Austin Energy Regional Science Fair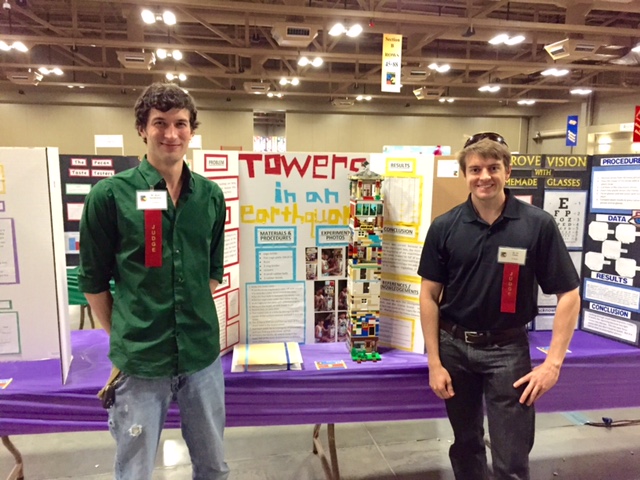 Several members of the TGS student group volunteered to be judges for the 2015 Austin Energy Regional Science Fair at the Palmer Events Center.
Judges were asked to judge both the Junior and Senior level science projects at the fair. TGS students have been volunteering at science fairs in the Austin area over the past couple of years and has been a rewarding experience.
This year's fair had a terrific turnout, with many outstanding projects from all of the participating students. Thank you to the volunteers, and we look forward to helping judge the projects at next year's fair!
TGS MATLAB Crash-Course Gets Large Turnout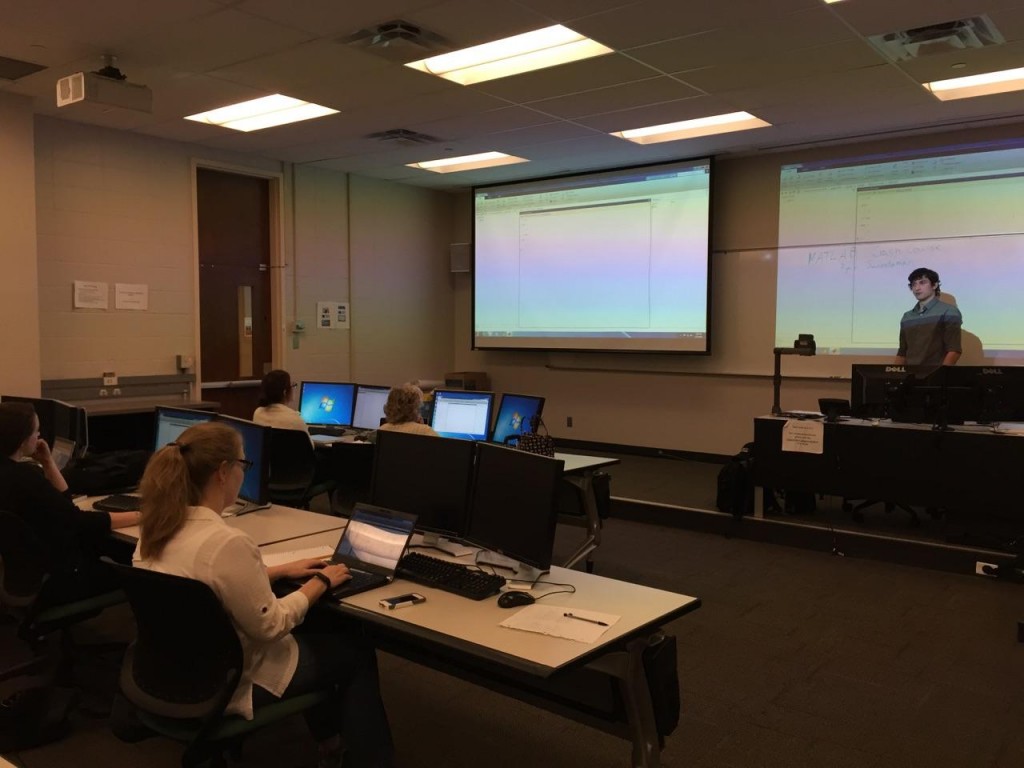 We would like to thank Ryan Swindeman for hosting the MATLAB Crash-Course this spring, as well as the 20 students who attended! Below are links to the course materials for you to download and use on your own. They are scripts that are in Microsoft Word docx format where the text can be copy and pasted or be converted into MATLAB .m script files. Feel free to e-mail Ryan at ryan.swindeman@gmail.com if you have any questions.

MATLAB Crash-Course Files
Geol470_HW3
plotting_in_3D
projectile_motion
varycolor_license
varycolor
Bowie High School Science Fair Volunteer Event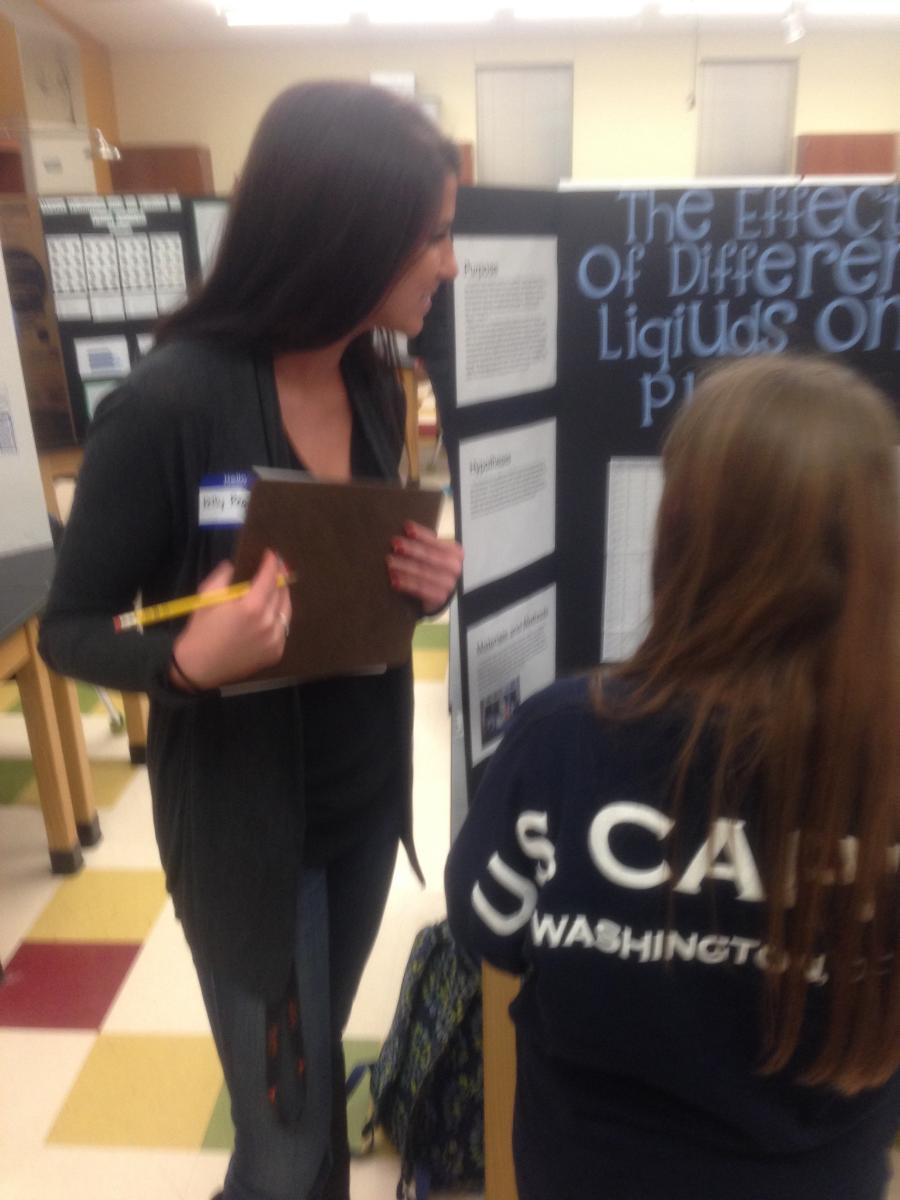 Bowie High School hosted a sciences fair on January 15th where TGS members Elliot Dahl and Kelly Regimball volunteered as judges. There were many great contributions made by the participating high school students.Two projects that especially stood out included an experiment where the student explored different possibilities for alternative soil and how lettuce grows in it, as well as a project that explored the benefits of spraying a small amount of oil on plants in order to help them preserve water in draught areas.
We would like to thank Bowie High School for the wonderful opportunity to help out, our event coordinators, as well as Elliot and Kelly for volunteering.
2014 TGS Holiday Party
We would like to thank everybody who attended the 2014 TGS Holiday Party! We would also like to thank all of members for making this fall such an outstanding one for our organization. See you next year!
SEG-AAPG Distinguished Lecturer Dave Hale Speaks at the BEG
SEG-AAPG Lecturer, Dave Hale, visited us from the Center for Wave Phenomena at Colorado School of Mines. His talk, "3D seismic image processing for interpretation of faults and horizons", was given in front of TGS members, Jackson School faculty, and researchers from both the Bureau of Economic Geology and the Institute for Geophysics at the Pickle Research Campus on Friday, November 21st. We would like to thank Dave for his contribution to our Exploration Lecture Seminar this fall!
TGS Members Safety Meeting and Bowling Night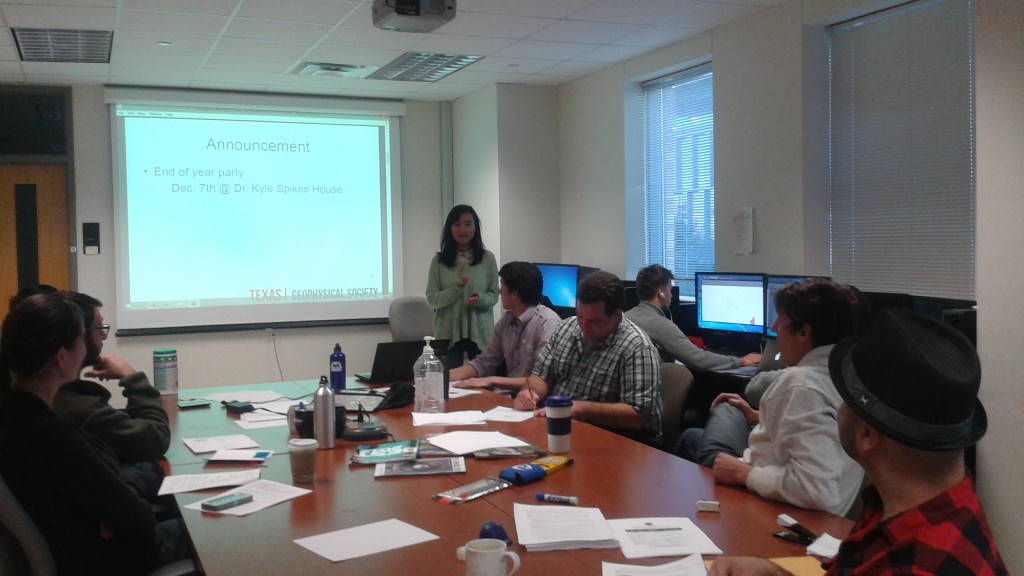 TGS Members met to discuss safety policies for UT student organizations. Afterwards, members meet at the UT Student Union for a few rounds of bowling and billiards. Thank you all for participating, and stay safe!
2014 SEG Annual Meeting in Denver, CO
The 2014 Annual Meeting was in Denver, CO this year from October 26th to the 31st. Thanks to all the Longhorns who attended and presented!
The TGS organization is now one of the top 3 SEG chapters in the world! Let's keep it up everyone. Great job!
First TGS Meeting of Fall 2014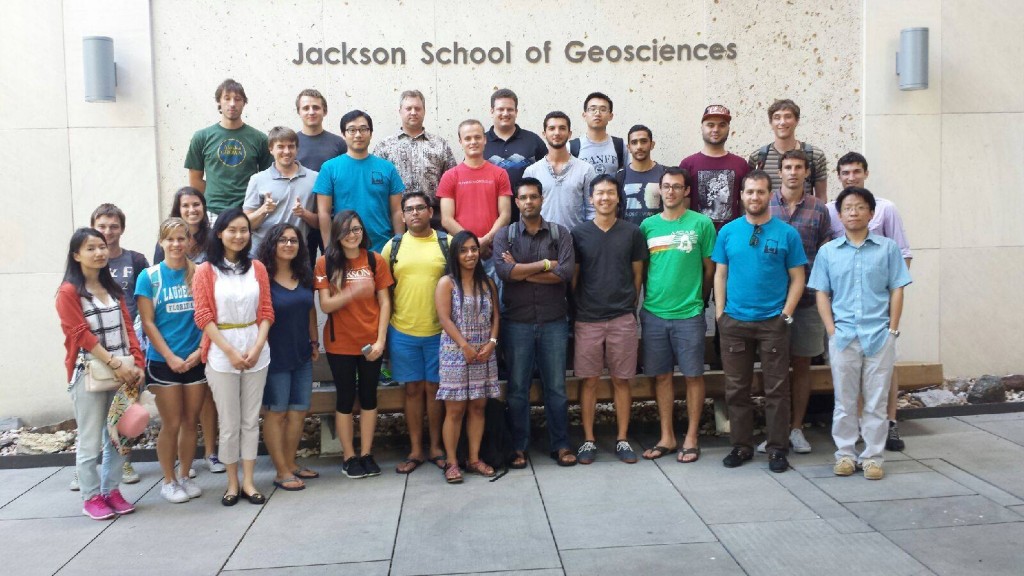 Welcome back to our current members and hello to new members! If you haven't already, join our listserv to receive updates about TGS!
After a some pizza and soft drinks, Qi gave a small presentation over basic information about the chapter, the various planned chapter events, and membership requirements. Afterwards, Dr. Spikes went over the basic procedure for filling out RTA forms if attending the SEG Annual Meeting in Denver this October.
If you were unable to attend the first meeting or missed some details, here's a copy of Qi's presentation:
TGS First Fall 2014 Meeting – 09/09/14
Please contact the officers if you have any questions. The Denver meeting is just around the corner, more details on what needs to be done if you plan on attending will be posted on this site soon.
2014 Active Membership Requirements
In order to encourage greater participation of Texas Geophysical Society members and to achieve a Summit Ranking of our SEG student chapter, requirements for active membership in the chapter have changed.
In order to be considered an active member in time to receive funding for SEG Denver, you must :
Attend at least half the Fall Exploration Seminars*
Register with SEG for a member number (Free for students)
Participate in at least one volunteer event*
*Can substitute a volunteer event for a seminar event if course schedule conflicts exist, please contact Qi Ren for permission