Lab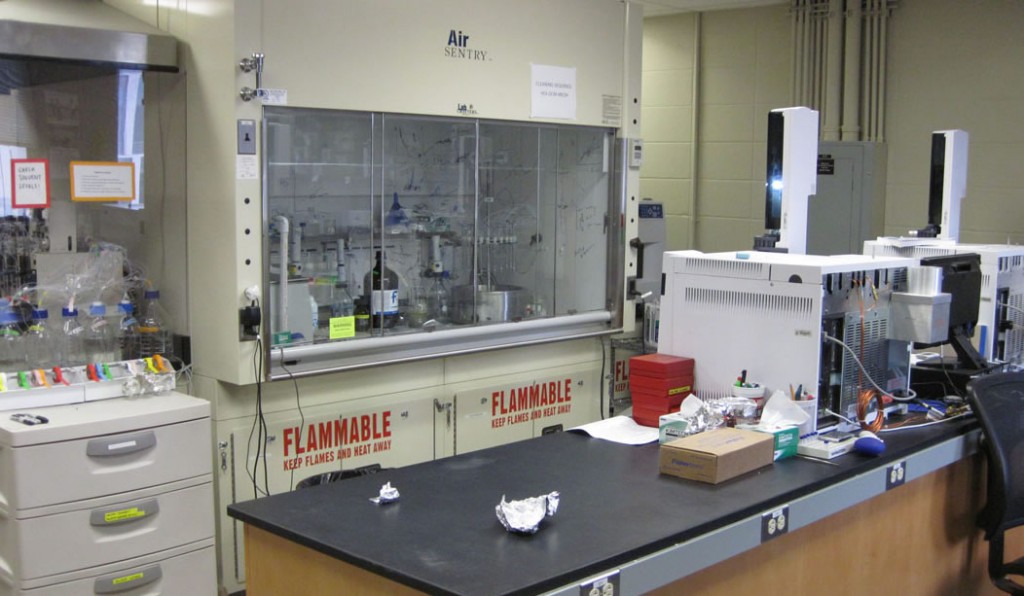 Cost center. Our lab is operated as a cost center. For pricing see here or contact Dr. Shanahan at tshanahan@jsg.utexas.edu.
Services and Pricing
| | | | |
| --- | --- | --- | --- |
| Analysis | Type | return time | pricing |
| dD and d18O analysis of waters | Spectroscopy |  1-2 weeks (depends on #) | $5 |
| dD and d18O analysis of plant waters | purification + spectroscopy | 4+ weeks | $10 |
| cryogenic extraction of waters/plants | vacuum distillation | 1-2 weeks (depends on #) | $5 |
| Biomarker purification (n-alkane, acids, sterols) | Microwave + solid phase extraction | 2-4 weeks | $10-15 |
| Compound specific dD or d13C |  GC-IRMS | 3 weeks | $60 |
| TEX86 & MBT5ME' of GDGTs | LC-MS | 3 weeks | $40 |
| d13C of TOC | EA-IRMS | 3 weeks | $15 |
Stable Isotope Mass Spectrometry

The isotope facility is equipped with a Delta V stable isotope mass spectrometer with a Costec EA for carbon and nitrogen isotope analysis of bulk sediments and a Trace GC with pyrolysis and combustion furnaces for hydrogen carbon and nitrogen stable isotope analysis of molecular organics. We are in the process of constructing an additional system for rapid switchover between solvent and gas (methane,ethane, propane) injection and analysis. The Trace GC autosampler is also equipped for headspace sampling. Additional facilities for stable isotope analysis of waters and carbonates are available in the Quinn Laboratory.

Gas Chromatography

For lipid identification and quantification, the lab is equipped with a Agilent gas chromatograph – flame ionization detector and an Agilent gas chromatograph single quadrupole mass spectrometer.

Liquid Chromatography

The lab is also equipped with an Agilent HPLC coupled to a single quadrupole mass spectrometer. The system is also equipped with a fluorescence detector, a diode array detector and automatically triggering fraction collection system which can use any of the detection systems to start compound collection when target peaks are identified.

Biomarker Sample Prep

For efficient biomarker sample prep, the lab is equipped with both an ASE200 and a MARSX microwave solvent extraction system. The microwave has been found to be more efficient at performing large numbers of extractions of small (<10g) samples with lower overall solvent usage but the ASE is much more effective at extraction of large samples. Automated column chromatography is performed using a bank of 10 Biotage RapidTrace systems.

Sample Processing and Storage

For processing of sediment cores, the Jackson School is in the process of refurbishing a laboratory on the Pickle Campus specifically for this purpose. The lab will be equipped with various equipment for splitting, photographing, processing and sampling sediment cores. Equipment is also available for standard analysis such as loss on ignition and grain size analysis (Malvern Mastersizer). In conjunction with this facility is an 800 sqft walk in refrigerator for core storage. A walk in freezer is maintained on campus for frozen storage and cold processing of frozen sediments. A second wet chemistry laboratory is under construction on campus for bulk sediment processing (acidification, demineralization) as well as thin section embedding.