Endowment
GeoSystems Endowment
In order to ensure that the GeoSystems Initiative will remain a strong and permanent part of The University of Texas and the Jackson School of Geosciences, the Geosystems Fund endowment has been established to help fund future teams.
Through donations to this endowment, our alumni and friends are able to support and invest in the education and careers of those students following in their footsteps.
Geosystems Fund
This is a permanent endowment for benefit of the John A. and Katherine G. Jackson School of Geosciences. Funds distributed from the endowment shall be used to support student based interdisciplinary research that strives to quantitatively understand geological systems within the Jackson School.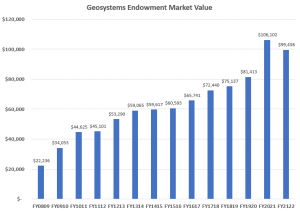 ---
The Fund in Action
| | |
| --- | --- |
| | The Gas Hydrates in Green Canyon 955, Deep-water Gulf of Mexico Team published a brief introduction and 7 papers summarizing UT GOM2-1 Hydrate Coring Expedition in AAPG Bulletin, Vol. 104 Number 9, Sept 2020 |
| | The fund supported Kris Darnell's publication in Geophysical Research Letters, "Subsurface injection of combustion power plant effluent as a solid-phase carbon dioxide storage strategy, Geophys. Res. Lett., 44, 5521–5530, doi:10.1002/2017GL073663. |
| | In June 2017, Kris Darnell traveled to the 9th International Conference of Gas Hydrates (ICGH9) in Denver, Co. Kris presented a poster entitled "Nitrogen-assisted three-phase equilibrium in hydrate systems composed of water, methane, carbon dioxide, and nitrogen." |
| | Kevin Meazell participated in University of Leicester's Petrophysics Summer School July 2017. Kevin attended various courses taught by instructors from IODP, ECORD, Jamstec, and BP, as well as Techlog Fundamentals taught by Schlumberger. Kevin also presented a poster entitled Methane hydrate-bearing sediments of Green Canyon 955, northern Gulf of Mexico. Kevin's travel was co-funded by the United States Science Support Program. |
| | Baiyuan attended Subduction Interface Processes (SIP) Conference April 19-21, 2017 in Barcelona, Spain. During the conference, Baiyuan presented a poster entitled "Stress, porosity, and pore pressure evolution in fold-and-thrust belts." |
| | Baiyuan Gao traveled to the 2015 American Geophysical Union Fall Meeting. Baiyuan presented her ongoing PhD research titled "Geomechanical modeling in fold-and-thrust belt systems." Baiyuan is systematically investigating the stress, strain, pore pressure, and compression evolution in fold-and-thrust belt systems. She also has a passion for transferring geoscience knowledge into technology and aims to propose a practical technique to predict the stress and pressure in compressional regimes. This conference gave Baiyuan valuable opportunity to be exposed to the broader geoscience community and she received feedback from experts in fields of thrust belt studies, geomechanical modeling, and seismic inversion. You can learn more about the conference here: AGU 2015. |
| | The fund supported Jason Sanford's field work in the Panoche Hills of Central California, 28 February-8 March, 2014. There, he mapped sand injections in Late Cretaceous to Early Paleogene mudstones of the Moreno Formation. This work was critical to Jason's MS thesis work on hydraulic fracturing and sand injection due to overpressure. |
| | Yao You attended the American Physics Society Meeting. Yao presented his abstract: Pore pressure control on slope failure of a saturated granular step. |
| | The fund supported Baiyuan Gao's travel for a PetroMod training course run by NExT, a Schlumberger company. This modeling course assisted Baiyuan in her research at UT Austin. Baiyuan learned how to construct complex geological models, control the processing of the models, discover available options and tools for petroleum migration modeling, and interpret and analyze the results. |
| | The fund sponsored Andrew Smith's travel to the International Conference on Gas Hydrates. Andrew presented his ongoing Master's research, which seeks to answer an important problem in hydrate systems: what are the thermal and chemical processes that occur during methane venting and associated hydrate formation? The title of his talk was "Observations and models of heat and salt generation in deepwater gulf of Mexico vents." The conference was important for his academic and career development. Andrew received feedback from experts in the field of hydrates and was exposed to other cutting-edge research on gas hydrate. |
---
Invest in the Future
You can help support the GeoSystems Initiative by giving a donation. Visit https://www.jsg.utexas.edu/alumni/support/ways-to-give/ to make your gift now.
Many employers will match your donation, in effect doubling or tripling your contribution. We encourage you to ask your supervisor or human resources representative about the possibility. Check to see if your employer offers a matching gift program.
Give Online
You can donate online using a credit card at this link, be sure to specify the GeoSystems Endowment in the text box: https://utdirect.utexas.edu/apps/utgiving/online/nlogon/?menu1=JS**
For information on all endowments within the Geology Foundation, including the Geosystems Endowment: