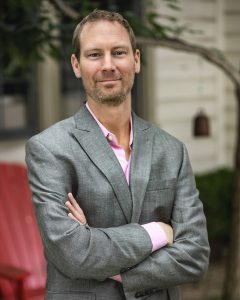 Dr. Carey W King performs interdisciplinary research related to how energy systems interact within the economy and environment as well as how our policy and social systems can make decisions and tradeoffs among these often competing factors. The past performance of our energy systems is no guarantee of future returns, yet we must understand the development of past energy systems.  Carey's research goals center on rigorous interpretations of the past to determine the most probable future energy pathways.
Carey is Research Scientist and Assistant Director at the Energy Institute at The University of Texas at Austin and with an appointment within the Jackson School of Geosciences. He has both a B.S. with high honors and Ph.D. in Mechanical Engineering from the University of Texas at Austin. He also teaches within the McCombs School of Business.  He has published technical articles in the academic journals Environmental Science and Technology, Environmental Research Letters, Nature Geoscience, Energy Policy, Sustainability, and Ecology and Society. He has also written commentary for Earth magazine discussing energy, water, and economic interactions. Dr. King has multiple patents as former Director for Scientific Research of Uni-Pixel Displays, Inc.
Carey's Curriculum Vitae: PDF
Click on icon below to sign up for Carey's newsletter or donate to his research program:
    
Carey's energy and economy systems "primer":
The turn of this century saw the cheapest-ever energy and food combined, and here's why we may never return to those historic low numbers.
"Contemporary discussions of energy resources and technologies are full of conflicting news, views, and opinions from extreme sides of arguments. The average person is understandably confused. Depending on who you listen to, horizontal drilling and hydraulic fracturing have either placed the United States on the verge of energy independence, or exposed the insolvency of oil and gas companies as they spend more money than they collect from sales. Renewable energy technologies can either obviously serve all of our needs, or are a subsidized path to economic ruin."  Read more …
Latest Presentations, Videos, and Podcasts
Here I speak with David Spence, Baker Botts Chair in Law at the University of Texas School of Law, and Professor of Business Government & Society at the McCombs School of Business.  This is part of his effort, with other colleagues, to promote informed discussion and education about the tradeoffs when choosing different energy resources and technologies. Length: 20 minutes.
Here I speak with financial Jim Cox (https://jamesacox.com) for his Financial Insights podcast.  Jim is a financial advisor with First Financial Group in Philadelphia. We talk about the state of macroeconomic modeling and some of the insights from my macroeconomic modeling.  Length: 43 minutes.
An op-ed discussing how people use their "energy and economic narratives" to discuss the feasibility, or lack thereof, of the Green New Deal.
In this (32 minute) talk I provide a much more concrete description of my macroeconomic model linking natural resources to economic dynamics.  I describe the sequence of events that describe how natural resources consumption is linked to macroeconomic trends  such as population growth, capital investment, debt, and wages. This is the most complete description of the results to date, and it builds on the other presentations (given in 2018) on the same topic.
Want to know how to contemplate the ways in which people have ENTIRELY DIFFERENT views about the future of energy?  Watch this presentation!
This is a talk (video and slides) I gave at the 2018 Schweitzer Engineering Laboratories Modern Solutions Power Conference, Chicago, Illinois.
Latest Blogs and News
This is a nice story in the Dallas Morning News about our Energy Institute study, The Full Cost of Electricity, summarizing our updated calculations for the levelized cost of electricity (LCOE) across Texas and the U.S. as well as our comparison of state level financial support, or subsidies for electricity in Texas and California.
"There's no consensus on whether you should call something like that [extending transmission lines to West Texas] a subsidy or state financial support. Texas seems more agnostic in terms of the energy type, whether it's renewables or hydrocarbons. Is this a thing that you are going to build and create jobs and help the economy? Well, then, good." — Carey King
In an extreme world with markets for everything, each of us becomes an automaton responding to price signals to maximize collective utility, or GDP, that might have very little to do with our personal well-being.
How could we know if we have allowed the economy to simply become a GDP maximizing utility monster?
Read the full post here at Resilience.org …
Our economic system operates within intellectual, social, and physical constraints. Each of these constraints can feedback to affect the others. To produce more goods and services we have to 1) know how to produce them, 2) make them desirable, acceptable and affordable, and 3) have the required natural resources.  The finite size of the Earth increasingly affects socioeconomic outcomes across the globe, including within the developed economies.
Ecologists, anthropologists, and systems scientists have anticipated this since the 1970s.  However, the physical constraints on societal and economic organization and equality are largely unappreciated and misunderstood.
Click here to read further …