Yuqian(Philomena) Gan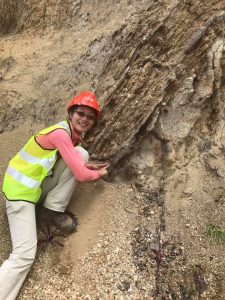 Research interest:
How relative sea level change and sediment supply interact with each other to produce intricate patterns of basin fill fascinates me. With my supervisor Prof Ron Steel and Dr.Cornel Olariu, and colleagues and collaborators in Dynamic Stratigraphy Workgroup and elsewhere, I use stratigraphic and sedimentological data to disentangle the allogenic and autogenic responses to sediment flux, climate, tectonics and sea-level forcing in the rock record.
I am currently conducting my first PhD project, an outcrop-based study integrating sedimentary structures and facies distribution of both the strike and dip sections of exposed basin margin clinoform in Jurassic south Neuquén Basin, Argentina. I focus mostly on slope channel architecture variations in space and time, but also investigate shelf edge-slope canyon transition and sedimentary gravity flow processes that deposited the channel fill.
Bio:
I spent the first fifteen years of my life in Ningbo, a vibrant city on China's east coast. After living in Shanghai for three years, I moved to the UK, where I completed my Bachelor's and Master's degree in Earth Sciences in University of Oxford. I explored difference aspects of geology, but found my interest in clastic sedimentology after doing a short essay about clastic dykes and a one-year project on Cenozoic contourites in the Great South Basin, New Zealand, supervised by Professor Joe Cartwright and Dr Claudia Bertoni. There I found a possible association between contourites formation with the establishment of the Antarctic Circumpolar Current at the opening of The Tasman Seaway. This project also attracted me to the interaction between sediments, ocean configuration and sea level changes, climate, and tectonics, eventually leading me to applying to a PhD in sequence stratigraphy. I really enjoy the research and living environment in Austin.
Contact: yuqian.gan@utexas.edu
Mail: JGB 6.126, Jackson School of Geosciences
2305 Speedway Stop C1160
Austin, TX 78712-1692