Alumni Video & Outreach Attracts Students to the Geosciences
As geoscientists, we know the geosciences are an exciting, high-tech career choice with plenty of job opportunities. But students are rarely exposed to the geosciences as a career option. Help us change that.
The Jackson School is on a mission to show students that the geosciences integrate chemistry, physics, biology, computational sciences and math to solve real world, societally relevant problems. With a career in the geosciences they can make an impact on some of the most important social questions of our time.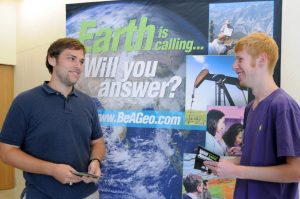 The Jackson School FANs (Friends and Alumni Network) launched the Earth is Calling outreach program in 2012 with a website (www.BeAGeo.com), professional video, traveling booth, and brochures. Since then, volunteers have conducted classroom presentations across Texas.
John Long (M.A. '78) almost didn't become a geologist. He went to college to be a writer, but when he took a geology class, something clicked. He switched majors and eventually went to work as a petroleum geologist. Now, he is taking an active role to ensure others learn earlier about the inspiring world of geosciences.
As director of the San Antonio chapter of the Jackson School FANs, he is leading the San Antonio effort to make sure students are exposed to geology early enough to make an informed choice. Long has assembled a team of 7 alumni volunteers and targeted 14 local schools for visits. His employer, Osborn Heirs Company, has been extremely supportive of his efforts.
"I found geology almost by accident," says Long. "The potential to get a kid involved in geology who might otherwise miss the opportunity, the way I almost did, is very exciting."
During one of his first presentations, Long and other alumni talked to over 100 students at Reagan High School about geoscience careers. The Earth is Calling video was presented, along with personal stories of what life is like as a geologist. The science teacher who hosted the visit, Matt Montamat, says the program fills a niche.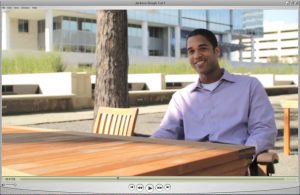 "Kids are concerned about the jobs they're going to have when they get out of college," said Montamat. "Not a lot of them thought of geology as a career option."
Sharon Mosher, dean of the Jackson School of Geosciences, has expressed the concern of many experts in the geosciences. "The pipeline is not prepared to meet the predicted future demand for a robust geoscience work force, so a multi-dimensional, sustained effort to increase the number of students embarking on a geoscience career is critical," Mosher emphasized.
Excitement about the Earth is Calling outreach program has even spread beyond Texas. Rick Kolb (MA '81), senior geologist at an environmental consulting firm in Cary, North Carolina, regularly visits high schools and colleges to talk about geoscience careers. After the launch of the program, he began using the Earth is Calling materials in his classroom visits and has shared the materials with colleagues in the Association of Environmental and Engineering Geologists who do the same.
"We're non-denominational," says Long. "We don't push UT, we push geology, because it can be such a rewarding career for kids who want to do science."
We're asking alumni to serve as role models and ambassadors in their local high schools and inspire the next generation. For more information, visit www.BeAGeo.com.