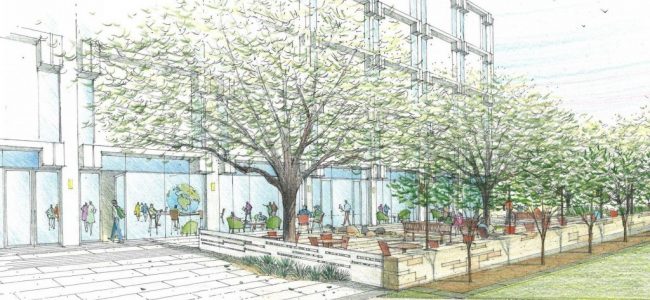 The Holland Family Student Center has received the Leadership in Energy and Environmental Design (LEED) for Commercial Interiors Gold Certification, awarded by the US Green Building Council and Green Building Certification Institute (USGBC). This prestigious certification is awarded to projects with high-performance green interiors that are healthy, productive places to work; are less costly to operate and maintain; and have a reduced environmental footprint.
Certification comes with the number of credits achieved in Sustainable Sites, Water Efficiency, Energy and Atmosphere, Materials and Resources, Indoor Environmental Quality, Innovation and Regional Priority. Gold status would mean achieving between 60 and 79 points in the LEED rating system.
Sustainable Site

Public transportation access
Bicycle storage and changing facilities
Parking availability

Water Efficiency

Low flow fixtures used that exceed minimum code standards by 35%.

Energy and Atmosphere

A comprehensive energy reduction strategy, including:

High-efficiency light sources such as low-mercury content fluorescents  and  LEDs
Daylight-sensing lighting controls that reduce artificial light source output when sunlight is present.
Occupancy-sensing lighting controls that shut off lights when spaces are not in use.
Zoned heating & cooling for localized, user-specific control to expend energy only where needed.
Energy-star rated appliances.

Materials and Resources

At least 95% of construction waste will be diverted from landfills & recycled.
High recycled content in new materials used to construct the project.

Indoor Environmental Quality

Low and zero VOC content adhesives and composites to promote healthy indoor air quality.
Furniture and seating configured to maximize availability of natural light.

Innovation and Design Process

Building as a Teaching Tool

Ongoing reporting/updates through print and web
Student-led building tours highlighting key sustainability features
Available for undergraduate research projects assessing project site sustainability features over time

The new exterior courtyard space has been designed to preserve the health of the existing oak trees in the area including stringent protection guidelines during construction to eliminate undue stress or damage from excavation & construction traffic.
The courtyard design protects the trees' critical root zone areas by installing only lightweight, breathable un-compacted materials over top, and by eliminating pedestrian traffic from these zones.
The courtyard paving system is designed for permeability, allowing air and water to pass through to existing root systems below.

Regional Priority

Many materials were extracted and/or manufactured within 500 miles of Austin.
Forest Stewardship Council certified woods were selected to promote sustainable harvesting practices.
Several existing materials were salvaged and reused including:

Shellstone panels from the original exterior face of the building were removed and reused to build site walls surrounding the new exterior courtyard.
Smooth limestone panels from the exterior building columns were repaired and reused.
Multiple components of building display cases were removed, refurbished, and reinstalled in the main hallway.