News & Events
Happy Fall 2014!
Welcome back to our current members and hello to new potential members! If you haven't already, join our listserv to receive updates about TGS!
RTAs due Friday September 6
Don't Forget to turn in your RTA by email to Lauren or Sarah OR drop it off in JGB 4.220A!
2012 SEG Honorary Lecturer visits UT !
Shuki Ronen CGGVeritas, California, USA
(For directions to the SAC building and to read his abstract click here !)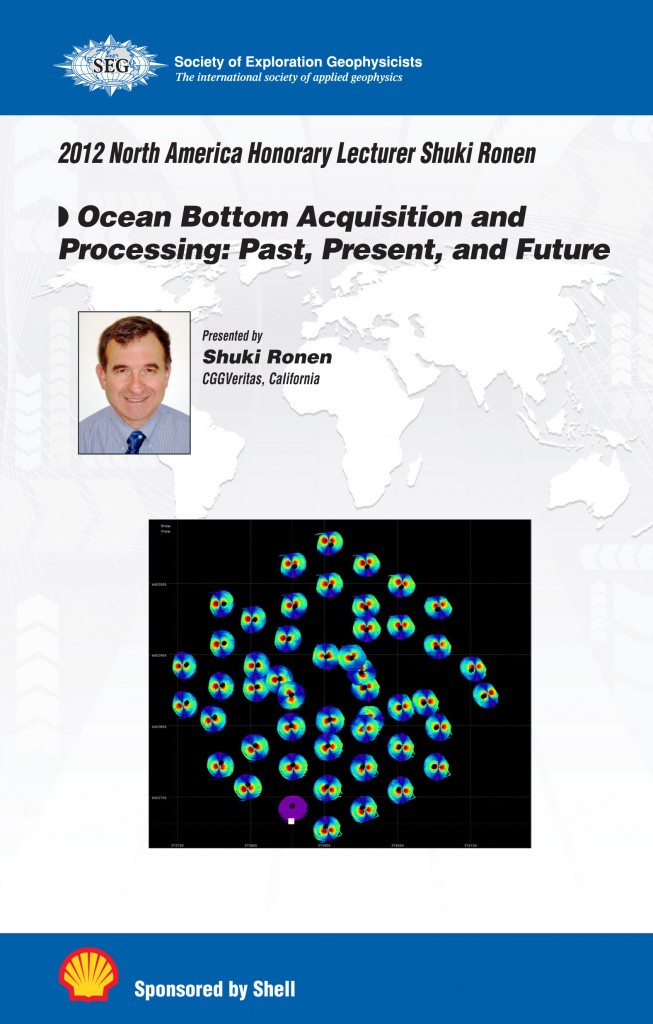 Shuki Ronen will present Ocean-bottom acquisition and processing: past, present, and future on Wednesday, September 26, 2012 in SAC 3.114 (Student Activity Center Executive Conference Room).
[Bio]In the last 30 years, Shuki Ronen has done seismic data processing, quantitative analysis, and acquisition. In the last 15 years, he has done mostly ocean-bottom acquisition and processing. Shuki Ronen has a PhD in geophysics from Stanford University. He then worked for Saxpy Computer, the Colorado School of Mines, the Institute for Petroleum Research and Geophysics, Schlumberger, GeoQuest, Geco-Prakla, WesternGeco, VeritasDGC, CGGVeritas, Chevron, and Seabird. He is currently vice president for Ocean Bottom Technology in CGGVeritas and a consulting professor at Stanford University.
Read his abstract here !
First Seminar of the Year on September 18th !
Camellia Onn and Barghouty Lubna present the work they did this summer at their internships in SAC 3.114 from 2 to 3pm (Executive Conference Room in The Student Activity Center)! Don't forget to sign in!
Read their abstracts here !
Next Meeting!
Next Meeting is September 11th in JSG 4.216 at 5:15. We will be enjoying Austin's pizza and refreshments and discussing plans for the semester.
On the Agenda:
1. Intro and expectations for the semester
2. SEG's new chapter ranking system
3. Requirements for active membership in the Student Chapter  / Funding for AAPG
4. SEG conference in Las Vegas!
5. Social events / Member Input
Happy Fall 2012!! Don't miss our first meeting!
New Active Membership Requirements!
In order to encourage greater participation of Texas Geophysical Society members and to achieve a Summit Ranking of our SEG student chapter, requirements for active membership in the chapter have changed.
In order to be considered an active member in time to receive funding for SEG Las Vegas, you must :
1. Attend 3 of the 5 Fall Exploration Seminars
2. Register with SEG for a member number (Free for students)
3. Be an active participant in SEG events.
Requirements for SEG 2013: (SEG 2013 will be in Texas, and non-presenting undergraduates will be considered for travel funding!)
1. Attendance at more than half of Fall Seminar Series
2. One volunteer event or at least one  2 hour shift at all day event.
3. Register with SEG for a member number (Free for Students)
4. Be an active participant in SEG events!