News & Events
2014 TGS Holiday Party
We would like to thank everybody who attended the 2014 TGS Holiday Party! We would also like to thank all of members for making this fall such an outstanding one for our organization. See you next year!
SEG-AAPG Distinguished Lecturer Dave Hale Speaks at the BEG
SEG-AAPG Lecturer, Dave Hale, visited us from the Center for Wave Phenomena at Colorado School of Mines. His talk, "3D seismic image processing for interpretation of faults and horizons", was given in front of TGS members, Jackson School faculty, and researchers from both the Bureau of Economic Geology and the Institute for Geophysics at the Pickle Research Campus on Friday, November 21st. We would like to thank Dave for his contribution to our Exploration Lecture Seminar this fall!
TGS Members Safety Meeting and Bowling Night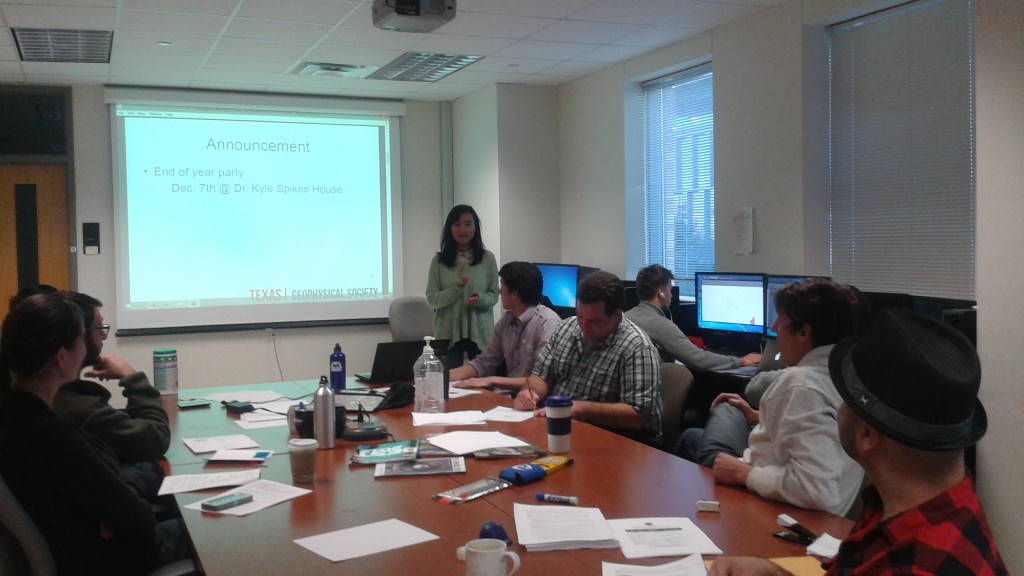 TGS Members met to discuss safety policies for UT student organizations. Afterwards, members meet at the UT Student Union for a few rounds of bowling and billiards. Thank you all for participating, and stay safe!
2014 SEG Annual Meeting in Denver, CO
The 2014 Annual Meeting was in Denver, CO this year from October 26th to the 31st. Thanks to all the Longhorns who attended and presented! The TGS organization is now one of the top 3 SEG chapters in the world! Let's keep it up everyone. Great job!
First TGS Meeting of Fall 2014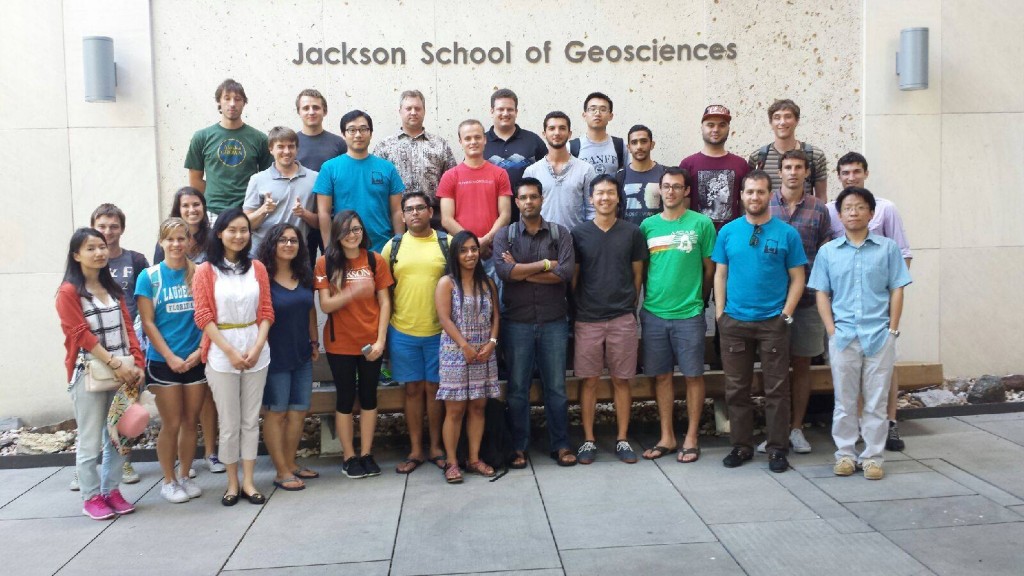 Welcome back to our current members and hello to new members! If you haven't already, join our listserv to receive updates about TGS!
After a some pizza and soft drinks, Qi gave a small presentation over basic information about the chapter, the various planned chapter events, and membership requirements. Afterwards, Dr. Spikes went over the basic procedure for filling out RTA forms if attending the SEG Annual Meeting in Denver this October.
If you were unable to attend the first meeting or missed some details, here's a copy of Qi's presentation:
TGS First Fall 2014 Meeting – 09/09/14
Please contact the officers if you have any questions. The Denver meeting is just around the corner, more details on what needs to be done if you plan on attending will be posted on this site soon.
2014 Active Membership Requirements
In order to encourage greater participation of Texas Geophysical Society members and to achieve a Summit Ranking of our SEG student chapter, requirements for active membership in the chapter have changed.
In order to be considered an active member in time to receive funding for SEG Denver, you must :
Attend at least half the Fall Exploration Seminars*
Register with SEG for a member number (Free for students)
Participate in at least one volunteer event*
*Can substitute a volunteer event for a seminar event if course schedule conflicts exist, please contact Qi Ren for permission