News
2013 Highlights
Olson to deliver SPE Distinguished Lecture Tour
Jon Olson has been invited to deliver an SPE International Distinguished Lecture tour for 2014-2015. The topic is hydraulic fracturing in naturally fractured reservoirs, which builds on what has been learned in our Basic Energy Sciences program. This recognition marks seven distinguished lecture tours by Structural Diagenesis Initiative scientists that have been sponsored by a professional society (and 8 overall) since initiation of the SDI program.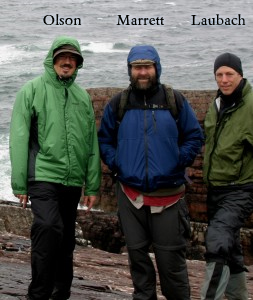 SDI/FRAC Student Event Rescheduled and Research Colloquium Planned
New SDI Student Event and FRAC Picnic date is Saturday, February 1st, 2014. A research colloquium on incorporation of diagenesis into geomechanical models will be held on Friday, January 31 at a location TBD. Contact Esti Ukar, Andras Fall or Nike Tokan-Lawal for event information .
Two project papers have been recognized as among the mostly highly cited since 2008 by the publisher of Journal of Structural Geology.
Pure and shear-enhanced compaction bands in Aztec Sandstone v. 32/12, December 2010, p. 1873-1886
Eichhubl, P. | Hooker, J.N. | Laubach, S.E.
Aperture-size scaling variations in a low-strain opening-mode fracture set, Cozzette Sandstone, Colorado v. 31/7, July 2009, p. 707-718
Hooker, J.N. | Gale, J.F.W. | Gomez, L.A. | Laubach, S.E. | Marrett, R.
New Developments in Spatial Scaling
Contact Randy Marrett about progress on Spatial Scaling software testing.
Hottest Downloads
A paper by industry research partner Rick Schultz with co-author J.E. Olson is listed as number 1 on the top 25 list of downloads for the Journal of Structural Geology January to March 2013. Statistical tests of scaling relationships for geologic structures, Journal of Structural Geology, v. 48, March 2013, p. 85-94 | by Schultz, R.A., Klimczak, C., Fossen, H., Olson, J.E., Exner, U., Reeves, D.M., Soliva, R.
Gale AAPG Distinguished Lecture tour
Julia F.W. Gale has been named an AAPG Distinguished Lecturer. Her lectures will describe the SD initiative's work in shale/mudstone fracture systems worldwide. This recognition marks six distinguished lecture tours by SD initiative scientists that have been sponsored by a professional society (and 7 overall) since initiation of the SDI program | Julia's slides can be found on the FRAC website | Tour information
Notable Papers 2005-2009
The AAPG Bulletin recently instituted recognition of notable papers published between 2005 to 2009. The top ten list for each year is based in part on a review of citation counts three years after publication of the paper and on content review by the Bulletin's Editorial Board.
Six SD initiative papers are listed, including the top paper for 2009:
Natural fracture characterization in tight gas sandstones: Integrating mechanics and diagenesis
: Jon E. Olson, Stephen E. Laubach, & Robert H. Lander, AAPG Bulletin, v. 93, Issue: 11, Pages: 1535-1549, DOI: 10.1306/08110909100 | Initiative papers are listed on the
Publications
page.
SEG Workshop 2013
The geology of natural fractures: What we need to detect and characterize, S.E. Laubach, leadoff talk: at SEG meeting, Houston. Workshop: 'Are we able to detect and characterize natural fractures?' organized by Sayers, Tura, and  Gaiser | September 27 | Slides on FRAC Reports
AAPG Petroleum Structural Geology & Geomechanics
AAPG is considering forming a new technical division. Read Steve Laubach's comments as a member of the AAPG Executive Committee on the initiative in the February 2013
The Delegate's Voice
(pdf) |
Petroleum Structure & Geomechanics
| Congratulations on the foundation of AAPG's newest technical division!
AAPG Charles Taylor Fellows Lecture
Rob Lander presented the first annual AAPG Charles Taylor Fellowship Award Lecture in Houston on February 4. The lecture and dinner were open to the public. For more information see the January issue of AAPG Explorer. The  title of Rob's talk was The Message is the Medium: Reconciling Petrology and Rock Physics Models. More information on Rob's meditation on petrophysics, structural diagenesis, reservoir quality and the future of soft rock geology can be found on the FRAC site.
2012 Highlights
Advances in Carbonate Exploration and Reservoir Analysis
Geological Society Special Publication 370, edited by Garland, Neilson, Laubach and Whidden, is now online in GSL's
Lyell Collection
.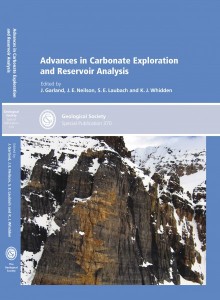 Unconventional Resources Technology Conference
S.E. Laubach  is a Theme Chair for AAPG's  Unconventional Resources Technology Conference (URTeC). 12-13 August 2013 in Denver. Abstracts were due 12 December 2012.
AAPG Distinguished Lecture 2011-12
S.E. Laubach  presented AAPG Distinguished Lectures on Structural Diagenesis. For more  information see the
AAPG web site
| See Laubach's
talk at CSPG
Calgary CSPG Lecture 2011-12 | Jon Olson's talk at CSPG
2012 Pratt Award for best paper in the AAPG Bulletin

To Rob Lander and Linda Bonnell for their 2010 paper in AAPG Bulletin, vol. 94, p. 1161-1187, entitled

A model for fibrous illite nucleation and growth in sandstones.

Rob and Linda are co-founders of

Geocosm LLC

and Research Fellows with the Structural Diagenesis Initiative.
SPE Reservoir Evaluation & Engineering | S. E. Laubach has been appointed an Associate Editor for this journal.
Most viewed: Ellis et al. 2012 Journal of the Geological Society |
Maggie Ellis' paper has been climbing the 'Most Viewed' list for the
Journal of the Geological Society, London
, and in December was number 10 on the list, which is based on downloads from the Geoscience World site. View
Maggie's paper at GSW
.
2011 Highlights
2011 Bureau of Economic Geology Publication Award

Recipients of the 2011 award are Gale, J.F., Lander, R.H., Reed, R.M., and Laubach, S.E., 2010, for "Modeling fracture porosity evolution in dolostone," Journal of Structural Geology, v. 32, no. 9, p. 1201-1211. The award recognizes exemplary publication of scientific or economic impact.
SD Initiative paper recognized by publisher for top citations
Top-50 most cited articles published in Tectonophysics January 2006 – February 2011.
Diagenesis in porosity evolution of opening-mode fractures, Middle Triassic to Lower Jurassic La Boca Formation, NE Mexico
by S.E. Laubach and M. Ward
Tectonophysics 419, Issue 1-4 (2006), p. 75-97. |
View at Publisher>>
Two SD Initiative papers named in ScienceDirect Top 25 Articles based on downloads
Top 25 Hottest Articles: Journal of Structural Geology, October to December 2010
No. 4:
Structural diagenesis
Journal of Structural Geology, v. 32, no. 12, 2010, p. 1866-1872, Laubach, S.E.; Eichhubl, P.; Hilgers, C.; Lander, R.H.
No. 20:
Determining brittle extension and shear strain using fault-length and displacement systematics: Part I: Theory
Journal of Structural Geology, v. 32, no. 12, 2010, p. 1960-1977, Twiss, R.J.; Marrett, R
GCAGS Annual Meeting, Veracruz 2011
S. E. Laubach and Faustino Monroy chair the session "New perspectives in fractured reservoirs" October 16-19 in Mexico.
2010 Highlights
Structural Diagenesis Theme Issue
Structural diagenesis is the theme of the December 2010 issue of Journal of Structural Geology (v. 32, no. 12, pp. 1865-2092). S.E. Laubach and P. Eichhubl edited the volume.
See the issue
Laubach Elected AAPG Editor
Stephen E. Laubach is the 30th elected editor of the American Association of Petroleum Geologists for a three year term. The Editor serves as a member of the AAPG Executive Committee and is responsible for all of the Association's technical publications, including the
AAPG Bulletin
and the book series.
Announcing the Stephen E. Laubach Structural Diagenesis Research Award Fund
This new GSA Foundation Fund promotes research combining structural geology and diagenesis and curriculum development in structural diagenesis.
More info >>
Underground Science
S. E. Laubach has been named a Member of the Committee to Assess the Science Proposed for a Deep Underground Science and Engineering Laboratory, National Research Council, 2010–2012.
2009 Highlights
On the cover of the May 2009 issue of AAPG Bulletin
The cover of the May 2009 issue of AAPG Bulletin features an image from a paper that discusses project results; Eichhubl, P., Davatzes, N.C., Becker, S.P., 2009, Structural and diagenetic control of fluid migration and cementation along the Moab Fault, Utah. AAPG Bulletin, v. 93.
Key Paper in International Coalbed & Shale Gas Symposium
"Natural Fractures in the New Albany Shale and Their Importance for Shale-gas Production" by Julia Gale and others is a Key Paper that will open the technical sessions for this international symposium on Wednesday, May 20. The paper reports results of our RPSEA-supported project on the New Albany Shale. Steve Laubach and Julia Gale are PIs.
Olson to lead Austin modeling short course
Jon Olson will lead a short course on modeling the growth on natural and artificial fracture systems and their effects on fluid flow in connection with the Fracture Research & Application Consortium meeting, tentatively scheduled for November 2009 in Austin.
Special Issue of Journal of Structural Geology
The Journal of Structural Geology has invited us to organize a special issue on the topic of chemical and mechanical interactions, with a focus on structures formed during diagenesis. Papers for the special issue will be due this summer. Contact Steve Laubach for more information.