Exploring the Virtual Field
Online outcrops help Jackson School students build foundational field skills, even when learning remotely.
Remote learning has not ended field trips for Jackson School of Geosciences students enrolled in Field Methods. They are still traversing outcrops, making maps and arranging stratigraphic columns.  
They are just doing it in a virtual setting. 
On Sunday, April 19, 2020, that setting was Three River Hills, a landscape computer simulation designed by The University of Leeds originally as a fieldwork primer. Exploring Three Rivers is like playing a computer video game set in the Scottish Highlands. You can hike up rolling green hills dotted with sheep, ford streams using small footbridges, and explore the coast with seabirds cawing overhead.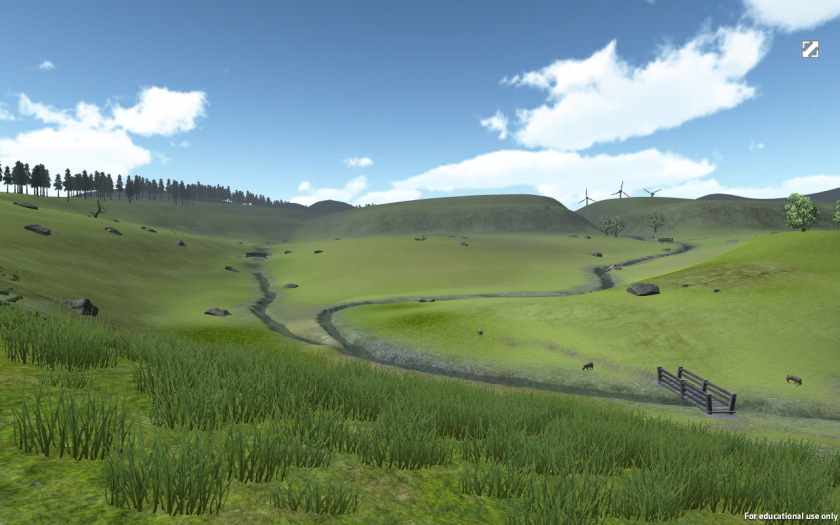 To complete their field-mapping project for the week, that's exactly what the students had to do. The trip included about 30 students, about half of the class. The other half completed the same project the day before. Both had already had some practice. The prior field project took place in a different virtual landscape also developed by Leeds.  
 The students had two hours to independently visit and map outcrops that they thought were most critical to figuring out the geologic history of the landscape. With a total of 85 outcrops to choose from, they had to be selective. Just like on a field trip in the real world, they would only have time to visit a fraction of them.  
 "You absolutely have to make guesses," said course instructor Distinguished Senior Lecturer Mark Helper, speaking to the students in a Zoom meeting after their first hour in the field. "You have to be making observations, and testing observations with new observations, spinning your wheels until you get some ideas."  
Undergraduate student Barbara Sulbaran said she thinks that mapping projects are better suited for virtual learning than the observational field trips the class completed before going remote. These projects included identifying rocks in clastic formations near Bastrop, Texas, marking sequence stratigraphy along an Austin highway, and interpreting the structural features and the geologic history of sedimentary rock formations at Pedernales Falls State Park. Since in the simulation all the observational data is provided in a virtual field notebook, Sulbaran can just focus on putting the pieces together – though she admits it will take an actual field outing to really know how this experience resembles the real thing.  
"I've never taken a course like this before," Sulbaran said. "I don't have anything to compare it to, so I don't know."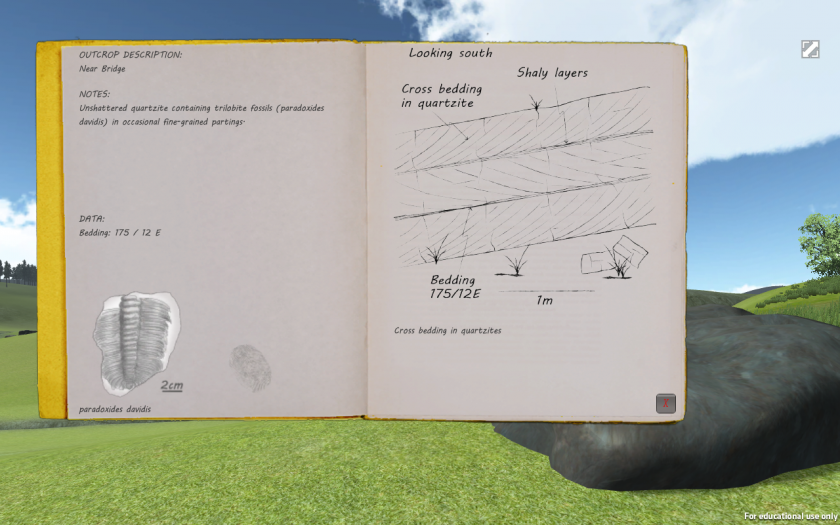 Before heading out to explore the Three River Hills simulation, the class met in Zoom where Helper and co-instructor Professor Brian Horton, gave instructions and advice on navigating the landscape, which represents about one square mile, using a virtual compass and GPS instrument.  
"The virtual landscape extends well beyond the mapping boundaries, so it's entirely possible that you can wander off and get lost," Helper said to the class.  
Although broadcasting from indoors, Helper had on a broad brimmed hat, the same one he wore on field outings earlier in the year.  
Since March 27, when the university announced that the rest of the semester would be taught remotely, Helper has been working furiously to adapt the course's three remaining field trips to virtual settings. He's not alone. Geoscience schools across the country are working to adapt their field courses to remote learning, and Helper has been in weekly contact with colleagues across the country and members of the National Association of Geosciences Teachers to develop best practices and strategies.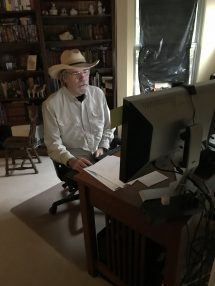 The landscapes developed by The University of Leeds provided a great starting point for remote fieldwork, he said. But it was up to him to develop the lesson plans and projects that transformed the virtual setting into a field experience. To help other field instructors, he is posting the lessons on the Science Education Resource Center, an online repository run by Carleton College.  
He is still working on the content for the final remote field trip, but the plan is to build around drone imagery collected on a recent trip to the Llano Uplift in Central Texas, supplemented by field photos acquired over many years of field work and field trips. 
Based on student feedback, Helper has made a few changes to how he runs the outings and their projects. Since many students do not have access to printers, he now provides the outlines of maps and cross sections as PowerPoint slides – which students can easily modify and turn in. And while field trips still happen on the same days as planned, they now start two hours later, at 10 a.m., to accommodate students who are learning from outside of a Texas time zone.  
 Still, even in the best of times, Field Methods has a reputation as a challenging course.  
"It's where geologists learn how to be geologists in the wild," said teaching assistant Alexandra Lachner.  
In addition to actual geology, that includes field skills like hiking, time management, and staying focused when physically exhausted. Lachner said the idealized environment of the virtual field means that students can really focus on getting the concepts down.  
"It's really nice for making these maps as a first pass for students, because when you go out in the real world, things are usually a little more complicated," she said.  
 But Sulbaran said that the distractions that come with field work might not be such a bad thing. It's hard to stay focused sitting in front of a computer all day, with field trips still running about seven hours, even in the virtual setting. And she wonders how peers with ADHD, who might be better at managing the condition in an active environment, are handling the long hours in front of a screen.