When UT was driven to transition all classes online for the remainder of the term, faculty, researchers and staff throughout the university faced a monumental task. They had two weeks to transition classes to a virtual setting, communicate the new reality to students, and prepare for a whole new way of teaching and operating the university.
More than a month into remote learning, things seem to be going relatively well. The university as a whole transitioned more than 49,000 students online in more than 9,000 classes. The transition also included setting up funds for students with emergency needs, such as providing a computer and access to internet, along with more pressing issues like assistance with food, rent and medical bills.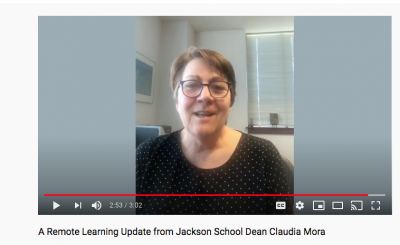 Instructors across the university are doing their best to communicate frequently with students and trying to determine how they are coping, both in their academics and other aspects of life. But with students spread all over the country and world, it can be hard to be certain that all is well. That's why UT and the Jackson School are stressing compassion in education during this time and making accommodations wherever possible.
"The greatest challenge has been to always remember to be aware of the very different circumstances that our students may find themselves in, with respect to having the electronic resources, the bandwidth, the time and space, and support at home to do their schoolwork," said Jackson School Dean Claudia Mora. "For some, this change has placed them in environments where meeting their educational goals can be very, very difficult. Faculty and staff have faced their own challenges, as many are also sharing their workspace with children home from daycare or school, and spouses who are also trying to work from home. We have had to all develop greater sensitivity to each other and greater flexibility in our expectations."
Online Instruction Transition
When UT made the decision to shift online, all schools and colleges faced their own obstacles. For the Jackson School, with its focus on hands-on experiential learning, the difficulties were significant. Taking students to the field was out, as was working in the lab, and the tactile experience of handling specimens.
The job of spearheading the Jackson School's two-week sprint to online classes fell to a volunteer ad hoc committee led by Professor Daniel Stockli, writer-in-residence Adam Papendieck, and IT staff Adrian Huh and Tyler Lehman.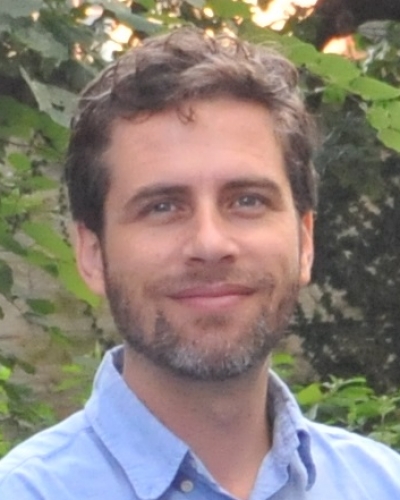 Papendieck had significant experience with online learning in a previous position at Tulane University where he developed systems and programs to support international health sciences education, particularly in eastern Africa. He also had the experience of helping Tulane reopen after Hurricane Katrina ravaged New Orleans in 2005. There are some benefits to the frenzied energy of an emergency, he pointed out.
That's what happened at the Jackson School, Stockli said. No one balked at embracing the
new environment. Everyone recognized the need and committed to do their best to adjust (see story on lessons learned by students defending Ph.D. thesis via zoom).
The team held daily virtual workshops in the two weeks leading up to online classes and has held office hours several days a week since to help with both instructional and technical challenges. Numerous technical aspects had to be covered, including teaching instructors how to use the conferencing software Zoom for live or recorded lectures, the content sharing software Panopto, and the Canvas learning management system for managing online education. They also covered how to edit recordings on different platforms that instructors were using from home, and how to draw and write during online classes using drawing tablets.
More importantly than just mastering the technical challenges, however, were the sessions on how best to create an interactive and effective online learning environment, how to take advantage of online resources and how to handle online assessment and testing. Most instructors had little or no experience with online teaching, meaning they were entering a whole new world of education and instruction, Stockli said.
"We urged instructors to maintain a rhythm, including maintaining class times and office hours," Stockli said. "We advised instructors of small classes to continue live lectures via Zoom and make the recording available via internally accessible cloud archives in Canvas. In contrast, large classes were advised to either go live or with pre-recorded 15 min segments interspersed with live discussions."
During this transition to a new learning model, graduate teaching assistants were among those who were leaned on the hardest, Stockli said. Typically, TA's learn to teach by watching their mentors. But in this situation, there was no playbook or example for them to refer to, and they often were the ones with the important job of leading students in labs and other small group settings.
"They were transformed into instructional designers overnight in a way that they hadn't before," Stockli said. "And we really stressed with TA's that they are absolutely essential in community building. We emphasized that they cannot just be instructors but have to be the connection to the students."
This reality hit home with Alexandra Lachner and Jaime Hirtz, who TA for Field Methods. They quickly found themselves helping students navigate virtual field outings largely on the fly and spending additional time offering support and guidance to students. Over the weeks, they have frequently extended office hours, and meet students one-on-one for virtual meetings. Both are embracing their expanded role to help students succeed during this difficult time, but they admit that the more frequent and instantaneous access can be tiring, particularly as they pursue their own graduate work and deal with their personal situations.
Hirtz's small space – a tiny house on wheels – now has to serve as a workspace and home for both her and her husband. While Lachner is taking care of her five-year-old daughter while working from home in California, which makes a challenging workday even more so.
"It's been more difficult in that respect," Lachner said. "We are in a situation that's kind of non-standard, so you kind of have to roll with it."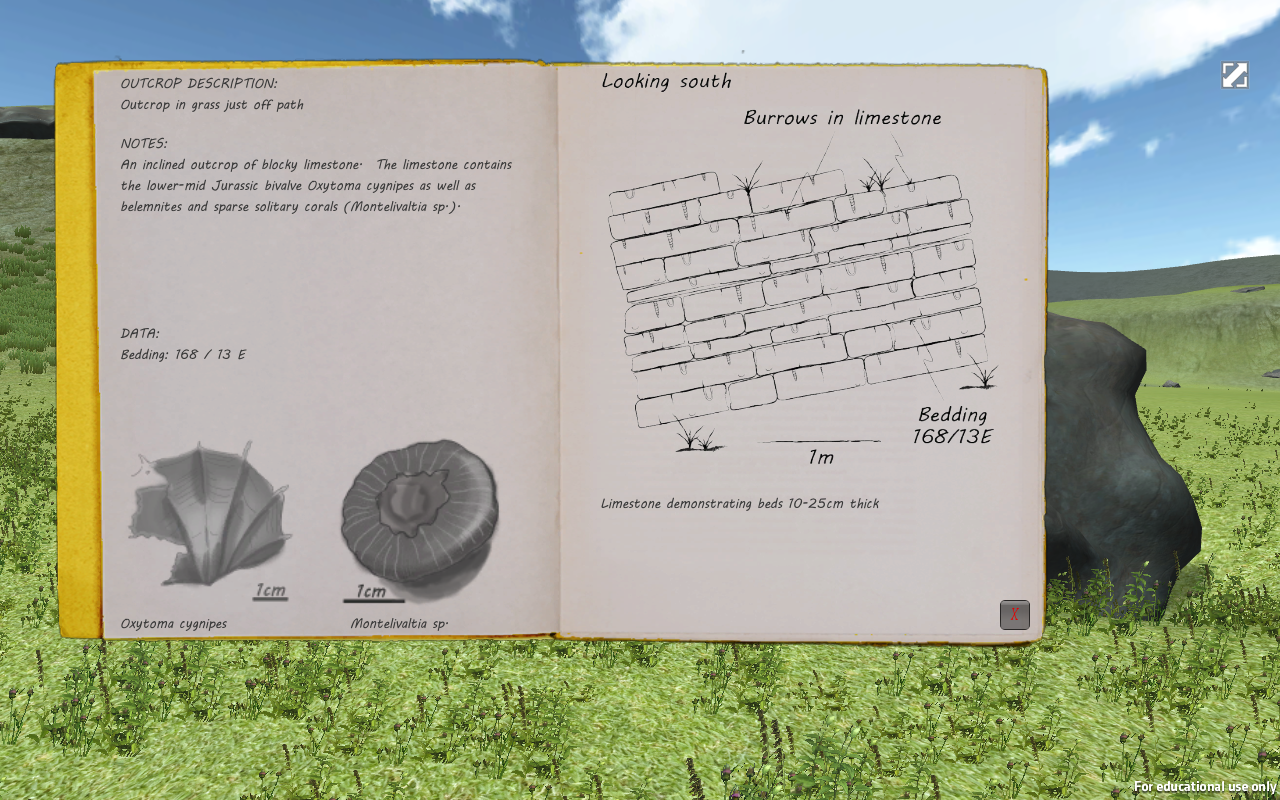 A digital field notebook entry from the Three River Hills virtual landscape simulation. Each outcrop comes with its own entry. Students enrolled in Field Methods used the entries to map and construct a geologic history of the virtual landscape. CREDIT: Jackson School.
Virtual Reality
The move to online classes has been more seamless for some than others.
Jud Partin, a research associate with the University of Texas Institute for Geophysics, teaches an advanced statistics class for graduate students, which lends itself well to remote learning because much of it is based on MATLAB and math. In fact, the class had already introduced Zoom meetings in 2019 as a way of bringing together students based at different UT campuses.
For this particular class, the transition has been relatively smooth, but there are still reminders that these are far from normal times, particularly with Partin trying to teach a class and keep an eye on his four-year-old at the same time.
"Max interrupted me a couple of times yesterday. I had to stop class, apologize," he said. "Fortunately, everyone's quite forgiving these days."
Other classes are more difficult. When the Jackson School's ad hoc committee began discussing how best to move classes online, they knew one of the particular challenges would be large lecture classes.
Assistant Professor Daniela Rempe and Professor Rich Ketcham are co-teaching Introduction to Geology, a large lecture class for about 200 non-majors. The lectures are split into Tuesday-Thursday and Monday-Wednesday sections, so each should be attended by about 115 students. Typically, 40 to 50 show up for each lecture, Rempe said, a number that she is fairly happy with given the situation.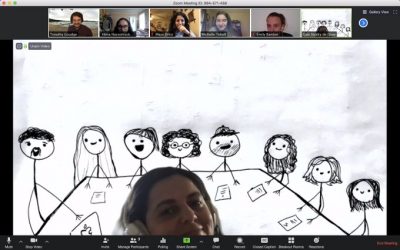 Rempe is following advice and usually running prerecorded lessons 10 to 15 minutes at a time before breaking off into discussion or some kind of interactive exercises. One thing she has found refreshing is that students are quick to use the chat function on Zoom to ask questions during class, which is a nice change from the large lecture halls where it was rare for students to raise their hand and pose a question.
On the flip side, Rempe said students will not turn on their cameras or audio. Rempe envisioned students using their cameras to see their classmates and help create a feeling of community. But students won't, no matter how much she encourages them, leaving Rempe to address a screen of dozens of blacked out little boxes.
"Maybe they are on their phone or maybe they don't want us to see where they live," Rempe said. "It's hard to say why they do that, but that part has been very frustrating."
Rempe and Ketcham are incentivizing students to participate in labs by making it possible to finish the homework during lab sessions. Fortunately, the labs during this part of the term do lend themselves to Zoom, Rempe said. Earlier in the semester, they were more focused on tactile learning with specimens, but now many of the lessons involve exercises like building paper models to understand structure and faulting or other lessons that can be taught remotely.
Rempe also commented that she and Ketcham have adjusted the workload since moving online. The class is rigorous, she said, particularly for freshman, and she and Ketcham worried that some of the requirements might be too much given the circumstances. She's hoping reducing time spent on certain assignments, students may actually retain the overall lessons better, but she admits that it's difficult to tell at this point. Still, she's convinced it's the right approach.
"My personal philosophy is I am not here to stand in their way at this point," she said.