Mosher had a number of job offers in both industry and academia before finishing her doctorate, but she settled on UT on the advice of her adviser, Dennis Wood. He told her that if Professor Bob Folk was at UT, it had to be a good school. During the back-and-forth of the job negotiations, UT Professor William Muehlberger contacted Wood to ask whether Mosher would be up to teaching a field camp.
"He told him, 'she could run your field camp,'" Mosher remembered with a laugh.
Ironically, she did run it for 15 years after taking the job and was eventually succeeded in the position by her husband, Distinguished Senior Lecturer Mark Helper, who has been running it ever since.
"You don't realize how challenging it is to organize and run field camps until you have to do it yourself," Helper said. "But field camp is one of the most formative and important experiences in a student's education, and I was proud to take it over."
For that first year, Mosher arrived at The University of Texas at Austin with no time to spare. She finished her thesis in May, defended on June 1, drove to Texas over the weekend, and then took off to teach field camp on Monday.
Her teaching assistants included Kitty Milliken, who is now a senior research scientist at the bureau. Milliken said she realized Mosher was a great field scientist and instructor from the first day she knew her. But it was something else that made a lasting impression on her as a young geoscientist.
"Neither I, nor, I imagine, my co-TA, Vicki Price, had ever had a female science instructor, much less a geology professor," she said. "To put it mildly, when Sharon turned up at field camp, we were absolutely thrilled to be her TAs and to know that when we got home, there would be a woman professor in the department. She wasn't much older than we were, and here she was, doing something that perhaps we'd imagined but never actually seen."
Mosher was the first female faculty member in the department (which has had female lecturers in the early 20th century). Like most female geoscientists of her generation, she was one of the very few in her school or workplace, but Mosher said she never had a problem navigating in the male-dominated profession. That doesn't mean she didn't run into sexism. She has plenty of stories.
When she was an undergrad, for instance, she had a job in a chemical engineering lab. A faculty member complained, telling Mosher's supervisor that he needed to fire her because his students couldn't concentrate with a woman in the lab. Mosher's boss refused, commenting that Mosher had no problem working around the male students and that the faculty member should consider seeking more female students.
Mosher has been active in gender and equity issues as dean, implementing comprehensive workplace guidelines and working to  diversify both the student body and faculty. But her advice to budding scientists has always been not to think of themselves as a male or female scientist or to put any other qualifiers on it, but to simply be the best scientist you can be.
Still, her presence seems to have a major impact on female students around the school. Chris Symons, a master's student of Mosher's who arrived on campus in 1993 and later did a postdoc with Mosher, is a perfect example. Symons had the opportunity to work with Mosher on her research on the evolution of the Pacific-Australian plate boundary in the Macquarie Ridge Complex south of New Zealand, something the two may revisit after Mosher steps down.
Like all of Mosher's students, Symons spent time at Mosher's house, particularly during the weekly gettogethers that Mosher then had for her team, which Symons said were nine or 10 students at the time. She also remembers babysitting Mosher's daughters so her supervisor could review Symons' work. The way Mosher balanced her work and family life, while being an incredibly productive and driven professional, was striking and made a major impression on the young graduate student.
"She certainly was a role model because here's a woman who was, you know, was married with kids, had a successful career, was happy, well adjusted," Symons said.
TAKING CHARGE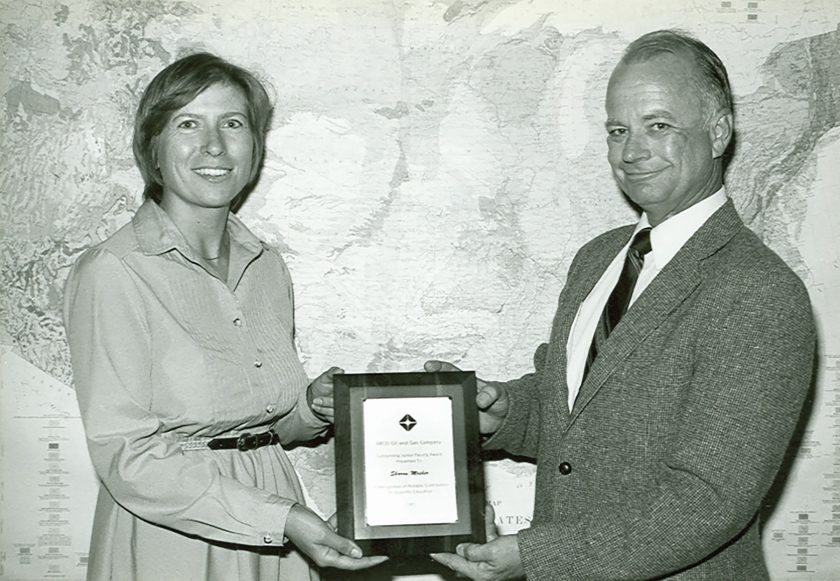 It has been more than 40 years since Mosher first stepped on campus at UT as an assistant professor. In that time, she has taught thousands of students and advised about 70, sometimes taking on as many as 15 graduate students at a time. Advising students allowed Mosher to work on structure and tectonic problems throughout the world, which makes choosing her most exciting field experience difficult.
"Was it riding horseback across the Andes in Tierra del Fuego?" she said, "or trips on fishing boats during storms in the Straits of Magellan? Or navigating around elephant seals and millions of penguins on Macquarie Island? So many great field adventures with students."
In her early years, during the oil boom of the early 1980s, the undergraduate population at the Jackson School shot up to well over 800 students, about triple what it is now, and the department was bursting at the seams. Mosher said it was common back then to have students lined up in the hallways past the elevators during office hours, and she would have to hold office hours in the Boyd Auditorium during exam weeks.One of her goals as dean has been to diversify the education offered by the school so enrollment doesn't balloon and deflate with industry fluctuations.
Professor Mark Cloos has known Mosher longer than most. He served as her undergraduate assistant at the University of Illinois at Urbana- Champaign when she was a graduate student, and then joined her on the faculty at UT when he was hired in 1981.
They alternated teaching the undergraduate and graduate students' structural geology classes into the early 1990s. He estimates that Mosher has personally taught the basics of structural geology to at least 1,000 students. Cloos remembers the two working together in 1985 to persuade the faculty to build a zircon U/Pb geochronology lab. He said Mosher's structural petrology course — ductile structure — which featured microscopic analysis of deformed rocks in thin section, was a mainstay for 30 years for all graduate students interested in understanding how rocks can flow.
Cloos said 10 years serving as a dean is a remarkable accomplishment. He attributes Mosher's success to a combination of attributes.
"She's a really good people person, and she's very engaged," he said. "Obviously she's got good national connections, as she was president of GSA (Geological Society of America) and AGI (American Geosciences Institute). But the bigger thing is she's someone who's always in there, working just as hard as anybody else to make things go. Most deans are much more the delegator type."
Many people marvel at the set of skills Mosher has employed as dean, but she didn't get them by accident. Throughout her career she deliberately took on leadership roles and challenges when she saw an opportunity to make positive changes.
"My whole life, I have been building that: that background, the  abilities, the knowledge," she said. "And I started young. My first major role was as the first elected chair of GSA's newly formed Structure/Tectonics Division shortly after I arrived at UT."
One of the very formative experiences during her career was taking over the presidency of GSA. She served as its president in 2000–2001. It was a difficult time for the organization, which was in the red and bleeding money. She ran the organization from Austin but would fly to Boulder weekly to continue the work of turning the ship around.
"She put GSA back on a track, and the kinds of techniques that she put into existence are still used today, so that even in the industry downturn, GSA has maintained quite a good budget," said Robbie Gries, a longtime friend of Mosher's and a member of the Jackson School Advisory Council who served as GSA president in 2018–2019.
Many of GSA's well-known programs are part of Mosher's legacy. She credits much of her leadership success at GSA and AGI to what she learned through the Council of Scientific Society Presidents, where she is a longtime member and former leader.
It was also during that time, the early 2000s, that Mosher and Gries, who was then president of the American Association of Petroleum Geologists, started GeoScienceWorld. The service works with societies, institutions and researchers around the world to provide a single source of access to 46 scholarly journals, more than 2,100 e-books, and over 4 million records in the GeoRef database.
Here again, Mosher took direct leadership, running the Washington, D.C.-based organization as CEO for several years after its formation. In addition to being transformational for geoscience researchers, the service has returned more than $38 million to membership societies since it launched in 2005.
Throughout her career, one of the only things that has made Mosher hit the pause button on work, and even excuse herself from meetings, has been a call from one of her daughters, Sarah and Lisa.
Given their parents' love of geology, the two girls nearly grew up in the field. Lisa Helper followed her parents into the geosciences, entering industry after earning a master's from the Jackson School in 2012. Looking back, Helper understands how incredibly busy her mother was while she was growing up, but she said that it didn't get in the way of their relationship. On the contrary, she said her parents' love of geology meant hours upon hours of quality time together, where Mosher, of course, slipped in education. This included taking the girls to field camp nearly every year as they were growing up, as well as taking time to see natural wonders as a family.
"She would always have us stop at road cuts and explain the geology, and during our car trips she'd always ask us questions that now, I realize as an adult, were prompting us to make observations and come up with hypotheses," Helper said. "I thought she was just asking us fun questions about nature. But I think she was kind of formulating our thought process and creativity."
The lessons haven't stopped since the girls grew up.
"Even up to a week ago, I was drilling a well and something unexpected happened — she was there to bounce ideas off of at 3 in the morning," she said. "That's not something that everyone can say. I'm very aware of how unique that is."
LASTING LEGACY
Joe Reese, a professor at Edinburgh University in the Department of Geosciences, studied for his doctorate under Mosher from 1988 to 1993.
He worked on metamorphism and ductile deformation in the Llano uplift, an area where Mosher would publish foundational studies on the Precambrian Grenville of Texas.
Like many of her students, Reese has stayed close to Mosher over the years, and said he gets a kick out of people's awed reaction when they realize she was his faculty adviser. Reese raves about her ability as a scientist and educator, but, like many others, said it's her empathy and ability to read people that truly made an impact on his life. He  remembers, for instance, rushing back to Austin to defend his thesis after accepting his first faculty position. He was, to say the least, nervous, and Mosher knew it. But she was able to set him at ease with a simple question.
"She said, 'Joe, what kind of beer would you like for your party?'" Reese said. "And once she said that, I thought, you know I might actually get through this."
Now that she's getting ready to step down as dean, Mosher has had some time to reflect on all she's accomplished. It's been gratifying, she said, watching everyone at the school come together to build a strong community and elevate the science and education to the world-class level it now achieves. She particularly loves attending graduation and hearing parents rave about how much their children loved the Jackson School and how they felt like they were part of a very supportive community.
"That didn't happen by accident," Mosher said. "When I became dean, I had goals for this place, and I really feel like I have achieved the goals that I had set. Now there are new goals, but that's for somebody else."