Hovorka Wins Greenman Award
December 2, 2019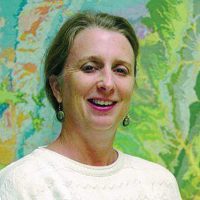 Susan Hovorka, a senior research scientist at the Bureau of Economic Geology, has won the Greenman Award for her significant contributions to the development of greenhouse gas control technologies.
"I am honored to receive this award in recognition of my team's work," Hovorka said. "Joining the ranks of the prestigious individuals who have won this in the past illustrates the overall success of our work in greenhouse gas mitigation."
She received the award in October 2018 at the 14th annual Greenhouse Gas Control Technologies conference in Melbourne, Australia.
The award was presented to Hovorka by Kelly Thambimuthu, a scientist who worked on the fourth assessment report of the Intergovernmental Panel on Climate Change. The panel, along with former Vice President Al Gore, was awarded the 2007 Nobel Peace Prize.
"Hovorka's work in carbon dioxide storage has advanced the field of carbon capture and storage (CCS) immeasurably," said Thambimuthu. "Most priceless of all, she has been a mentor and inspiration to the CCS students she's advised and an internationally influential leader to many technical research teams."
Only 12 people have received the Greenman Award since its inception in 1996, including the 2018 winners. Hovorka and her team at the Gulf Coast Carbon Center have worked on CCS since 1998 and identified potential sites for storage around the U.S. and abroad.