Investigating Mountain Building in Slovakia
December 5, 2018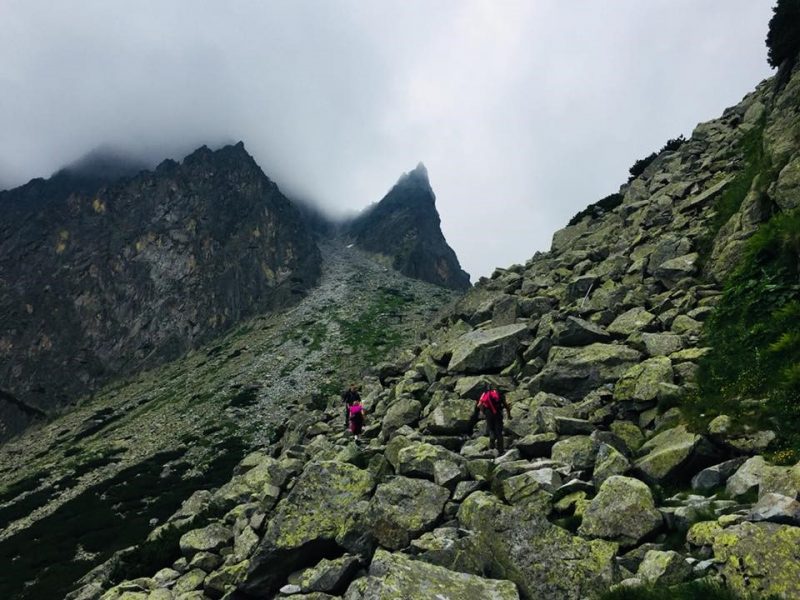 Understanding the origin of curved mountain belts has been a fundamental problem in geology and is critical for deciphering the mechanics of plate boundaries. The National Science Foundation awarded an International   Research Experiences for Students (IRES) grant to Drs. Elizabeth Catlos, Brent Elliott and Richard Kyle to provide four weeks of geological field-based research and training experiences to students at The University of Texas at Austin who studied a portion of a "type location" for a curved mountain belt: the Carpathian Mountains. The mountains are the second longest mountain range in Europe, forming about a 1,500-kilometer-long arc across Central and Eastern Europe.
This past summer, three UT Austin undergraduates, Theresa Perez, Gabriel Villasenor and Thomas Quintero, and their graduate student mentor, Thomas Etzel, traveled with Catlos, Elliott and Kyle to Slovakia to investigate the geological processes exposed in Slovakia that are associated with the Western Carpathian Mountains. Because of its extensive exposures of ocean suture zones and crustal fragments, Slovakia is an ideal location to study how continents grow.
The High Tatra Mountains are located in the northern part of Slovakia and are the highest and best-exposed range in the entire Western Carpathians. Rocks in this range and its western extension, the Western Tatra Mountains, provide clues into the nature and timing of ancient mountain-building events that affected large portions of Europe and North Africa. The mountains consist mainly of granites that vary widely in composition and age, resulting in their origin being debated. Understanding their history would provide insight into ocean-closure events that occurred during the ancient Variscan orogeny.
As part of the IRES program, students are tasked with seeking to understand the origin and tectonic history of metamorphic and igneous assemblages within the Western and High Tatras. The region is highly accessible, being only about 60 kilometers long by 20  kilometers wide, with many hiking trails and tourist ski lift and trams providing excellent access to outcrops. The range is considered a miniaturesized, accessible Himalayas, where one-day hikes can provide access to many geological features and rock types.
Students also studied Slovakia's mineral deposits, which are a product of its geological history. Most of its economic resources are due to processes related to the closure of ancient oceans. Although today Slovakia's mining sector is not a major contributor to the country's economy, numerous cities are named after its historical mining activities. Students in the IRES program visited numerous sites associated with mining activities, from historical sites to active underground mines.
"Field work is the right of passage for any budding geologist," said Jackson School of Geosciences IRES student Thomas Quintero. "The International Research Experience for Students kindled a passion in me to explore new fields of geology while continuing to provide the support I need to complete a research project of my choice. I have never felt more confident in my decision to study geology than after the program, and I cannot wait to see what the future holds."
The project was developed with the assistance of Slovak researchers and geologists from Comenius University and the Slovak Academy of Sciences in Bratislava. UT Austin's International Office and Center for Russian, East European and Eurasian Studies provided additional funding to support student travel.
Elizabeth Catlos
Associate Professor, Department
of Geological Sciences