Micronesia Coral Cores Record Sea Level
November 20, 2017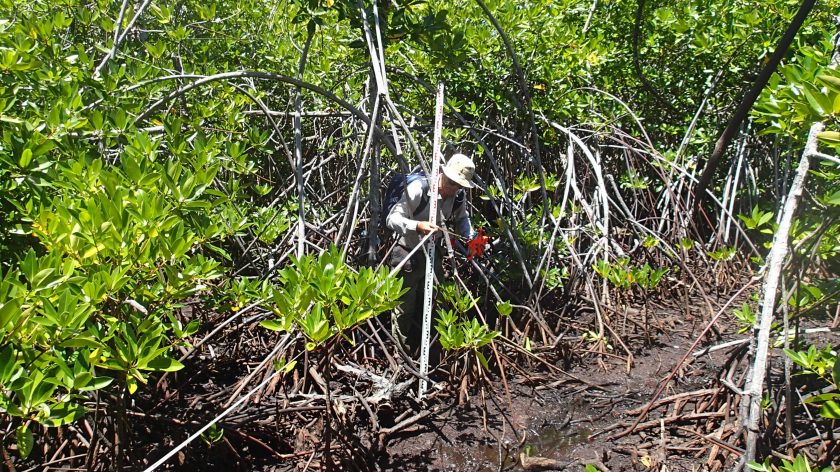 For the foreseeable future, rising sea level is, and will be, an issue facing coastal regions, including Middle Pacific islands. A seed grant from the Jackson School of Geosciences is supporting research into past sea level changes, work that could provide insight for what the future has in store.
Fred Taylor, senior research scientist with the University of Texas Institute for Geophysics (UTIG), and Jud Partin, a UTIG research associate, are leading the research, which involves conducting fieldwork in the Federated States of Micronesia (FSM) to determine if highprecision paleosea level records exist.
This kind of data could help address uncertainties in the past sea level record. In summer 2016, Taylor joined forces with co-investigators Andrew Kemp of Tufts University and Simon Engelhart of the University of Rhode Island to conduct preliminary surface sampling on the islands of Phonpei and Chuuck. They sampled sediment cores from mangrove swamps, searching for foraminifera, a microorganism very sensitive to sea level. In addition, they sampled two dead coral microatolls to find out what age ranges could be investigated in the
region using dead corals.
The researchers hope to receive additional funding so they can obtain more samples and ultimately show a record of time versus elevation of sea level over the course of the past few thousand years. Having visited the islands for many years, Taylor understands the pressing nature of the issue of sea level rise for the locals.
"All pacific island nations, including the FSM, are very concerned about sea level rise and climate change," Taylor said. "We want to collaborate with the local authorities and have been welcomed and accepted by the state governments, fisheries departments and non governmental organizations."