Mackin and Owen Added to Hall of Distinction
November 20, 2017
The Jackson School of Geosciences inducted two new  members into its Hall of Distinction, an honor that recognizes individuals with a strong affiliation to the school who have made high-level accomplishments in academia, industry or government. Both are posthumous inductions.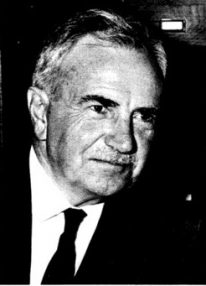 Hoover Mackin was recruited by The University of Texas at Austin Department of Geology in 1961 to occupy its first endowed faculty position, the William Stamps Farish
Professorship (later Chair). Mackin was first appointed as a visiting professor at UT to provide an opportunity for him to get a feel for the department and the Austin community. He liked what he saw and joined the faculty of the university permanently a year later.
Mackin was a distinguished scientist. He was a member of the National Academy of Sciences and served a two-year term as chairman of the Earth Sciences Division of the National Research Council.
His early work was in geomorphology and his concept of "the graded river" became a mainstay in fluvial geomorphology. He later undertook research in engineering geology, structural geology and field petrology.
Mackin was also involved in the mission to land a man on the moon and was one of four experts selected by NASA to study the first lunar rock samples returned to Earth. Both a lunar crater and Antarctic plateau are named in Mackin's honor. He taught for 28 years at the University of Washington before joining UT, where he supervised four master's students and five Ph.D. students while a faculty member of the department.
Ed W. Owen was a lecturer in the UT Department of Geology from 1952–1976, where he moderated Tech Sessions, participated in graduate seminars, counseled students, served on the advisory council, and helped organize a history of geology course—all while refusing a salary during his entire tenure.
Owen was active in local and national scientific and professional geological societies, serving as president of the American Association of Petroleum Geologists (AAPG) from 1941–1942. The material he developed for his history of geology course was later published by the AAPG as "Trek of the Oil Finders," and has become a classic reference.
Owen served in WWI and WWII, serving in the Army in 1918, and enlisting in the U.S. Army Air Corps in 1941. In 1942, as a captain in the Air Corps, he served in New Guinea and Australia in the photographic intelligence division. Attaining the rank of lieutenant colonel, he was awarded four campaign ribbons, five battle stars, a distinguished unit citation, and the Legion of Merit. Owen was key in organizing the Geology Foundation and served on its advisory council.