JSG Students Represent Geosciences at NSF Expo
November 20, 2017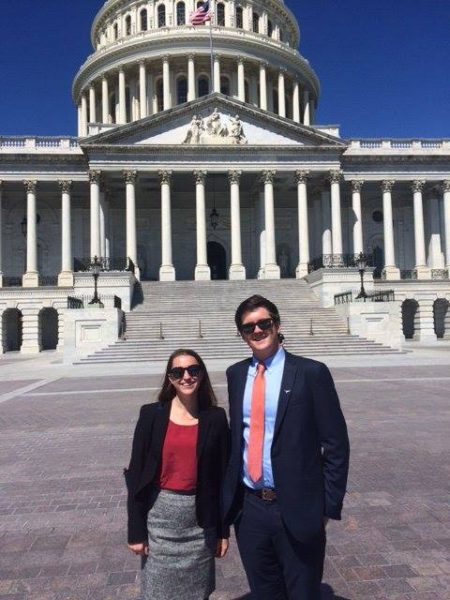 Jackson School of Geosciences graduate students Tomas Capaldi and Sarah George took Texas geosciences to Capitol Hill in May 2017, meeting with members of Congress and their staffs to discuss the importance of supporting geosciences research and education.
They were both part of the Coalition for National Science Funding Expo, a meeting that highlights research and education programs funded by the National Science Foundation (NSF), and creates an opportunity for NSFfunded scientists to engage with lawmakers. Both Capaldi and George's research is supported by NSF grants, and George is funded by an NSF graduate research fellowship.
The coalition includes over 130 professional organizations, universities and businesses dedicated to increasing funding for the NSF and the research and education programs it supports. Capaldi and George represented the geosciences as a whole at the event, including the Geological Society of America and the American Geophysical Union.
During their time on the Hill, Capaldi and George met with the staffs of Sen. John Cornyn of Texas and Rep. Lamar Smith of Texas to explain how NSF-funded research at the Jackson School is beneficial to Texans.
"We let them know what we're researching, and what we can give back," George said, mentioning how research on sedimentary basins is key for hydrocarbons exploration.
George said the experience illuminated how science is often an overlooked topic when it comes to policy. She noted how slips of paper used to document topics constituents called about have pre-printed check boxes for health care and jobs, but no such box for science.
"No one is calling on behalf of science," she said.