Installation of Earthquake Monitors Complete
November 20, 2017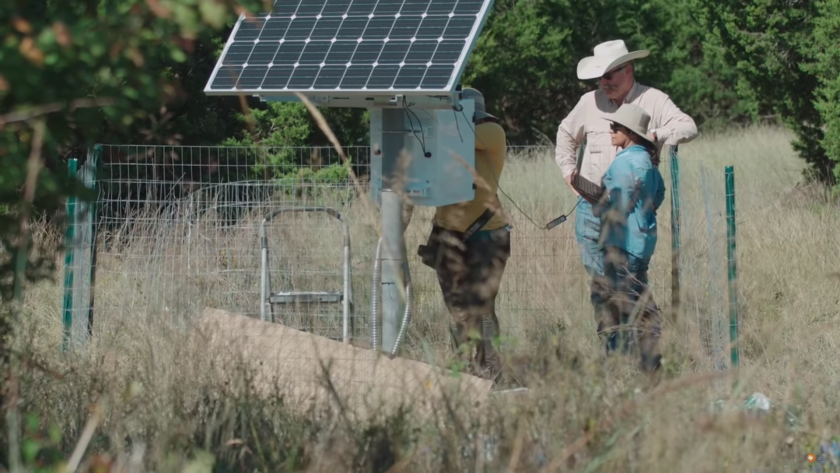 The Bureau of Economic Geology installed the final permanent TexNet seismic station in August 2017, completing the system of 22 permanent sensors that will monitor earthquakes around the state and provide scientists the seismicity data to help determine what's behind a recent increase in seismic activity.
TexNet and its related research, led by the bureau, were authorized by Texas Gov. Greg Abbott and the legislature in June 2015 with $4.47 million in state funding. Since then, Research Scientist Alexandros Savvaidis and his crew have been traveling the state surveying potential sites and, with the help of former landman and bureau Director of External Affairs Mark Blount, negotiating leases for the locations of the permanent seismic sensing stations.
The system also includes 36 portable seismometers, many of which have already been installed. With these additional stations now operating, TexNet has been recording dozens of seismic events a month, most of them very small. Monitoring is only part of TexNet's mandate. In parallel with the Center for Integrated Seismicity Research (CISR), a multidisciplinary research team led by bureau Research Scientist Peter Hennings and Professor Ellen Rathje in the Department of Civil, Environmental and Architectural Engineering, TexNet is working to conduct fundamental research to better understand natural and induced earthquakes in Texas.
At issue is how an extremely small subset of wells used to dispose of wastewater, co-produced with oil and gas, could be triggering faults
and causing earthquakes, when the vast majority of disposal wells do not. Mounting, yet still circumstantial, evidence points to a link between deep disposal of fluids and earthquakes, but comprehensive data and necessary interpretations are ongoing. The lack of data, coupled with the complexity of the science, makes definitive, causal answers difficult at the current time.
"TexNet will help collect the hard scientific data, and conduct scientific and engineering analyses required to understand an issue that affects many stakeholders — industry, government, academia and the public," said bureau Director and State Geologist Scott W.
Tinker. "Energy production is important to the citizens of Texas and the nation, but so is safe disposal and management of fluids. I am proud of our bureau team for working thoughtfully and objectively with all stakeholders in this difficult space."