Honoring a Mentor: Blended gift pays off now and later
November 20, 2017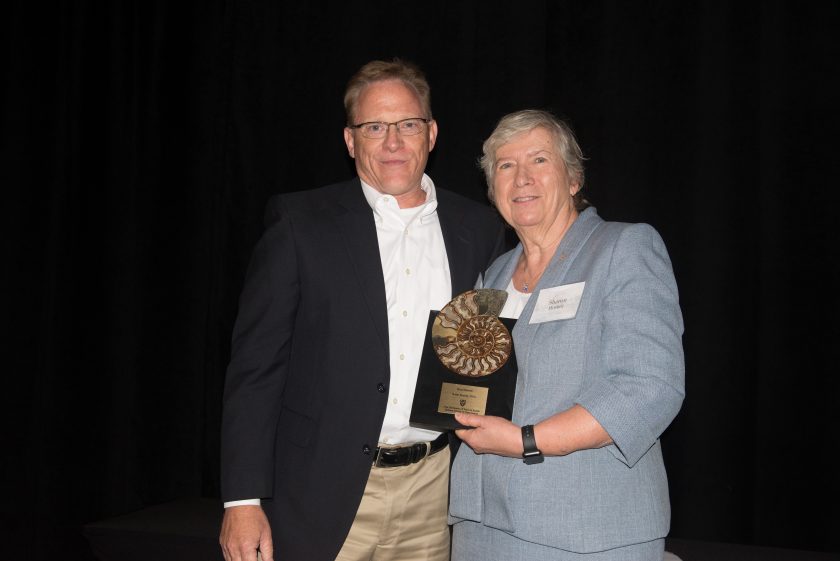 Ken Neavel's attraction to geology started at an early age. Growing up as the son of one of ExxonMobil's preeminent coal scientists, he knew that a degree in geoscience could lead to an intriguing career. Additionally, Boy Scout adventures to Big Bend National Park fostered dreams of a career in the outdoors, specifically, in the mountains.
These dreams were, in part, fulfilled. Now, he is helping provide others the opportunity to follow their passion by establishing an annual scholarship at the Jackson School of Geosciences to help support undergraduate students as they begin their college education. Neavel named the scholarship in honor of his friend and mentor, Dean Sharon Mosher. He began his geological studies at UT in 1978 — the same year that Mosher joined UT's Department of Geological Sciences as an assistant professor. Mosher taught structural geology to Neavel and soon after hired him as a student assistant.
She later made a critical introduction to Professor Nicholas Rast at the University of Kentucky, who Neavel studied under while achieving his master's degree.
"Without the encouragement of Dean Mosher and the experiences that I had working with her as a student, I am not sure where my path may have taken me," Neavel said.
Neavel is an independent geoscientist in the oil and gas industry. He volunteers regularly in public 5th grade classrooms, teaching earth and planetary sciences to students who might not otherwise be exposed to these subjects. He has developed a curriculum for his volunteer efforts which he plans to employ through a nonprofit organization to help provide advanced earth and planetary sciences to public schools.
"There is no greater feeling than seeing a young person getting excited about earth and planetary sciences," Neavel said. Neavel said that he felt it was a particularly important time for him to support the Jackson School because state funding is steadily declining, prompting universities to rely more and more on private funding. He said that it just made sense to name the scholarship after someone who has influenced his life and the lives of so many other students. He welcomes others who have been influenced by Dean Mosher's teaching and leadership to contribute to this fund that will support young geoscientists.
In addition to establishing the annual scholarship, Neavel provided a very generous planned gift in his estate to continue supporting the
scholarship fund in perpetuity.
The scholarship prioritizes freshmen and sophomores in good academic standing who are first-generation college students or those from historically underrepresented groups, which is a primary goal of the Jackson School's outreach efforts.
A geosciences education changed Neavel's life. He hopes that the Sharon Mosher Scholarship Fund — as well as the scholarships that he established at the University of Kentucky and Purdue University, where he earned his master's and doctoral degrees, respectively — will help students realize their full potential, and experience the transformative power of a geosciences education and the career paths that it paves.
"I am humbled and honored by Ken's decision to establish a scholarship in my name," said Dean Sharon Mosher. "His generous gift will play a direct role in educating the geoscientists of the future. Nothing could be more important. I am thankful for Ken's support."
To contribute to the Sharon Mosher Scholarship Fund or for more information about how to recognize a mentor or friend with a blended fund or estate gift, please contact Belle German, Executive Director for Development and Alumni Relations at 512-471-1993 or
bgerman@jsg.utexas.edu.