Soil Moisture Melting Ancient Ice
October 11, 2016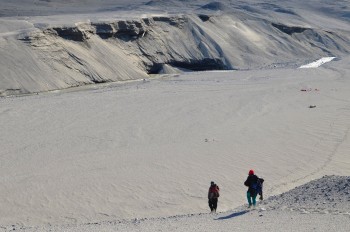 Antarctica's McMurdo Dry Valleys host landscapes that have been frozen solid for more than a million years. But on a recent expedition, scientists with the University of Texas Institute for Geophysics (UTIG) found that ice beneath the valleys' soil is melting.
"There are places where buried ice is melting 10 times faster than it ever has since the last ice age," said Joseph Levy, a UTIG research associate. Buried and insulated by glacial sediment since the last ice age, ice in the valleys has been protected from recent warming trends. On this expedition, scientists soon realized that enhanced soil moisture had changed the conductivity of the glacial sediment. It was no longer insulating and protecting the ice as it had been, but rather melting it by pumping heat into it.
"It's like using a cloth pot holder; it's great until it gets wet and then it transfers heat instead of blocking it," Levy said.
Though the implications of permafrost melt are concerning, Levy is encouraged by the findings and looking forward to the published research.
"Parts of Antarctica that have been stable since the last ice age are beginning to melt," Levy said. "Once this ice is gone, it is not renewable, it doesn't come back. You can bury it and that will keep it around longer, but ultimately it is all going to melt out."
The month-long research project was funded by the National Science Foundation and included Jackson School of Geosciences undergraduate Logan Schmidt and UTIG post-baccalaureate student Jackie Waters.