River Erosion Controlled by Chemical Weathering
October 12, 2016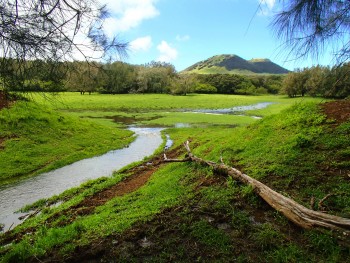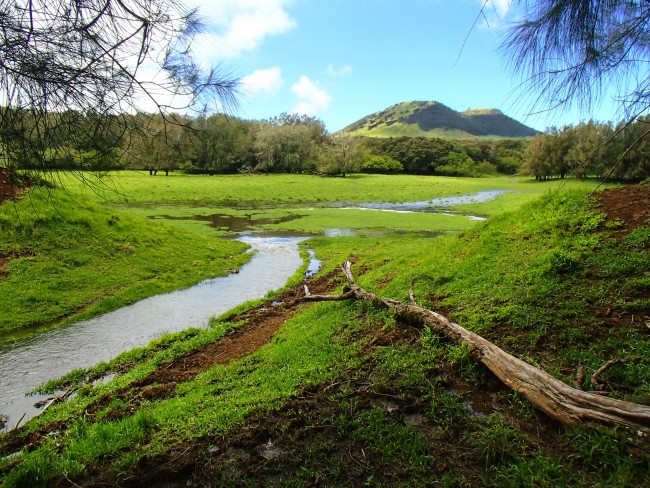 Chemical weathering can control how susceptible bedrock in river beds is to erosion, according to new research published in Nature on April 14, 2016.
"Our research presents a specific, process-based mechanism to explain how and why river erosion depends on climate," said Brendan Murphy, a Ph.D. student at the Jackson School of Geosciences who led the research.
Murphy conducted the research with Joel Johnson, an assistant professor in the Department of Geological Sciences, Nicole Gasparini of Tulane University and Leonard Sklar of San Francisco State University. Chemical weathering occurs when a rock's susceptibility to erosion is increased by exposure to water. Water weakens the rock by interacting with the minerals it's made of.
To explore the extent to which chemical weathering influences river erosion, the team travelled to the Big Island of Hawaii to collect data on chemical weathering, rock strength and erosion rates in streams across wet and dry regions of the island.
"Hawaii is a simple, natural laboratory for studying how climate controls river erosion because it has uniform lithology and a very extreme precipitation gradient," Murphy said.
Consistent with their hypothesis, they found that bedrock was more chemically weathered and physically weaker where local precipitation rates were greater. More significant, Murphy said, was finding that high precipitation locations could maintain high erosion rates despite continuously exposing "fresh rock"–rock that was previously below the eroded surface and is not chemically altered.
The research was funded by the National Science Foundation and a Tulane Research Enhancement grant.