Jurassic Rock Hunting Abroad
October 14, 2016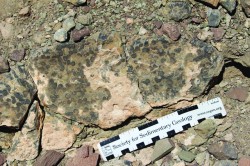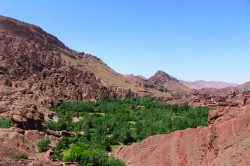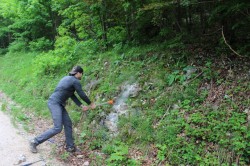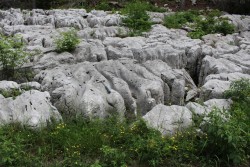 Rowan Martindale, an assistant professor in the Department of Geological Sciences, and graduate student Nick Ettinger traveled to Morocco and Slovenia to look for Early Jurassic rocks from the Toarcian Oceanic Anoxic Event, a period 183 million years ago when oxygen levels in the world's oceans were very low.
In Morocco, Martindale and collaborators hiked the High Atlas Mountains, which has one of the thickest records of shallow water carbonates from the Early Jurassic and some of the best reefs, looking at the sedimentological and biotic response to this event. In Slovenia, she and Ettinger collected samples for his master's thesis. Slovenia is one of the few shallow water carbonate platforms that has a good record of the Toarcian Oceanic Anoxic Event.
Ettinger is hoping to identify the Anoxic Event in Slovenia and combine sedimentology, paleontology and geochemistry to understand the environmental changes that occurred during it.