Dean Mosher: Update on efforts to shape the future of the geosciences
October 30, 2015
Jackson School Community,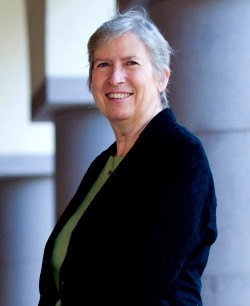 I hope this message finds you well. It certainly has been a busy and productive fall term so far.
I want to take a moment to bring you up to date on a few items that are important to the school and the larger geosciences community.
In October, I visited nine congressional offices in Washington D.C. with Sean Solomon, director of Columbia's Lamont-Doherty Earth Observatory. We urged representatives to restore federal funding for the geosciences and preserve funding for the R/V Marcus G. Langseth research vessel.
The visits (to six Texas and three New York offices) went very well. I think our meetings and all the letters, emails and other correspondence that so many people have sent in the past months are having a positive effect. In the next couple months, when the Senate takes up discussion of the America COMPETES Act, it will be time to ramp up the communications effort again.
In early January 2016, the Jackson School will host a summit for department heads and chairs on the future of geoscience undergraduate education. This summit is the latest step in an important ongoing process to reshape undergraduate geoscience education nationally to meet the needs of the future, determine how to best recruit and retain students, and broaden the pool of geoscience students to include those in underrepresented groups.
We held a geoscience employers workshop in May in Washington D.C. and received valuable input on the skills and conceptual understandings needed by undergraduates for the current and future workforce. More information can be found on the Jackson School's website.
Just this week I spoke on a panel at the Women's Global Leadership Conference in Energy about the school's efforts to bring more students into the geosciences.  I was very proud to discuss GeoFORCE Texas, DIG Texas and our other outreach efforts. You also should be proud of the work we are doing to recruit and educate future generations of geoscientists.
We had great turnouts of alumni and members of the Jackson School community at the Society of Exploration Geophysicists meeting in New Orleans last week and for the Society of Vertebrate Paleontologists in Dallas the week before. I expect our event next week at the Geological Society of America in Baltimore will be a great success as well.
Finally, I want to let you know that we will be celebrating the 10th anniversary of the Jackson School with a special symposium on January 22nd – so mark your calendars. Also, the next Jackson School town hall meetings will be held in mid-November. Hope to see you there and next week at GSA.
Sharon Mosher, Dean