First Wave: GeoFORCE Texas Students Graduate from College
June 19, 2013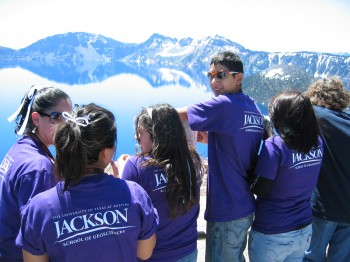 Here's a simple math problem: The demand for workers in STEM fields (science, technology, engineering and math) is growing, but the number of students going to college to study these fields is shrinking. On top of this looming workforce shortage, minorities are greatly underrepresented in STEM jobs.
It doesn't take a math degree to see these trends don't add up.
So why aren't more young people going into math and science? A recent survey by the Pew Research Center and Smithsonian Magazine found that nearly half of Americans (46 percent) think it's because science is "too hard." Another 22 percent say these fields aren't useful for their careers and 20 percent say these subjects are "too boring." Ladies and gentlemen, we have an image problem.
GeoFORCE Texas, a four-year program for high school students run by the Jackson School of Geosciences, is showing kids from historically disadvantaged parts of the state that science and math are exciting, societally relevant and rewarding — plus, they offer phenomenal career opportunities.
The program sends honors students from mostly minority-serving high schools on all-expenses-paid geological field trips across the country to educate and excite them about science. And in 2013 — as many members of the first class graduated from college — GeoFORCE Texas has become the largest geosciences K-12 pipeline program in the nation.
Sparking a Passion for Science
The first class of 69 GeoFORCE students was selected in 2005 from small towns in rural Southwest Texas. They had all completed the eighth grade; about 73 percent are Hispanic. For four summers, they visited sites like the Grand Canyon, the Florida Everglades, Zion National Park and Mount St. Helens, learning about energy, water, volcanoes, plate tectonics and how landscapes evolve.
Students also visit the U.S. Geological Survey (USGS) headquarters in Washington, D.C. to learn about science careers in government. Trips are led by scientists and engineers from industry and universities.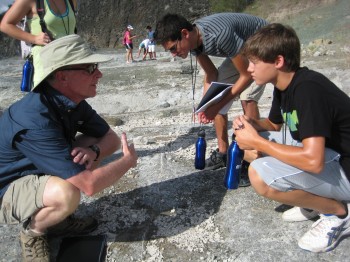 "We were talking with a woman who was at the top of her corporation," says Karina Robledo, a student from Pearsall, Texas, (population 9,200) who was in the first cohort of GeoFORCE students. "She told me you could be a very successful scientist, too. That was really inspiring to hear as a high school student from Pearsall."
Robledo just completed a bachelor's degree in chemistry from St. Edward's University in Austin. Next year, she plans to start work on a master's in geochemistry, using chemistry to study the environment — tracking water pollution, for example.
"I probably wouldn't have put it all together — my love for math, science, the environment and being outdoors — learning about all that in GeoFORCE really put it all together for me," says Robledo.
Jeff Sitgreaves (B.S. '13) was part of the second cohort of GeoFORCE students. Thanks to college credits earned in high school, he took only three years to graduate from UT Austin in May with a bachelor's degree in geology. This fall, he begins work on a master's degree in geosciences at UT Austin.
"I wouldn't be in the geosciences if it weren't for that program," he says. "My first year, I thought this is kind of interesting. The second year, this is cool. Then by the third year, yes, this is what I want to do.
Now, four years after completing GeoFORCE and graduating high school, 27 of the 69 students in the first cohort have completed college degrees, with 9 more planning to graduate in December 2013. At least three, including Sitgreaves, are enrolled in graduate school this fall.
The GeoFORCE program has since expanded to include students from urban Houston, who are predominantly Hispanic (46 percent) and African American (32 percent). With classes from all four grades of high school and both regions, GeoFORCE Texas now serves about 640 students each year.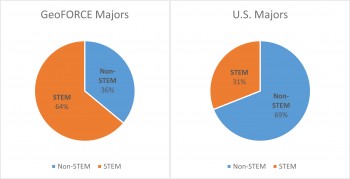 Of the GeoFORCE students who have already received college degrees, 55 percent received them in STEM fields. According to Eleanour Snow, interim director of outreach and diversity programs in the Jackson School, if you include all GeoFORCE students now in college, 64 percent are majoring in STEM fields, more than double the proportion of U.S. college students who earn bachelor's degrees in science and engineering fields (31 percent), according to the National Science Foundation.
GeoFORCE Texas is made possible by the generous support of industry, government and professional organization partners, as well as individuals. The Jackson School also provides general operating support. Partners include Southwest Texas Junior College and the Houston Independent School District.
Building a Foundation for Success
The organizers of GeoFORCE also assist students with the transition from high school to college. They show them how to apply for university admissions and financial aid. They teach students strategies for taking the SAT. They bring them to the university while still in high school to get them comfortable being on a college campus, experience living in a dormitory, and take classes from top faculty.
With four years of college under their belts, the first cohort of GeoFORCE students is demonstrating that the combination of inspiring field trips, interaction with working scientists, and help preparing for college are adding up to success in college.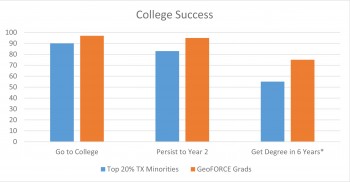 Compared to a group of similar high school graduates who did not participate in the program, students in the first GeoFORCE cohort were more likely to go to college, more likely to re-enroll for the second year, and if current trends continue, will have been much more likely to complete a degree within six years (see chart).
Doug Ratcliff, former director of outreach and international programs at the Jackson School, launched GeoFORCE with support from members of the school's Advisory Council, industry partners and others (see sidebar). Richard Chuchla (M.S. '81), a geologist and Advisory Council member actively involved with Ratcliff in the early development of GeoFORCE, says everyone was optimistic about the program from the start.
"But we didn't have even the wildest idea that it would be as successful as it has become," says Chuchla, who manages Latin American new business development for ExxonMobil Exploration Company.
In March 2013, the National Research Council issued a report on the looming worker shortage in the energy and mining industries. The report highlighted GeoFORCE as one of four educational programs that "have established excellent pathways to address the workforce issues."
And now GeoFORCE is heading north. With help from industry partners such as Ed Duncan (BS '79, MA '87) and Great Bear Petroleum, the University of Alaska Fairbanks launched GeoFORCE Alaska last summer for students from native villages on the North Slope. Students in this region are historically underrepresented in STEM fields and live in rural communities where schools struggle to provide solid science and math education.
"My favorite part of GeoFORCE was traveling and learning about the surroundings," says Carlos de la Torre, a student from Sabinal, Texas (population 1,700) who graduated from the first GeoFORCE class. "Everything you see around you is either geology, plants or wildlife. That's what I do now. I'm learning about my surroundings."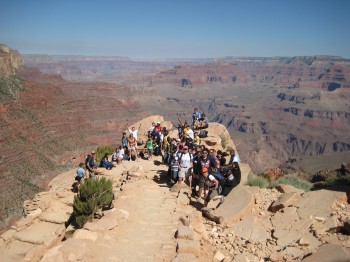 De la Torre, who graduated this past May with a bachelor's degree in wildlife and fisheries and a minor in earth science, from Texas A&M University, says seeing so many diverse and interesting sites around the country inspired him to study wildlife and pursue a career in education and outreach in the National Park Service (NPS).
"We come from these small towns that no one has heard of, but they believed in us," says Sabrina Cervantez, a student from Del Rio, Texas (population 35,700) who graduated from the first GeoFORCE class. "I'm very grateful to them for choosing our little area of Texas to hand-select students."
Cervantez, who received a bachelor's in history and English from UT Austin in May, begins a master's program at Louisiana State University this fall, studying the history of geology.
So if you happen to be visiting a national park next summer, and a bus full of Texas or Alaska high schoolers wearing the same brightly colored shirts spills out into the parking lot, don't be alarmed. You're looking at the next generation of scientists and engineers who will help keep our lights on.
by Marc Airhart
---
Sidebar: What Starts Here …
Launching a program as big and complex as GeoFORCE required careful planning, hard work, financial commitments and a healthy measure of faith, from many people. Yet several of them point to one person in particular—Doug Ratcliff, associate director of the school at the time—as most responsible for making it a reality.
"Doug came to me with the concept of an outreach program in south Texas, aimed primarily at Hispanic students," says William Fisher, director of the Jackson School at the time.
As a starting point, Ratcliff drew inspiration from a program at Fort Valley State University, one of Georgia's designated Historically Black Colleges and Universities, that took high school students on geological field trips each summer to encourage minorities to go to college and study the geosciences. Fisher blessed Ratcliff's proposal to create a similar program in Texas and provided a base of funding.
Meanwhile, members of the Geology Foundation Advisory Council (AC), a group of alumni and friends who advise the Jackson School and assist in fund-raising, were growing concerned about declines in the number of students pursuing STEM degrees and the increasing demand for skilled workers in industry. They provided valuable early input that shaped GeoFORCE. Together with Ratcliff, they drummed up financial support from industry and formed strong partnerships with Southwest Texas Junior College to attract students from rural southwest Texas and the Houston Independent School District to recruit from the inner city.
"I thought this concept had so much intuitive appeal for a major corporation looking to represent in our own workforce the broader demographics of the country in which we live and work," says Richard Chuchla (M.S. '81), who manages Latin American new business development for ExxonMobil Exploration Company.
Chuchla is an AC member who was actively involved in the early development and fundraising for GeoFORCE. He says at the time it was an article of faith that the program would get more kids, and especially minorities, into STEM fields, but now the program has proven itself.
Even in the early days, there were signs that they were on to something big. The original concept was for 40 students to participate in the program that first summer.
"Teachers were calling, saying 'You rejected my top student!'" says Annell Bay (M.A. '80), vice president for global exploration at Marathon Oil Corporation, also an AC member and early supporter of GeoFORCE. "Demand was so strong that we doubled the number of students."
[youtube rq7thX97iGw]