GeoFORCE Expands Into Alaska
November 20, 2012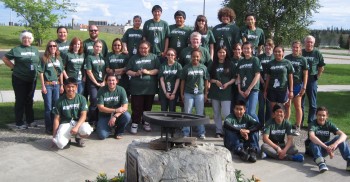 The country's biggest geosciences pipeline program just got bigger. This past summer, 16 incoming high school freshmen from native villages on the North Slope of Alaska joined the inaugural class of GeoFORCE Alaska. Students set out on a week-long field trip through some of Alaska's geological hotspots, including Denali National Park, Earthquake Park in Anchorage, Healy coal deposits, the Fox permafrost tunnel, and several glaciers.
"I've never really had an interest in Geoscience, but now I can't wait to learn more," said one of the inaugural students.
GeoFORCE Alaska is an offshoot of the extremely successful GeoFORCE Texas program developed by the Jackson School of Geosciences. The overarching goal of GeoFORCE is to increase the number and diversity of students studying geosciences and engineering in college and entering the high‐tech workforce. Each year, about 600 students from predominantly underserved schools in southwest Texas and the Houston area participate in GeoFORCE Texas.
The model is designed to be scalable and available for replication by other universities. The University of Alaska Fairbanks (UAF) is the first university to replicate the program. It is an ideal location because it has the most important traits for a successful program: a strong geology department with ties to a high need school district and local industry engaged in outreach.
"The North Slope is where you find a high proportion of Native Americans in small rural villages," said Eleanour Snow, interim director of outreach programs at the Jackson School. "Rural communities have a really difficult time delivering good science to the students and so in a way, the North Slope echoes our rural border towns in Texas."
Ed Duncan (BS '79, MA '87), CEO and president of Great Bear Petroleum, was already involved with GeoFORCE Texas when he suggested expanding the program to include students from Alaska. Duncan and Denise Butler, geoscience discipline lead for upstream Americas at Shell, lined up first-year funding from their companies, as well as other partners such as the Arctic Slope Regional Corporation. Duncan and Butler joined the students on last summer's field trip as sponsor representatives.
"It's (about) reaching out and hoping to find kids that have the aptitude to excel," Duncan told a reporter with the Arctic Sounder newspaper. "Find them early enough in their academic careers that we can get them interested in doing something really extraordinary, and then following through."
The GeoFORCE Alaska organizers hope to reach full capacity in 2015 with 160 students: 40 students per grade for ninth through twelfth grades. Each summer for four years, the program will take students on spectacular geologic field trips throughout the U.S. Thanks to generous support from industry and other sponsors, the trips are free to students.
"It would be a wonderful thing if there was a GeoFORCE in every state," said Snow. "I think the more kids we can reach the more benefit we can have around the country."