JSG Unveils New Website
October 7, 2011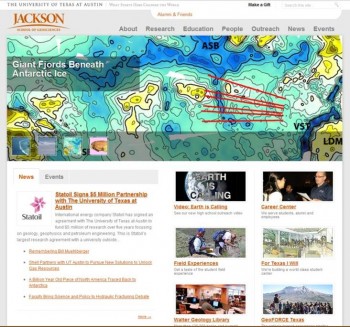 Dear JSG Community:
The new Jackson School website is available for review in its test, beta format. The link to the homepage is below, along with links to a feedback form and a form that faculty and research scientists can use to update their expertise guide entries. These two forms are also linked to the footer of each page on the new site. After incorporating community feedback, we will replace the current JSG and DGS sites later this month and make the new site live.
New JSG website (beta version): http://www.jsg.utexas.edu/
Feedback form: https://surveystation.austin.utexas.edu/TakeSurvey.aspx?SurveyID=7803l5m3
Form to update your expertise entry (for faculty and research scientists): https://apps.jsg.utexas.edu/profiles
The goals for the new site were to:
Enhance and deepen research content
Present research in a new organization structured around themes and disciplines
Enhance data-driven aspects of the site, such as our new research pages that pull relevant content (scientists, facilities, centers) from a master database
Combine redundant elements of the DGS and JSG sites for a more seamless user experience
Re-focus the site on external audiences, with internal resources moved to the JSG Intranet
Allow blogger-style content updates for select sections of the site
Maximize search engine results, particularly for faculty and research scientist expertise entries
All of these objectives have been met. By the start of the next semester we will offer templates for research groups and bloggers who would like to create sites in the new format.
While all of the major program pages from the current DGS and JSG sites will move to the new format, pages for many individual facilities and research groups will remain in existing templates (many in the familiar green, DGS template) through the fall. This year, during phase two of the new site rollout, we will:
Move additional subsites into the new template, though not all will have to move
Revamp the graduate student directory to fit the new template and allow students to update their entries online
Plan for the next major project, a publications database to complement the data driven aspects of the new site.
– JSG Communications Team