JSG Worker Receives UT's First Student Employee of the Year Award
March 1, 2011
The University of Texas at Austin has selected the winner of its first annual Student Employee of the Year Award: Brandon Okafor, Student Associate in the Jackson School of Geosciences. Okafor, a senior geology major who has worked on campus since his freshman year, was selected out of a field of 78 eligible nominees.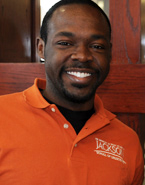 Okafor was nominated by Nicole Evans, assistant dean for administration in the Jackson School of Geosciences.
"Since joining the Jackson School in 2009 as a student employee, Brandon has served in the formal titles of Student Associate and Undergraduate Research Associate, but more often you will hear our faculty, staff, researchers and other students refer to him as 'the go-to guy with a smile.'," wrote Evans in the nomination letter.
She praised him as a "quality problem-solver," a "self-starter with initiative coming out his ears," and a "leader with a winning attitude."
The Student Employee of the Year Award recognizes student employees who excel in six areas: reliability, quality of work, initiative, attitude, professionalism, and uniqueness of contribution to their college, school, or department.
Okafor will be recognized at the Student Leadership Awards event hosted by the Texas Exes on April 4, 2011, and will be entered in the regional competition sponsored by the Southern Association of Student Employment Administrators. Winners of four regional competitions will advance to compete for the National Student Employee of the Year Award administered by the National Student Employment Association (NSEA).
Here at UT Austin, over 10,000 students are employed by the university, playing a key role in our educational, research, and operational excellence. Student employees perform invaluable services with enthusiasm, dedication, and initiative. At the same time, they develop important skills and experience.
For more information about research at the Jackson School, contact J.B. Bird at jbird@jsg.utexas.edu, 512-232-9623.