Geoscience Alums Profiled in Grad School Book
November 22, 2010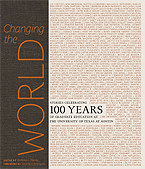 The Graduate School, which was established in 1910, is celebrating its 100th anniversary. In honor of the milestone, the school published a commemorative anniversary book titled "Changing the World: Stories Celebrating 100 Years of Graduate Education at The University of Texas at Austin" that profiles 100 alumni – including 4 from the Jackson School of Geosciences: Marcus Gary, Ph.D. '09 , Charles Hoskin, Ph.D. '62, Douglas Lawson, M.A. '72, and Chuck Williamson, Ph.D. '78.
Marcus Gary, Doctorate, Geological Sciences, 2009
Graduate school is often about pursuing a field of study to gain knowledge and skills for a future career. But for Marcus Gary, earning his PhD was the outlet to satisfy his curiosity about El Zacatón, a water-filled vertical cave about 328 feet wide and more than 1050 feet deep, that has been called an "upside down Mount Everest."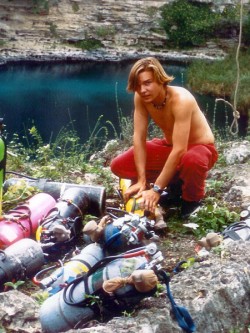 "I originally started as an accounting major at UT, but learned scuba diving within the first few weeks of school. After that, my life took a hard left. I left UT to become a commercial diver and had some great experiences, including doing cave diving expeditions in Mexico. I was part of a world-record team to try to get to the bottom of this cenote, El Zacatón, which ultimately became the focus of my dissertation.
"In every class and lecture, I always asked, 'how does this relate to this place in Mexico that I've been involved in exploring?' Nobody knew anything about it scientifically, nobody knew how it got there."
Working with UT Austin alumnus, Bill Stone (PhD, 1980), NASA funded the construction of the world's only cave diving robot to explore the depths of the cave, provide 3- dimensional mapping and get a better understanding of the biology of this hyrdo-thermal system.
"Caves like this are a specific kind of aquifer that provide an amazing amount of water, can recharge very rapidly, and have unique biological habitats. There is a lot of significance when it comes to the social importance of managing these resources. It is not just about exploring caves and seeing what is down there, it is ultimately about being able to get involved in much broader global implications of groundwater management."
by Kathleen Mabley
Charles Hoskin, Doctorate, Geological Sciences, 1962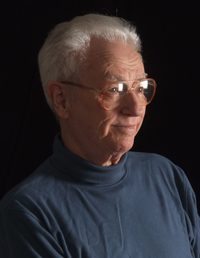 "At Austin I had the marvelous good fortune of participating in the outstanding relationship between the faculty and graduate students. Among the diverse teaching faculty Drs. Stephen Clabaugh and Robert Folk used abilities that I admired and tried to copy in my working life. Stephen Clabaugh was a master of organization and clarity of presentation. Bob Folk, dubbed the Wizard of Ooze, excelled at observing nature and in using cleverly chosen examples in his teaching to focus student attention on what was significant hiding in plain sight. Any success I may have had in my work I owe to those wonderful years at UT Austin and to Drs. Clabaugh and Folk." – Charles Hoskin
Hoskin's PhD dissertation was titled "Recent Carbonate Sedimentation on Alacran Reef, Yucatan, Mexico."
Douglas Lawson, Master's, Geological Sciences, 1972
In 1975, when Jeffrey Lawson read a front page headline in The New York Times on the discovery of Quetzalcoatlus, called the "Largest Known Creature to Have Flown," he thought of his brother, Doug, a paleontology student at UT Austin. Doug would like this article, he thought. Reading further he realized Doug already knew about it-because Doug had made the discovery.
Lawson's discovery of Quetzalcoatlus, one of the most amazing fossil finds of the 20th century, rewrote paleontology textbooks. Quetzalcoatlus was about three times larger than any pterosaur known up until that time. Today scientists recognize the gigantic proportions of many pterosaurs, including at least one larger than Quetzalcoatus. But Quetzalcoatus remains one of the largest flying animals of all time, and its discovery caused scientists to rethink both the evolution of flight and the habitats of the giant fliers.
Lawson made the discovery while conducting research for his master's thesis on Big Bend's paleoecology. At the time, the western part of Big Bend was not considered a likely source of dinosaur fossils. The geology was not well known. Conventional wisdom held that most or all of the Cretaceous formations in the western part of the park-rocks old enough to house dinosaur bones-had eroded away. You might find ice age mammals in the remaining sandstone, but not dinosaurs.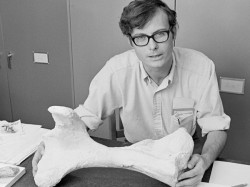 Aware of this and believing the geology had been misinterpreted, Lawson was scouting stream beds in the western part of the park. He was seeking specimens in sandstone formations from the late Cretaceous, the period from 145.5 to 65.5 million years ago that ended with the mass extinction of most dinosaurs.
Scanning the painted desert landscape of multicolored blue, yellow, and purple layers of soil, Lawson noticed some bones still in place about a few feet up the hillside. One bone in particular was about to be washed out of the soil.
"One more big rainstorm and it could have been eroded away," recalls Lawson.
Lawson collected the bone and some fragments. Back at the lab in Austin, he realized he had a two-foot radius-a forearm. The size of the bone meant dinosaur, but it was strangely thin, suggesting an animal that flew. Lawson started piecing together fragments. One piece with a saddle-shaped indentation was almost the size of a soccer ball. Was it part of a pterosaur joint? It was hard to say because the pterosaur specimens Lawson could consult for comparison were mainly two-dimensional, having been flattened over millennia in the compacted limestones of Kansas, where they were discovered.
Fortunately, the European fossil record had abundant, three-dimensional pterosaur specimens. They were tiny sparrow-sized animals, but despite their diminutive size, their bones and joints shared unique characteristics with Lawson's find-in particular a reciprocal saddle-shaped joint between the radius and wrist. That discovery was the Eureka moment. Lawson realized the soccer-ball-sized bone he'd found in Big Bend was the wrist of a giant pterosaur.
It would take four years from the field discovery of Quetzalcoatlus, in 1971, to the publication of the results in Science in 1975, when the world took notice. In the interim, Lawson and his supervisor Wann Langston returned to the park to excavate more material, including a thigh bone from the original scene that cemented the discovery.
Paleontology is a science of epochs, and it's not unusual for months to elapse before a major discovery is announced. Lawson wanted to be absolutely sure before telling the world about Quetzalcoatlus, partly because it was so startling. The revelation of a new, massive flying pterosaur was surprising enough on its own, but Lawson's find also overturned long held notions about the geology of Big Bend and the habitat of the giant pterosaurs.
"It was pretty hard for people to accept," says Lawson. "The whole thing went against what everyone was thinking. For a guy working on his master's thesis, it was quite an exciting time."
Lawson went on to earn a Ph.D. in paleontology at the University of California at Berkeley and then to teach paleontology at Louisiana State University. In the early 1980s, he decided to switch careers, seeking more lucrative employment in the booming oil industry. It turned out his paleoecology skills were sought after. Working for Philips, Arco, and as a consultant, Lawson mapped out the ancient environments of marine invertebrates.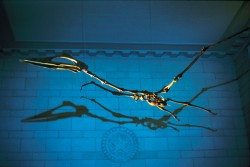 "To me it was mapping out the movement of habitats," says Lawson. "To the oil industry, it was reservoir characterization," a process that helps geologists locate oil and gas.
When the oil business hit its next downward cycle, Lawson's grounding in paleontology once again came to the rescue. As a professor, he had become interested in modeling artificial living systems, in part because it was challenging to gather enough data on living systems to study paleoecology. At Southwest Airlines, where Lawson found work in high-end computation, his interest in modeling living systems yielded, of all things, an application in customer service.
Airlines perennially struggle to find the most efficient means of shuttling planes, passengers, and employees through the maze of daily arrivals, departures, and delays. By creating a virtual living system, or as Lawson calls it, a "vivial model," of the airline service ecosystem, Lawson was able to help Southwest route planes to gates more efficiently.
Newspaper articles in 2007 described the solution as one based on "Swarm Theory," the idea a colony of ants works better than one alone. (In Lawson's model, each pilot acts like an ant searching for the best airport gate.) While not gaining as much media attention as Quetzalcoatlus, Swarm Theory nonetheless made headlines around the country. Lawson had once again made an important discovery about flight-less glamorous than Quetzalcoatlus, but for many people, more practical.
by J.B. Bird
Chuck Williamson, Doctorate, Geological Sciences, 1978
When he enrolled as a doctoral student at The University of Texas at Austin, Charles "Chuck" Williamson (Ph.D. '78) planned to become a geology professor. Instead, when he graduated, he went to work as a researcher for California-based oil company Unocal.
Over time, his interest in the oil industry grew far beyond the science of finding oil and gas. He became fascinated by the economics, politics and international cultures that swirl around the entire business. He took positions in England, the Netherlands and Thailand. He changed roles time after time, mastering diverse realms including operations, exploration, information technology and finance. His rise through the company culminated in his selection as CEO and chairman in 2000.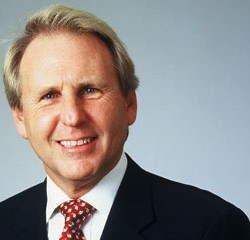 Williamson led Unocal during a watershed moment when China's offshore oil company made a much publicized bid to buy the company in 2005.
"It was a landmark," he says. "It was the single biggest acquisition attempt by the Chinese at the time."
Williamson knew that a sale to China would raise questions about national security, but he felt the fears were misplaced. He weathered political and media whirlwinds before China dropped its offer and the company was instead purchased by Chevron. As he sees it, China was misunderstood and mistreated. But on the positive side, he says the acquisition by Chevron was a good business move for both companies and shareholders.
One of the accomplishments he's most proud of was to serve as chairman of the US-ASEAN Business Council, the leading U.S. trade association for southeast Asia. He says he grew a lot from the experience because it forced him to step outside of his comfort zone.
Williamson, who is now retired, lives with his wife in Sonoma, California. He has turned the notion of retirement on its head. He serves as director of PACCAR (the largest truck manufacturer in North America), chairman of Weyerhaeuser (a Fortune 500 forest products company) and chairman of Talisman (a Canadian oil and gas company). He consults for a biofuels company. He travels the world. He kayaks, hikes and sails. He even has his own "hobby vineyard" and makes his own wine, although he says he still has much to learn.
"I tell my friends, it's simple to make wine," he says. "It's hard to make good wine."
He and his wife both came to UT Austin for graduate school (she studied nutrition). In his field of sedimentology, he says, UT Austin was the first choice. Some of the world's top academics in sedimentology (including Earle McBride and Robert Folk) taught there. He says field trips and close interaction with his fellow graduate students combined with stellar faculty to make it a tremendously rewarding experience.
"I learned as much from my grad student colleagues as I did from the faculty," he says.
As a student, he struggled with the uncertainties and complexities of an open-ended research project but found the experience invaluable. He says developing the skills of a researcher, such as critical thinking, served him well in his career.
"I learned how important it is to ask the right questions, seek the critical data, dig deeper, and to access the resources of my colleagues and the faculty," he says. "Not a lot different than what a CEO does."
Williamson returns to campus at least twice a year as a member of the Advisory Council for the Geology Foundation, the main organ of support for advancing the geosciences at The University of Texas at Austin. As students, he and his wife loved the sense of community around the university, the live music, and the food.
"I've lived all over the world, but Austin is still home for me," he says. "I always enjoy coming back."
by Marc Airhart
Also See:
Changing the World: Stories Celebrating 100 Years of Graduate Education at the University of Texas at Austin