Doctoral Candidate Wins Top Paleontology Student Award
November 2, 2010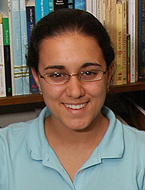 Jennifer Olori, a Ph.D. candidate in paleontology at the University of Texas at Austin has received the Romer Prize, an award for best student presentation, from the Society of Vertebrate Paleontology (SVP).
Olori studied fossils discovered in the Czech Republic of extinct salamander-like animals called microsaurs. Scientists once thought of microsaurs as being closely related to amphibians, but that connection is now hotly debated.
Modern amphibians grow rapidly and go through metamorphosis—an abrupt, complete reorganization of the body—on the way to adulthood. Olori found evidence that ancient tetrapods (four legged animals, including amphibians, reptiles and mammals) grew slowly and transitioned gradually to adulthood. Her work supports the hypothesis that microsaurs are actually more closely related to mammals and reptiles than amphibians.
The deposit in which these fossils were found is extraordinary because it preserves intact, fully articulated fossil skeletons.
"The opportunity to study the growth and development of an organism in the fossil record is rare," she said. "It requires special, detailed preservation of a large number of individuals. At the locality where my fossils came from, hundreds of small vertebrate animals were well-preserved, including delicate details of their skeletons. That situation allowed me to study the step by step formation of the skeleton in two species of microsaur."
Olori plans to graduate from the Jackson School of Geosciences with a doctorate in paleontology in May 2011.
The Alfred Sherwood Romer Prize is awarded on the basis of the scientific value and quality of the oral presentation of an original research project during the society's annual meeting, held this October in Pittsburgh, PA.
The SVP advances the science of vertebrate paleontology and serves the common interests of all persons concerned with the history, evolution, comparative anatomy, and taxonomy of vertebrate animals. The society, which has 2,300 members, is also concerned with the conservation and preservation of fossil sites.
For more information about research at the Jackson School, contact J.B. Bird at jbird@jsg.utexas.edu, 512-232-9623.