Digging Deeper: Craig Fulthorpe Uses Research Vessel to Study Ancient Sea Level
March 4, 2010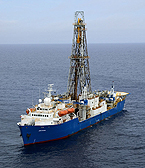 For eight weeks beginning in November 2009, off the coast of New Zealand, an international team of 34 scientists, 92 support staff and crew, and 1 teacher on board the scientific drilling vessel JOIDES Resolution (JR) were at work investigating sea-level change in a region called the Canterbury Basin. It proved to be a record-breaking trip for the research team.
The JR is one of the primary research vessels of an international research program called the Integrated Ocean Drilling Program (IODP). IODP is supported by two lead agencies, the U.S. National Science Foundation (NSF) and Japan's Ministry of Education, Culture, Sports, Science, and Technology.
The IODP research team drilled four sites in the seafloor. One site marked the deepest hole drilled by the JR on the continental shelf (1,030 meters), and another was the deepest hole drilled on a single expedition in the history of scientific ocean drilling (1,927 meters). A slightly deeper one was drilled previously, but over the course of eight expeditions.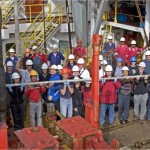 Another record was broken for the deepest sample taken by scientific ocean drilling for microbiological studies (1,925 meters).
A fourth record was achieved when the team recovered sediment from the shallowest water site (85 meters) ever drilled for science by the JR.
"This was one of only two JR expeditions that have attempted to drill on a continental shelf–this was not a routine operation for this ship," says co-chief scientist Craig Fulthorpe of the University of Texas at Austin's Institute for Geophysics, who led the expedition with co-chief scientist Koichi Hoyanagi of Shinshu University in Japan.
The unstable, sandy composition of the sediments and the relatively shallow water of the shelf environment present unique challenges for a floating drilling platform like the JR, which relies on thrusters to maintain position and requires special technology to accommodate wave motion.
"We never expected we would be able to drill this deep in such a difficult environment," says Fulthorpe.
Canterbury Basin is part of a worldwide array of IODP drilling investigations designed to examine global sea level changes during Earth's "Icehouse" period (10 to 12 million years ago), when sea level was largely controlled by changes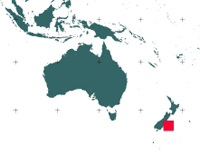 in glaciation at the poles. Data from both the Canterbury Basin expedition and an earlier New Jersey shelf expedition will be integrated to provide a better understanding of global trends in sea level over time.
Julie Pollard, a 7th and 8th grade science teacher from Watauga, Texas sailed on board the Resolution as the Onboard Education Officer for Expedition 317. She learned shipboard science alongside the expedition's science party and translated her learning experiences for students, families and the general public through a blog, live video conferencing and classroom activities.
You can read about her experiences at sea on her blog at: http://joidesresolution.org/blog/9.
Based on news releases by the National Science Foundation and Consortium for Ocean Leadership.
Also See:
IODP Expedition 317
For more information about the Jackson School contact J.B. Bird at jbird@jsg.utexas.edu, 512-232-9623.