Barnes Receives Outstanding Woman in Science Award
October 13, 2009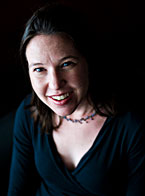 The Geological Society of America, in partnership with Subaru, has awarded Jaime Barnes its annual Outstanding Woman in Science Award. Barnes is an assistant professor at The University of Texas at Austin's Jackson School of Geosciences. The award honors women who have "impacted the field of the geosciences in a major way based on their Ph.D. research." It is also given in honor of Doris Curtis, the first female president of the GSA.
"I am exceptionally grateful to be a member of a community so supportive of its young members and am humbled to accept this honor," said Barnes.
For her Ph.D. research, Barnes studied serpentinites, rocks composed of minerals that contain large amounts of water and might be common in oceanic plates that are subducting, or diving below, other plates. These materials have become a hot area of research as scientists begin to appreciate their role in transporting water from the seafloor to Earth's interior and back to the surface again as volcanic gas. Some scientists have speculated that as the subducting materials release water in the interior, they might increase the explosiveness of volcanoes or trigger earthquakes.
Barnes recognized that any given sample of serpentinite carries a fingerprint that identifies the source of its water and the tectonic processes that formed it. That fingerprint comes in the form of isotopes of chlorine. She later demonstrated that the same chlorine fingerprints can be measured in volcanic gas to infer where its water came from. These insights also have the potential to alter scientists' understanding of the global chlorine cycle.
Barnes completed her Ph.D. at the University of New Mexico in 2006.
For more information about research at the Jackson School, contact J.B. Bird at jbird@jsg.utexas.edu, 512-232-9623.