Super Size Me
August 28, 2009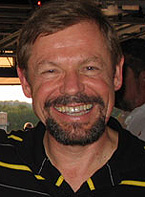 The GeoFORCE program, which began in southwest Texas, has passed yet another milestone, adding a whole new pool of students from Houston and in the process nearly doubling student enrollment over the past two summers to 520. The Houston students are ethnically diverse with African Americans and Hispanics making up the majority, both of which are vastly underrepresented in math and science fields.
ExxonMobil's Mike Loudin approached Doug Ratcliff, director of outreach for the Jackson School and head of GeoFORCE Texas, about the possibility of expanding the program to Houston with his company's support. Loudin, manager of the company's Global Geoscience Recruiting & Early Career Program, has long worked to expand diversity among new recruits.
"We have a huge challenge with respect to the participation of minorities in the geosciences," said Loudin. "The 2000 census shows 30 percent of the US population are Hispanic, African American or Native American. But only 5 percent of students awarded geoscience bachelor's degrees are from these groups. That's a tough place to be."
Loudin said it was an easy sell to get his company's support for the expansion to Houston, where several factors make it an especially good fit.
"We're here in Houston, Texas, energy capital of world," he said. "We have more geoscientists per capita than any other place. We have the employers, the role models, and a large minority population. Plus, we've got some top universities nearby: Rice, Texas A&M, and UT Austin. So why shouldn't we have this happen in Houston?"
Loudin noted that for many students, this is their first time to travel out of the state, see geologically rich sites, spend time on a university campus, and learn university-level material. He said some minority students feel out of place in a university. GeoFORCE helps demystify it and enables them to picture themselves in that environment.
Ultimately, Loudin supports the program because he was so fortunate in his own life.
"I had a lot of opportunities and there was an expectation that I would go to college and I would graduate and get a good job," he said. "Without GeoFORCE, these students weren't going to have opportunities like this. It makes you feel very good about it."
by Marc Airhart