From Strength to Strength: Department Attracts Top Scientists
October 20, 2008
The University of Texas at Austin's Department of Geological Sciences is growing dramatically with the addition of 15 new faculty—representing an approximately 80 percent success rate on our offers. Of these, seven are in residence this fall, three will arrive in January, and five more next fall. Six are female, which raises the total female faculty to seven.
Through our searches in four frontier research themes and opportunity hires we attracted outstanding interdisciplinary scientists who will help build integrated programs with current faculty and research scientists to address fundamental questions facing the geosciences. We also had the opportunity to strengthen existing programs and diversify our faculty. Highlights of new faculty research are given below; those pictured are in residence this fall.
Earth Surface & Hydrologic Processes
Our Earth surface and hydrologic processes search successfully hired two new faculty to build on our current research strengths in sedimentology and hydrogeology: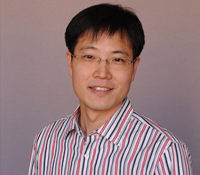 Wonsuck Kim (Assistant Professor; Ph.D. University of Minnesota, 2007; Postdoctoral Research Associate, University of Illinois at Urbana) will join us in January, 2009; his appointment is structured so that he can establish collaborative research with the Institute for Geophysics (UTIG) preparing for a potential future joint appointment. He is a physical and mathematical modeler of sedimentary systems who focuses on processes affecting the evolution of coastlines. He is particularly interested in building numerical models that accurately capture the behaviors of channel networks on deltas and that accurately reproduce the mobility of shorelines when forced by varying conditions of eustatic sea-level rise, tectonic subsidence and water and sediment discharge associated with climate change.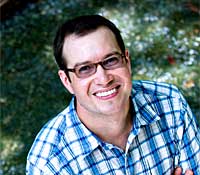 Joel Johnson (Assistant Professor; Ph.D. MIT, 2007; Mendenhall Postdoctoral Fellowship, USGS at Menlo Park) will join us in Fall, 2009; his appointment is structured so that he can establish collaborative research with the Bureau of Economic Geology (BEG) preparing for a potential future joint appointment. He studies erosion and deposition on hill slopes and in fluvial channels in order to relate active surface processes to the development of topography over geologic timescales. His research has focused on the role that gravel transport plays in the erosion of channels into bedrock, flash flooding, and the transport mechanics and erosive properties of subaerial landslides and debris flows.
Energy Geoscience
In a very competitive market, the Energy Geoscience committee has successfully recruited an outstanding young star:
Marc Hesse (Assistant Professor; Ph.D. Stanford University, 2008; Postdoctoral Fellow at Brown University) will join us in Fall 2009. He is a computational geoscientist whose main focus is on transport processes in porous media and applications to reservoir engineering and hydrology, but is a quintessential interdisciplinary scientist. Although his research has focused on mathematical modeling and multiscale simulation of carbon dioxide (CO2) storage and transport in saline aquifers, his current research is simulating mantle upwelling and melt generation and extraction under mid-oceanic ridges to constrain melting models. Additionally, the department is currently searching for an assistant professor in exploration geophysics.
Climate
With the addition of the following new faculty, we will have established a climate community in the Jackson School with an international reputation which investigates the complex interactions between atmosphere, hydrosphere, biosphere and land surface that influence climate in both the past and present: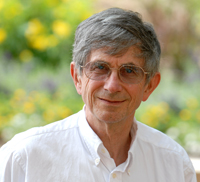 Robert Dickinson (Professor and Jackson Scholar; Ph.D., MIT, 1966; Professor and Georgia Power/Georgia Research Alliance Endowed Chair at the Georgia Institute of Technology) is a climatologist who uses climate modeling and remote sensing observations to study global change, drought, and interaction of terrestrial and atmospheric hydrological processes. He has made pioneering contributions to a wide range of fundamental topics in climate system sciences including climate modeling; greenhouse gases and global warming; tropical deforestation; land surface energy; water, carbon and nitrogen cycles; aerosols and biomass burning; atmospheric dynamics and radiation; and global circulation and temperature structure of the mesosphere and thermosphere on Earth, Mars and Venus. He is a rare member of both the National Academy of Sciences and the National Academy of Engineering.
Kerry Cook (Professor; Ph.D., North Carolina State University, 1984; Professor, Cornell University) is an atmospheric scientist who is developing regional climate models that more fully and accurately account for coupled interactions among atmosphere, ocean, vegetation and surface hydrology. Her specialty is tropical climate dynamics, including both basic hydrodynamics of how tropical continents interact with the flow and precipitation fields and applied studies over Africa, South America and the tropical Atlantic.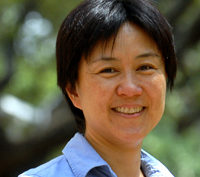 Rong Fu (Professor; Ph.D. Columbia University, 1991; Associate Professor at Georgia Institute of Technology) is a climate scientist who uses satellite remote sensing applications and retrievals to study convection, cloud, and precipitation processes and atmosphere, ocean, and land interactions. Her current research focuses on 1) terrestrial biosphere-atmosphere interaction and its role in climate, such as the role of vegetation on the onset of the rainy season in the Amazon, and on 2) distribution and transport of water vapor and chemical tracers in the troposphere and stratosphere, including the roles tropical convection plays in Earth's system.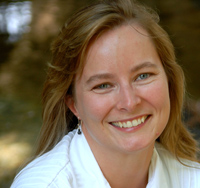 Rose Came (Assistant Professor; Ph.D. MIT/Woods Hole, 2005; Postdoctoral Fellow at California Institute of Technology) is an oceanographer who uses isotope, trace and minor element geochemistry to determine past oceanic nutrient distributions and temperatures. She is studying both abrupt and long-term changes during the Phanerozoic evolution of the Earth's climate, including orbital and suborbital scale variability in ocean circulation and climate. She is one of very few researchers using newly developed carbonate 'clumped' isotope paleothermometry, and we are fortunate to have someone with experience in this cutting-edge technique join our faculty.
Tim Shanahan (Assistant Professor; Ph.D. University of Arizona, 2006; NOAA and Woods Hole Oceanographic Institution Postdoctoral Fellow) will join us in January 2009. His research focuses on the development and application of new geochemical tools for reconstructing paleoenvironmental and paleoclimate changes from the sediment record. He uses major element, stable isotope, and molecular fossil (bio-)geochemical techniques to better understand the geological, geochemical and biological processes controlling sediment deposition, and their influences on the sedimentary record of past climate change. Areas of investigation include Lake Bosumtwi, West Africa; Lake Titicaca, South America; and the Canadian Arctic.
Dan Breecker (Assistant Professor; Ph.D. University of New Mexico, 2008; NSF Postdoctoral Fellow at the University of New Mexico) will join the faculty in Fall 2009. His research focuses on the carbon cycle, biogeochemistry and stable isotope geochemistry. He has used carbon and oxygen isotopes in soil and pedogenic carbonates to study soil respiration and to better constrain past environments. His future research will focus on ecosystem scale carbon cycling and the affect on future climate.
Crust, Mantle & Core Dynamics
Adding new dimensions to our strong tectonics/structure/petrology/geochemistry programs, we successfully recruited several faculty that will contribute to our Crust/Mantle/Core Dynamics theme: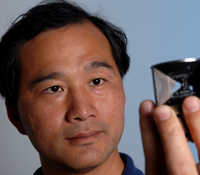 Afu Lin (Assistant Professor; Ph.D. University of Chicago, 2002; Lawrence Livermore Fellow at the Lawrence Livermore National Laboratory) is a mineral physicist who uses diamond-anvil cell techniques to study the physical and chemical properties of Earth and planetary materials under high pressures and temperatures to further our understanding of the interiors of the Earth and other planetary bodies. He uses unique emerging synchrotron light source technology and novel experimental techniques to initiate state-of-the-art studies of sound velocities, spin-pairing transitions, transport properties, electronic bonding transitions, and water chemistry under high pressure and temperature conditions. He combines these results with seismic, geophysical, and geochemical observations of the Earth's interior to address outstanding problems in planetary science.
Jaime Barnes (Assistant Professor; Ph.D. University of New Mexico, 2006; AAAS L'Oreal USA for Women in Science Postdoctoral Fellow at the University of New Mexico) will join the faculty in Fall 2009. Her research uses stable isotope geochemistry to study volatile cycling in subduction zones. Her interests in fluid-rock interactions, metasomatism in the high-temperature environments, and the relationship between metamorphic processes and deformation will increase our ability to address fundamental questions related to lithospheric processes.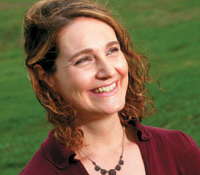 Liz Catlos (Associate Professor; Ph.D. UCLA, 2000; Associate Professor at Oklahoma State University) joined the faculty this fall but has a year-long Fulbright in Turkey. Her research focuses on developing and applying petrochemical and geochemical techniques to the study of lithosphere dynamics. She combines isotopic microanalysis, accessory mineral geochronology and mineral equilibria to estimate environmental conditions during deformation, test models for heat, mass, and fluid flow along tectonic structures, and investigate the evolution of major orogens, such as the Himalayas (India and Nepal) and south India (Tamil Nadu), and more recently the Menderes Massif (western Turkey). She is the 2006 recipient of the Donath Medal of the Geological Society of America, which is given annually in recognition of the most outstanding young geologist.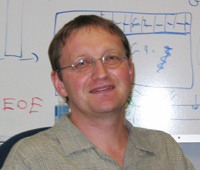 Luc Lavier (Assistant Professor; Ph.D. Columbia University, 1999; Research Associate, UT Institute for Geophysics) has joined the department, but continues to share an appointment at UTIG. He is a geodynamicist who uses and develops numerical techniques to model tectonic processes on crustal and lithospheric scales. His research has investigated the dynamic structural and geodynamical evolution of plate boundaries and localization of deformation. Much of his research focuses on lithospheric extension and rifted margins, including oceanic rifts and large scale continental extension along amagmatic margins. Other research investigates collisional environments including subduction initiation.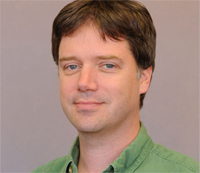 Rich Ketcham (Associate Professor; Ph.D. University of Texas at Austin, 1995; Senior Research Scientist UT Austin and facility manager of national High-resolution Computed Tomography Laboratory) is a thermo-chronologist and computational geoscientist who applies computational modeling and analysis techniques to geologic problems, such as characterization of thermal structure and heat source distribution in the continental crust and modeling of diffusion–controlled crystallization textures using quantitative textural analysis of metamorphic porphyroblasts. Other research focuses on theory and practice of apatite fission-track annealing kinetics and other low T thermochronology. He is the foremost authority worldwide in practical application of HRXCT to geological materials.
Paleontology
Maintaining and building on our strengths in vertebrate paleontology, we have successfully hired: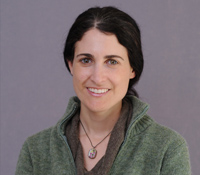 Julia Clarke
(Associate Professor; Ph.D. Yale University, 2002; Assistant Professor North Carolina State University) will join the faculty in January 2009. She is a vertebrate paleontologist who uses integrated, multidisciplinary approaches to address long-standing questions in vertebrate evolution. Her current research focuses on the evolution of bird flight and the origins of avian biodiversity, which will add an important new research direction for our School. Her current field programs are in South America and Asia.
For more information about the Jackson Schoolcontact J.B. Bird at jbird@jsg.utexas.edu, 512-232-9623.